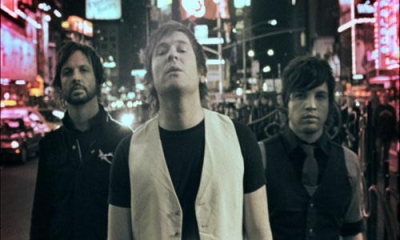 International success has an odd way of distinguishing itself. An artist could be recognized on the streets of their native country by virtually every bystander while, in a different country, even their name would be rendered unknown. Eskimo Joe has all the qualifications for success, whether it be in their native Australia or abroad. With irresistibly catchy, radio-friendly alternative ballads that echo crisp production and tasteful melodies, it remains somewhat surprising that the western side of the world has not caught up to them yet. After all, they did name their band after the famous restaurant, Eskimo Joe's, in Oklahama. In addition, one of their most recently successful singles is called "New York". Hell, even their press shot above was taken in NYC. It nearly seems like a plea for American audiences to give them at least a half-hearted chance. Whatever it takes, I recommend for all non-Aussies to follow in the footsteps of Australian music fans in warming up to Eskimo Joe. All those oppose any form of "mainstream pop" should keep in mind that, while Eskimo Joe have gone 4x Platinum is Australia, they remain practically invisible in America. However, I doubt that this distinction will last long. Quality music cannot go unseen for a large duration of time, regardless of which country it originates from.
By the time Australian fans are reading this, Eskimo Joe will probably seem like old news. Their most recent and third album, Black Fingernails, Red Wine, was released in Australia over a year ago and went on to reach #1 on the Australian charts. It goes to show that, unlike in America, a modern #1 album can actually have the ability to not be an overproduced, commercialized piece of crap. Rather than being a messy collection of singles for the radio waves with a few fillers to look nice for the press, Black Fingernails, Red Wine is a collectively satisfying effort that finds the trio at their best. While the songs remain immediately memorable and wildly accessible, the rare quality that the album possesses is that each and every song sounds like a dedicated effort. While singles like "New York" and "Sarah" are clearly a few of the best, it is difficult to find a song on Black Fingernails, Red Wine that lacks in either quality or effort. Even the instrumental "Reprise" is fervently genuine enough to fit applicably among other alternative tracks encompassing infectious melodies and boisterous guitar riffs. With "Reprise" being an instrumental continuation of the opening "Comfort You", Joel Quartermain's skills as a pianist shine brightly as he creates a luminous atmosphere through a repetitive droning effect brought on by keys, bass, drums, and an eerie synth pad. This song, like the majority of Eskimo Joe tracks, was written by lead singer and bassist Kavyen Temperley. The band is rounded out by guitarist Stuart MacLeod, with Quartermain also acting as the studio drummer and backing guitarist. They all formed Eskimo Joe in 1997 in an effort to win and compete in the Australian National Campus Band Competition. As expected, they won the competition and were rewarded a free recording session. From there, the rest was history.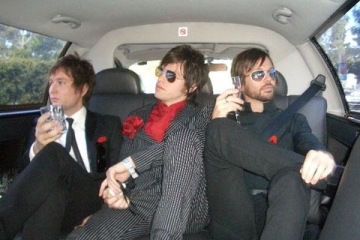 After making conscientious use of their well-earned studio time, Eskimo Joe made their debut on the Australian airwaves in 1998 with "Sweater", a catchy single preceded by an EP of the same name. After another EP the following year, they released their debut full-length, Girl, in 2001. It fared exceedingly well for a debut, topping at #29 on the Aussie charts. However, it was not until their second album, A Song is a City, in 2004 that Eskimo Joe propelled into Australian superstars. Led by singles "From the Sea" and "Smoke", A Song is a City saw the band reaching the #2 spot in Australia. It went 2x Platinum as well, leading to the antsy anticipation of Black Fingernails, Red Wine. The crispest and most confident sounding of the three, Eskimo Joe's latest was produced by esteemed Australian producer Matt Lovell, also known for his work with Silverchair and The Sleepy Jackson. I personally find the album to be an amiable mixture of early Collective Soul and Lifeblood-era Manic Street Preachers. With those two artists being, at one time in their careers, respectable chart-toppers in their native countries, it was certainly not a bad call in judgment when Eskimo Joe announced that they would release Black Fingernails, Red Wine in America on September 25th of this year. In addition, they are including an exclusive DVD that I viewed and was thoroughly satisfied with. The DVD contains performances of the album's four respected singles: "Black Fingernails, Red Wine", "Sarah", "New York", and "Breaking Up".
One of the reasons that I believe Eskimo Joe will be overwhelmingly appealing to the mainstream American audience is their abundant use of piano-led melodies, all radiantly alluring in being led by Temperley's soaring vocals. While Eskimo Joe remains too involved in guitars and too diverse in vocal delivery to draw obvious comparisons to Coldplay, such features I find to be a blessing in disguise. Rather, Eskimo Joe is an incorporation of several elements and stylistic intentions that western audiences have bought into for the past twenty years. The electrifying "Sarah" is an excellent example of this, delivering a series of stirring guitars and fleeting percussive elements that reflect the mid-90s alternative scene to the fullest extent. The self-titled on Black Fingernails, Red Wine even goes as far to implement the backing "wo-ho-oh-oh" that Collective Soul won fans over with their earlier, shameless collection of songs. There are at least a dozen songs on the album that are as illustriously harmonious as "Sarah" and "Black Fingernails, Red Wine". Even so, the track that I believe will win western audiences over is their other single, "New York". With a fragile piano line soon supplemented by the roaring riffs of guitars and rhythmic attributes, the song sports an effervescent chorus that serves as one of the greatest moments on the album. "I know, I know, it wasn't New York," Temperly sings, his undying passion ignited by a majestic array of instrumentation. By the end of the song, it is hard to imagine that such a powerful melody was initially molded by a single piano line. So, with these tracks representing the best of Eskimo, give them a shot before the "guilty pleasure" tag sets in. If all goes well, their eventual success in America should only be a matter of time.
——————————————————————————————-
——————————————————————————————-
——————————————————————————————-
Eskimo Joe – Black Fingernails, Red Wine

[audio:https://obscuresound.com/mp3/eskimo-bla.mp3]
——————————————————————————————-