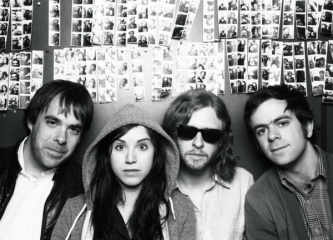 Some cities are simply blessed with a ceaselessly active music scene. While most major cities have their share of prominently historical artists to tout about, there are few that can accurately describe their city as still being an organic breeding ground for artists with heaps of potential. I have covered dozens of bands from Brooklyn, New York during my time here, with the wide stylistic range impressing me the most over the sheer number of artists themselves. From gritty rock 'n' roll (Pela) and funky art-rock (The Virgins) to catchy electro-pop (Mixel Pixel) and free-form jazz (The Budos Band), the majority of Brooklyn-based artists I have listened to show no fear in taking risks. With this in mind, it is hardly surprising that local blogs like Brooklyn Vegan and BrooklynRocks have so much content to offer. One of the newest acts out of Brooklyn has already seen their fair share of exposure… on television, anyway. With a few of their songs already featured on Grey's Anatomy, CSI Miami, Shark, and The L Word, The Jealous Girlfriends may in fact be a band that you have already obliviously listened to. Considering that the New York Times called them "one of the best bands in New York" and they have impressed live at the likes of the Bowery Ballroom and the Mercury Lounge, you may wish to make that listening experience more conscientiously agreeable.
Formed in 2004, this four-piece has been rising briskly ever since their inception. After their music video for the riotously delectable "How Now" won the iPod Music Video Contest, most of the music press began to take notice of the unsigned band. Unsigned? Yes indeed, The Jealous Girlfriends are yet another great band who, for whatever reason, have yet to be picked up by a label of any sort. However, I do not think that there are many artists who remain unsigned for long after appearing on television shows as popular as Grey's Anatomy. Hell, most indie-rock bands do not even appear on national television at all. Their appeal to early 90s alternative rock certainly does not hurt their chances, as obvious nods to Sonic Youth and the Smashing Pumpkins are highly evident throughout most tracks. Oh, additional fun for fans of the hilarious Flight of the Conchords: take a look at the music video for "How Now"… notice something familiar? Perhaps Jermaine and Brett borrowed more than Daft Punk's technique in their rendition of "Robots". Either way, the music video is nearly as fun as the song itself, being an imposing blend of guitar-oriented distortion and melodically captivating aggression, blending in a variety of swirling guitar riffs and indefatigable percussion as a raucous chorus erupts with a wholesomely fervent aroma. "You can bury me with your bullets and your crime," lead vocalist Josh Abbott sings over his conspicuously boisterous guitars, "They're one in the same, I won't blame you for trying." Such a display of desperation and angst occasionally sounds scripted among other bands, but Abbott sings it sincerely and powerfully enough to trigger a wide range of emotions.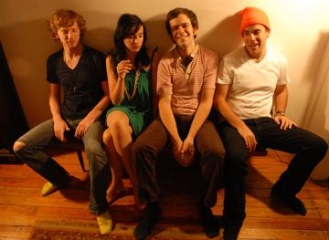 Despite the purely executed titillation of "How Not", the track that is most characteristic of The Jealous Girlfriends' generalized consistency is "Something in the Water". Alongside "How Now" and "The Pink Wig to My Salieri", it serves as one of the highlights on The Jealous Girlfriends' self-titled debut album; now available and certainly worth the $10 price tag. The full-length album, their second release after the eight-track Comfortably Uncomfortable in 2005, also features mixing by Dave Sitek (TV on the Radio) on the opening track, "Machines". Even though it is considered somewhat elementary to liken an indie-rock group with a male and female vocalist to the legendary Sonic Youth, The Jealous Girlfriends have resounding similarities in more areas than one. While Abbott and vocalist/keyboardist/trombonist Holly Miranda exchange vocal sections in forms of singularities and duets on both "Something in the Water" and "The Pink Wing to My Salieri", the reverb and distortion effects applied to the guitars nearly reach a point where they would be considered experimental if not for the impressive structural organization. Whereas in "Something in the Water" a subtly agreeable transition to an infectious chorus is greeted with a newly acquired effect on the guitars, "The Pink Wing to My Salieri" is more dependent on the chugging "na-na-na"s of both Abbott and Miranda than the actual instrumentation, though the keys play a significantly larger role. Despite their different structural tendencies, both songs are strongly memorable in that they hit a strong point of nostalgia, beckoning back to the days in the early '90s where quality rock music relied more on slick, melodically capable guitars and a steady rhythm sections instead of reprocessed production techniques and commercialized pressure.
In a dutiful effort to showcase their diversity, The Jealous Girlfriends take a step back from their call to the early '90s in several tracks – particularly "Organs on the Kitchen Floor" and "Roboxulla". Both make proper use of Miranda's vocals and Alex Lipsen's synths, with "Organs on the Kitchen Floor" being enjoyably unlike anything else on The Jealous Girlfriends. With a chorus that is reminiscent of Pulp's This is Hardcore era (two Pulp references in two days!), Miranda's sensuously appealing vocals wrap a cloud of seductiveness over a devastatingly enchanting mixture of keys, synth, and bass. Such proficient marksmanship makes it my favorite track on the album, as The Jealous Girlfriends took a risk and achieved it with fledging success. Though the Sonic Youth-tinged rockers in the vein of "How Now" and "Gifthorse" are fulfilling in their own right, I find myself personally in favor of the fantastic "Organs on the Kitchen Floor". As their debut has shown, The Jealous Girlfriends' ability to seamlessly conquer any rock-oriented genre of stylistic play should carry them far. Soon enough, once a label finally picks them up, The Jealous Girlfriends will be much more than a band whose songs can be heard in the background of Grey's Anatomy. I just hope that they continue to write songs like "Organs on the Kitchen Floor".
——————————————————————————————-
The Jealous Girlfriends – Organs on the Kitchen Floor
[audio:https://obscuresound.com/mp3/jealousg-org.mp3]
——————————————————————————————-
The Jealous Girlfriends – How Now

[audio:https://obscuresound.com/mp3/jealousg-how.mp3]
——————————————————————————————-
The Jealous Girlfriends – Something in the Water
[audio:https://obscuresound.com/mp3/jealousg-som.mp3]
——————————————————————————————-