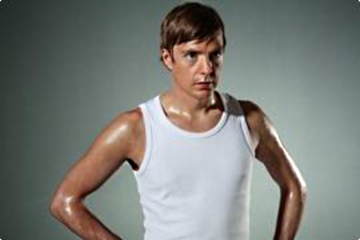 Do they have April Fool's Day in Sweden? I would hope so, as I am sympathetic for any country without such a glowing "holiday", even if their music scene is one of the hottest in the world at the moment. Either way, Johan AngergÃ¥rd must look forward to April 1st all year. If there is one musician who knows a thing or two about manipulation, it's him. You may recognize AngergÃ¥rd as either the bassist in the acclaimed Swedish chamber-pop quartet Acid House Kings, half of the male-female pop duo Club 8, or as one of the nine members in the Stockholm-based The Legends. But… can The Legends really be classified as a "band"? Up until about a year ago, that's what everyone assumed. Based on the press photos and biographical information, it all seemed true. However, it turns out that AngergÃ¥rd was merely playing a trick on us all. When AngergÃ¥rd announced last year that The Legends was really his one-man solo project all along, it took fans by great surprise. After all, could one man really write such elaborately addictive songs? Considering much of The Legends' strength lies in infectious electro-pop and sharp production, perhaps it's not entirely unrealistic after all. Not to take any credit away from AngergÃ¥rd, but working as one of the lead songwriters in a few of Sweden's most consistent pop acts (Club 8, Acid House Kings) likely helped shaped his eminent songwriting skills a bit. And while The Legends are not soaked in the same form of orchestral-pop goodness that Acid House Kings are so well revered for, AngergÃ¥rd's solo project exists in the separate but equally enjoyable realm of Swedish electro-pop. Yes, The Legends are yet another Swedish band/artist to add to your playlist.
Both of Angerg̴rd's projects РAcid House Kings and The Legends Рhave been gaining some well-deserved Stateside exposure over the past few years thanks to our friends over at Twentyseven Records. Considering the immense international success that Swedish musicians have had lately, Twentyseven Records have been wise in crafting a niche in which they sign promising Swedish acts looking for an American record deal. Much of Twentyseven Records' roster includes artists on one of Sweden's most respectable labels, Labrador. This includes the excellent Pelle Carlberg, who I featured earlier this month. In fact, Twentyseven honestly has not yet sent me one thing devoid of quality. From Irene to Pelle, it's been pure Swedish pop goodness. The Legends offered a bit of a stylistic shift from the usual chamber-pop material I receive from the New York-based label. Songs like "Lucky Star" encompass a synth-driven form of melodically rapturing electronic dance that creates unavoidable comparisons to Abba; the Swedes that started it all. Other songs on The Legend's newest release, Facts and Figures, touch on several other electronic stylistic trends. From the infectious sounds of romanticized italo-disco on "Play It For Today" to the Nintendo-esque synths on the playfully titled "Disco Sucks" or the gentle wintry rush of "Closer", it hardly surprises me that Angerg̴rd successfully disguised The Legends as a nine-piece for so long. "When I start recording an album I have a very clear idea of what I want to do, and by doing everything myself the album comes out exactly the way I want it to," Angerg̴rd said, "Involving other people might only blur the vision." Sometimes one great brain is simply better than nine mediocre ones.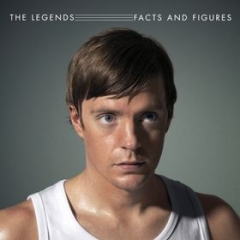 Angergård revealed the so-called lineup for The Legends in January 2003, using a few nameless friends for some collected photo shoots. They (Angergård) released their debut album, Up Against the Legends, the following year. Compared to his more recent material, Up Against the Legends was more of an alternative record that drew on influences from the American underground scene of the mid-'80s. Highlights like "Call It Ours" and "Nothing to Be Done" drew rave reviews when it premiered on Lakeshore Records. The second album, Public Radio, was released one year later, continuing on the guitar-driven indie-pop sound that made the first album critically successful while additionally adding droplets of synths and samples. It was The Legends' first album on Labrador and saw Angergård's respectable fan base continue to grow. Their latest album, Facts and Figures, was released in 2006 in Sweden on Labrador but will see a reissue in the States through Twentyseven Records this year. Listening to the ten insanely catchy tracks, it is quite evident to see why Twentyseven felt the album deserved its bright spotlight overseas. Though it is a shift from Angergård's expected sound, it remains to be a fledging form of indie-pop that relies on devastatingly irresistible hooks. While synths are now the dominant factor instead of pulsating guitars, Angergård's ability to craft a brilliant melody remains largely in tact.
Many contemporary electronic artists suffer from a lack of diversity, often distinguishing a style and languishing too long and repetitively in it. AngergÃ¥rd is one of the few exceptions. Much of this can be accredited to his regard for one of music's most fundamental concepts: tempo. Each song maintains its own flow as AngergÃ¥rd creates a unique atmosphere in each track on Facts and Figures. The verses in both "Nothing on TV" and "Closer" remain somewhat reflective of Depeche Mode's slower, more brooding material with a dominating synth-bass line, though the heavenly chorus calls on arps and synth pads to create an experience that is more reminiscent of classic Erasure. My favorite track on the album is undoubtedly "Play It For Today", an absolutely marvelous composition that blends gripping hooks with a breezily flawless vocal accompaniment. "Play it for today, call it by tomorrow,"AngergÃ¥rd sings over the sonorous thrill of reverbed synths and ringing guitars. The additional guitar tracks implemented into the synths borrow a page from the likes of New Order and Electronic (now if only he had Johnny Marr…), managing to mix both '80s college-rock with nostalgic synth-pop.
Like most Swedish songwriters these days, AngergÃ¥rd's shining moments arrive in the illustrious choruses, leaving the listener begging for more in seductively engaging thrillers like "Play It For Today". Though repetition is prevalent, it is done wisely and sparingly to establish the initial melody in an accessible form. Though the chorus-led hook in each and every song has a foreseeable form of structural placement, I am shocked that "Play It For Today" and "Lucky Star" are not receiving more airplay. The vocal mixing in both songs are masterfully done. Even while the electronic usage remains fairly conventional and audibly outdated to many who experienced synth-pop in the '80s and '90s, AngergÃ¥rd's hooks are simply too enjoyable to pass up. Facts and Figures is a very pleasant little album, exceeding just over 30 minutes in duration and worth every second of it. Chamber-pop, indie-pop, synth-pop… it all works for Johan AngergÃ¥rd. He is one of those rare songwriters who can adapt seamlessly to several different musical styles, succeeding in each one.
——————————————————————————————-
The Legends – Play It For Today

[audio:https://obscuresound.com/mp3/legends-pla.mp3]
——————————————————————————————-
——————————————————————————————-
——————————————————————————————-