Posted
August 25, 2007 by Mike Mineo
in Features
Mr. and Mrs. Georgie James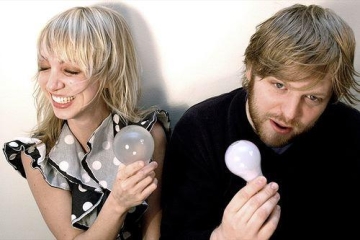 "Oh, breaking up is so very hard to do." The opening line comes from one of Burt Bacharach's more guiltless songs, "Make it Easy on Yourself"; later covered more proficiently by Scott Walker. Such an ambiguous lyric could apply to a variety of things. While the intent was likely set on a romantic standard, I suppose that, like all lyrics, they can be transcribed differently depending on the individual. Though it was purely platonic, this "breaking up" aspect was certainly a factor for John Davis in 2005 when his band, Q and Not U, decided to call it quits in 2005. However, while Q and Not U were a very respectable act with three enjoyable albums, world tours, and positive press, the former drummer's involvement in the departure actually turned out to be beneficial in the long run. After all, if Q and Not U were still together I doubt that he would have ever met Laura Burhenn; the other half of their new duo, Georgie James. The other two former members of Q and Not U, Harris Klahr and Christopher Richards, are also on the rise with their new solo projects (Ris Paul Ric and President). How often do you hear of "breaking up" working out nearly immediately for all parties involved? Perhaps people are constantly gaining equal compassion. Well, either that or music is a lot damn simpler than love. I'll take the latter. Some break-ups are not so "hard to do" after all.
Like most busily occupied individuals, Davis and Burhenn met through the typical assortment of mutual friends. Their similar experiences as budding musicians attributed to them hitting it off immediately. In addition to Davis' tenure as the drummer in Q and Not U, Burhenn was performing as a solo artist who previously self-released four albums on her own label, Laboratory Records. When they discovered a mutual love for retro pop music in the vein of The Kinks and Simon & Garfunkel, their decision was unanimous in at least attempting to write music together. Two years later, they are set to release their debut album, Places, on a prestigious indie label (Saddle Creek) and they have a slew of imminent tour dates ranging from London to California. Released conveniently through Burhenn's own Laboratory Records earlier this January, Georgie James' first-ever release was a three-track single, Need Your Needs. It rightfully caught the attention of Saddle Creek, who signed them in May. The duo never looked back. Clearly a meeting arranged by the stars (and their friends), the two-piece have absolutely no need for regrets. Georgie James' Places is an essential debut that borrows the background and experience of two exposed musicians who display both charisma and chemistry in an aptly infectious form.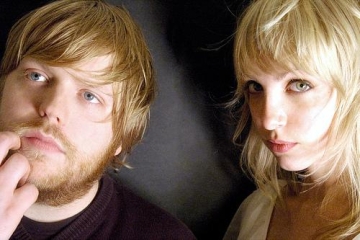 Those familiar of Davis' previous work with Q and Not U will likely find a sense of unfamiliarity in Places. While Georgie James employs a likable, loosely predictable form of catchy power-pop, Q and Not U were more often recognized for frequent experimentation that overlapped into several different musical genres. While they were certainly more stylistically creative than Georgie James, Davis' newest outfit is unequivocally more accessible and initially appealing. Davis also now has the most instrumental flexibility of his career, playing every instrument on Places apart from the keyboards, where Burhenn shines exceptionally. Their sound reminds me of an even lighthearted version of The Rosebuds – another male/female indie-pop duo – in their breezy incorporation of irresistibly glimmering keyboard harmonies, clean guitar riffs, and summery vocal melodies. Places is an enjoyably upbeat album that features songs reminiscent of the duo's compassion for '60s-tinged pop as they beckon the likes of McCartney with "Cake Parade", a catchy track as tasty as the name implies. The duo splits vocal duties almost evenly throughout Places but "Cake Parade" is nearly all Laura Burhenn – both vocally and instrumentally. Handling her sweetened keyboard riffs over consistently implemented forms of percussion, Burhenn appears seamlessly effortless in the uncluttered chorus. Featuring the addition of a subtle guitar progression with her own vocals providing an additional backing melody, it is the tastiest piece of a very satisfying song.
On the other half of things, John Davis makes his presence on Places just as well known. The excitable opening track, "Look Me Up", serves up a more aggressive tone than "Cake Parade" but manages to come off just as irresistibly captivating with a hook that glides swiftly and abruptly as Davis bursts out, "Look me when up when you wanna try again," in anthem-like form. While their structures remain conventional and fairly repetitive, there remains an undeniably infatuating quality about Georgie James' choruses. Whether it be in the transitioning guitar progression on "Look Me Up" or the charming vocal duet in "Need Your Needs", nearly every song on Places seems to have a distinctive quality where the chorus is overflowing with a dazzling hook or trademark vocal swoon. Yet still, the most impressive thing about Georgie James is that they are perfectly aware of their own strengths and weaknesses. The songwriting team of Davis and Burhenn appears perfectly content writing three-minute power-pop songs with one goal in mind: catchiness. When Places drops on September 25th, it should earn its title as one of the most initially engaging releases of the year.
——————————————————————————————-
[audio:https://obscuresound.com/mp3/gjames-cak.mp3]
——————————————————————————————-
[audio:https://obscuresound.com/mp3/gjames-loo.mp3]
——————————————————————————————-
Georgie James – Need Your Needs

[audio:https://obscuresound.com/mp3/gjames-nee.mp3]
——————————————————————————————-
Mike Mineo
I'm the founder/editor of Obscure Sound, which was formed in 2006. Previously, I wrote for PopMatters and Stylus Magazine. Send your music to
[email protected]
.