Posted
August 4, 2007 by Mike Mineo
in Features
Paul Gonzenbach's Baby Panda Grows Up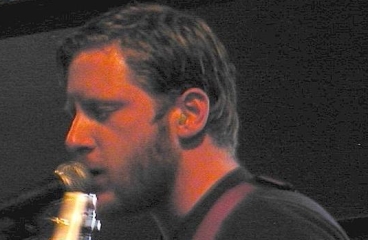 Solo projects usually tend to be a capricious affair, either structurally reflective of the main songwriter's prior project or entirely incomparable in delivery and style. While the artists who flourish with a continuation of a previously successful style maintain their dedicated fan following with a guarantee of reasonable sales, criticism may be directed toward the artist for their fear of experimentation and lack of artistic variability. Paul Gonzenbach's solo project, Baby Panda, manages to avoid both stereotypes. As the frontman for the Oakland-based indie quintet, The Jim Yoshii Pile-Up, Gonzenbach proficiently conquered the roles of lead vocalist, guitarist, and pianist for all of The Jim Yoshii Pile-Up's three albums. He even did the artwork occasionally. As the three albums received great reviews from every publication that gave the band a deserved chance, Gonzenbach and co. built a steady fan base with their memorable style of ingeniously layered indie-rock. Often laced with three droning guitars, building percussion, and sullen melodies, The Jim Yoshii Pile-Up established themselves as one of the most consistent and underrated indie acts of the decade. Now that the band is on hiatus for the time being, Gonzenbach decided that it was finally the suitable time to push forward his longly anticipated solo project, Baby Panda. "The Jim Yoshii Pile-Up is taking an extended break right now. Basically, we live 800 miles away from each other, which makes it really tough to write and record together," Gonzenbach said just a few days ago. "Baby Panda is a way for me to keep writing and releasing music at my own pace, according to my own aesthetics, without having to coordinate with anyone else."
His solo debut, Enforcer, is a rare accomplishment for a musician who has worked with a group of other songwriters for the majority of his career. While he was arguably the distinguished ringleader of The Jim Yoshii Pile-Up, the band's albums and live performances were always undoubtedly a group effort, both in terms of songwriting and instrumentation. While Enforcer follows up on the rousing, guitar-led melodies of The Jim Yoshii Pile-Up, it also signifies a more diversely impulsive approach from Gonzenbach. Now implementing a fair share of keys over the transitioning melodies, Enforcer sees Gonzenbach at a stage in his blossoming career that is both mature and vocally independent. While The Jim Yoshii Pile-Up were always reputable for their instrumental flair, Enforcer serves as definitive solidification of Gonzenbach's vital songwriting role in the band, exposing his talents through the individualized approaches found within each song on his album. While the production of Enforcer is strongly cohesive, the songs enjoyably vary in intensity and structural tendencies. Electrically triggered songs like the aggressive "The Groom" sound surprisingly suitable after gentler, piano-based songs like "Sods on Sods". The transition from a lush piano to a roaring guitar is done intimately well due to Gonzenbach's parallel vocal usage, an aspect that is revealed depending on a particular song's energy and lyrical tension.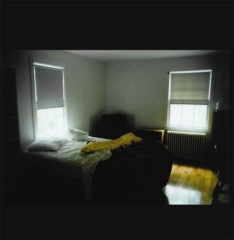 Though he manages to output a nearly constant snarl or grieving sigh on "The Groom" and "We Are Legion", Gonzenbach also sounds intimately emotional on instrumentally barren tracks like "In the Morning" and "Angel, Angel, Down We Go Together", the latter being a minimalist cover of Morrissey's string-laden version. As Gonzenbach delivers the first few desperate verses over the faint whirring of a glassy synth, he sounds both haunting and romantically yearning. When a beautiful piano line kicks in toward the outro, his vocal intensity is capitalized beyond belief. I was personally surprised when this song reached its conclusion. It initially sounded like nothing more than a barebone cover but as it slowly transcended into a beautiful rendition of Morrissey's own, it revealed itself as a song whose lyrical subtleness remains both chilling and enduringly unique. The sprawling epic, "Your Guess is as Good as Mine", is just as memorable. Nearly twelve minutes long, it evolves from a desolate piano accompaniment into a vibrating build-up of guitars and dreary pads. Despite the building transition, the keys, percussion, and vocals of Gonzenbach remain wrapped in the same tempo and hushed intensity. As Gonzenbach previously demonstrated in The Jim Yoshii Pile-Up, his instrumental dexterity can relay a sound in which feelings of relaxation and agitation both blend together deviously, providing for quite a musically surreal experience.
Despite all the stylistic advancements demonstrated all throughout Enforcer, the opening track, "What've You Been Up To?", is the most straightforward . Revealing a slight post-punk tinge as a guitar plays an introductory vibrato, it initially sets the listener up for either an instrumental post-rock epic or a catchy post-punk attempt. As the chorus approaches, it is clear that Gonzenbach is intent on capturing both. When the murmur of a piano takes over the guitar's lead role and Gonzenbach flawlessly changes vocal key in response, it serves as an immediate hook that gains satisfaction with each repeated listen. While songs like "Kevin Nature" and "We Are Legion" are similar in its conventional structure, each song has a different instrumental approach that greets the listener with separative feelings of gratification. Whether a song is led by impelling guitars, placid keys, or arid synth pads, Enforcer is one of those rare debuts that manages to be both diverse and highly compatible with the listener.
——————————————————————————————-
Baby Panda – What've You Been Up To?
[audio:https://obscuresound.com/mp3/bpanda-wha.mp3]
——————————————————————————————-
Baby Panda – Angel, Angel, Down We Go Together (Morrissey cover)

[audio:https://obscuresound.com/mp3/bpanda-ang.mp3]
——————————————————————————————-
[audio:https://obscuresound.com/mp3/bpanda-kev.mp3]
——————————————————————————————-