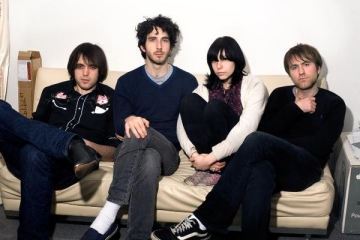 It must be a convenient experience to be in a band with a bunch of trustworthy individuals, particularly ones that you grew up being friends with. I imagine that squabbles concerning finances and personal differences are either minimized or nonexistent, putting a determined focus on what should matter most: the actual music. While it is never advisable to mix friends or family with business, there is certainly no harm in playing music with them. In fact, the convivial environment can often provide appropriately for an output of pleasurably genuine music. For one of the most obvious examples, take a look at Arcade Fire. Not many complaints there. The collective led by husband, wife, and a bunch of close friends even incorporate a familial theme into their deep lyrical focus, using their chemistry as a means for elaborately compelling production. Murder Mystery finds much of the same comfort in their own lineup. Lead vocalist and guitarist Jeremy Coleman is backed by his two best friends and his sister; three people that provide much more than instrumentation to the band's creations. The songwriting is a joint effort and, though Coleman remains the lead vocalist, each member ultimately makes their presence known.
Apart from Coleman, Murder Mystery consists of lead guitarist Kevin Jaszek, bassist Adam Fels, and drummer Laura Coleman. The group began when Jeremy Coleman demonstrated a few of his written songs to Fels, gaining a sense of familiarity with possible direction their new project would take. Nearly immediately, Jeremy's sister saw it as a hopeful opportunity and capitalized on it. Apparently a prominent tap-dancer, Laura Coleman found drumming to be second nature. After all, tap dancers and rhythm go together like peanut butter and jelly. After jamming out for a bit, they easily persuaded their mutual friend Kevin Jaszek to join the band. If their initial jam sessions sounded anything like their songs today, I am sure it did not take much convincing. Once the four-piece was solidified, they began to build up momentum in their native New York before touring with the respectable likes of The Wrens, Fields, and Sondre Lerche. With widespread critical praise likening Murder Mystery to nearly a centuries worth of influences, from Buddy Holly and Tom Verlaine to Television and The Strokes, the news caught on fast that listening to Murder Mystery is far from a culpable crime. Though they are still new to the industry, Murder Scene's impressively wide array of influences and stylistic preferences have already allowed the band to grow away from the likes of typical indie-rock clichés.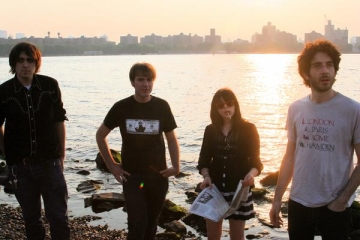 Murder Mystery's debut album, Are You Ready for the Heartache Cause Here it Comes, recently was released in August. Being a short and snappily enjoyable debut, the twelve tracks stretch just over a half hour. Though some may consider the fleeting time frame to be unusually short, Murder Mystery certainly makes good use of every sparing moment. Jeremy Coleman's vocals are written from the point-of-view of a longingly desperate romantic, incorporating ironic one-liners and dry humor into songs laced with throwback guitar riffs and rapturous melodies. His wry delivery is intentionally monotonous, much in the form of Magnetic Fields' Stephin Merritt or The National's Matt Berninger. Considering the entertaining style of his despondently morose lyrical output, the result is just as effective as the similar style find in the vocal delivery of both Merritt and Berninger. However, unlike either artist, the tempo on Murder Mystery's debut is generally consistent with little experimentation and outward risks. With the guitars on "Cold, Hard Workin' Man" reflecting '50s rockabilly and and the throbbing keyboards on the opening "Who Doesn't Wanna Give Me Love?" relaying shades of classic Motown, Murder Mystery are not a band that forgets their pure musical roots. Though the slight incorporation of blues and rockabilly on several tracks provide for an uptempo progression and a hint of optimism, Coleman's bleakly pessimistic vocals suggest otherwise during the opening track "Who Doesn't Wanna Give Me Love?" He answers the question in the song's name with a bleak reply: "everyone". Funny – he echoes the album's title less than one minute into Are You Ready for the Heartache Cause Here it Comes. Considering the hapless tone lyrical tone in the majority of songs featured on the album, I doubt that they could have named it more suitably.
With much of their guitar work rooted in the past, I was somewhat surprised when I heard the sound of electronic arps filling the introduction of "Love Astronaut". Though Murder Mystery's rock 'n' roll groundwork is merely planted under the throbbing of synths in this one track, it is also a display of their best melodic work. "But every day I find somebody who looks like she may be that one," Coleman blurts out before a series of hypothetical questions, all designed to tug at the heart. "I've been searching for you, have you been searching for me? I go looking for love, but is it looking for me?" Though much of my raving so far has been largely accredited to Coleman's vocal/lyrical delivery and Jaszek's dexterous guitar work, the rhythm section consisting of Adam Fels and Laura Coleman is just as impressive. Fels appears to be the prime manufacturer of hooks throughout the album (one with plenty of them), most evident on bouncy pop tracks like "Think of Me" and the exceptional "What My Baby Said"; an simplistically charming brother-sister duet with a gripping chorus and short-but-sweet mentality that represents the album quite well. The excitable conclusion of "Think of Me" sees Coleman in rare vocal form where he sounds eerily similar to The Strokes' Julian Casablancas; a coincidental liking considering their debut was co-produced by J.P. Bowersock (of Ryan Adams and Strokes fame). Though the title is gruelingly long, Are You Ready for the Heartache Cause Here it Comes is a concisely enjoyable debut that was most certainly worth 32 minutes of my time.
——————————————————————————————-
Murder Mystery – Who Doesn't Wanna Give Me Love?

[audio:https://obscuresound.com/mp3/murderm-who.mp3]
——————————————————————————————-
Murder Mystery – What My Baby Said

[audio:https://obscuresound.com/mp3/murderm-wha.mp3]
——————————————————————————————-
Murder Mystery – Love Astronaut
[audio:https://obscuresound.com/mp3/murderm-lov.mp3]
——————————————————————————————-