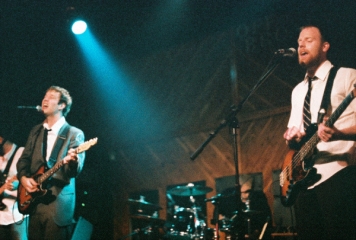 I always wondered how the role of an irregular childhood can effect a musician. It seems nearly stereotypical for a talented artist to recollect upon their childhood as somewhat of an arduous time, using art or music as an originative influence or a form of emotional escape. As funny as it sounds, sometimes it feels like it is easier to find a selfless politician than an artist with an amiable childhood. Everyone needs a little motivation, after all. The childhood of Jon Hardy played out like some gritty, though eventually rewarding, childhood. The frontman of the St. Louis-based Jon Hardy and The Public, Hardy spent his early years traveling throughout the nation with his father, a traveling "holiness preacher". Preaching the word from state to state with his father for several years and unable to call one place a definitive home, he eventually pushed his familial fire and brimstone techniques aside for his delectable fondness of music. Like a standard musician, it was a flawed relationship that motivated Hardy to start writing songs. After an uneventful fling with a southern woman, Hardy took his songwriting travels elsewhere in search of a hopeful occupation. Sleeping under bridges and on riverbanks, the homeless Hardy wandered aimlessly but eventually found solace in the arms of a waitress at a Waffle House in Defiance, Missouri.
After marrying the waitress (who called herself Suzanne), it was wildly apparent that Hardy had found much more than a significant other. As if his journeys across the country were not substance enough, he now felt an emotion that all musicians seem to tackle in some expressive form. Most of us call it love. But, of course, it is rare for a human being to only experience two-sided love. Suzanne left Hardy a few years ago for another man; the theme of love and lost is progressively consistent throughout Hardy's entire musical body of work. However, instead of crying in some corner like a neglected child, Hardy continued to do what he did for most of his life; he chugged along. Bringing together three proficient musicians who were located near Hardy's transitioning place of residence, Jon Hardy and The Public were formed. Whether the band was originally formed as a coping mechanism, a way to earn extra cash, or purely out of love for music, it hardly matters at this point. Listening to their material, the latter option makes the most sense. Jon Hardy has finally found something in life that will nourish him, give him enjoyment, and always return the admiration if effort is involved. Man, there is nothing like defeating the bitterness failed relationships like the sheer power of music.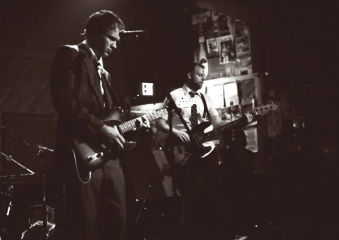 The most amusing thing about the three other members in Jon Hardy and The Public is that their lives are just as fascinating. Drummer Tony Periolio was a child prodigy, learning from his skilled father (an acclaimed session drummer for John Coltrane and Andy Williams) and eventually surpassing him in terms of ability. Bassist Shaun Lee is the son of a wealthy oil magnate who discovered his love of music (and particularly funk) after his Maserati convertible caught a flat tire near a small music club. Oh, and it would be impossible to forget the guitarist, Glenn LaBarre. He won the National Pac-Man Championship in 1999 and is the youngest Canadian government official ever. LaBarre also holds 4 U.S. patents for his work in producing a "pleasantly-odored paint thinner". But, whether it be as an electronic composer or artist, fans of Jon Hardy and The Public know him as a quarter of the band. If this quartet ever makes it big (which they very well may), a properly done documentary would sell like hotcakes. Wow – I am starting to sound a bit like that dude from Tim Burton's "Big Fish"… though I am not exaggerating these lifetime stories one bit.
Back to the music – Jon Hardy and The Public released their debut material with the 5 Songs EP in 2003, a short but tidy EP that was their first showcasing in an enjoyable mixture of alternative rock and fastidious folk. They followed it up a year later with their first full-length album, Make Me Like Gold. Featuring 11 memorable tracks, it was a further expansion of their alt-folk becomings with dashes of a Springsteen influence intertwining with a focus on stylistic Americana. After releasing the Observances EP in 2005, Hardy and co. trekked into the studio for the follow-up to Make Me Like Gold. Like their first album, the finished result of Working In Love contains 11 songs that are a huge step up from the band's earlier material, most of which was previously impressive in its own right. The CD release party for Working In Love will occur this Saturday in St. Louis (at Off Broadway), with online purchasing on iTunes being available shortly thereafter. Even so, you can purchase a digitally formatted version of the album at the band's MySpace. For a little extra incentive to purchase this great release, the band is donating $1 from every copy of the album to the struggling Darfur region of Sudan.
In addition to being their most stylistically diverse album of their careers by a long shot, the variation contained from song to song is enjoyably subtle enough to create a generally cohesive experience. Whereas the glimmering folk-pop contained in the metaphorical ode to the man we all know better as Muhammed Ali (or, depending on your lyrical interpretation, the prominent abolitionist with the same name) makes "Cassius Clay" an emotionally charged experience with a delicately plucked arrangement backed by light female vocals, the alternative/rock feel depicted in the more energetic "Love Don't Work Like That" and "I Will" is just as enjoyable, even if done in an entirely different form than the fantastic "Cassius Clay". Hardy's vocals consistently remain spirited and in a constant state of awareness, with comparisons to Jim James in the catchy, guitar-powered anthem "I Will"  and even Anthony Kiedis in the chorus of "Love Don't Work Like That" being occasionally prevalent. With keys and brass also making appearances in the midst of guitar-based and rhythmically charged instrumentation, there is never a dull moment to be found on the impressive Working In Love. For those who previously knew the fascinating story of Jon Hardy, it was certainly not difficult to guess that it would only be a matter of time before he found success in the occupational aspects of life. With his lively spirit, it fortunately came in the form of music… an occupation he can share with listeners worldwide, regardless of whether they sleep in mansions or along riverbanks.
——————————————————————————————-
Jon Hardy and The Public – Love Don't Work Like That
[audio:https://obscuresound.com/mp3/jhardy-lov.mp3]
——————————————————————————————-
Jon Hardy and The Public – Cassius Clay
[audio:https://obscuresound.com/mp3/jhardy-cas.mp3]
——————————————————————————————-
Jon Hardy and The Public – I Will
[audio:https://obscuresound.com/mp3/jhardy-iwi.mp3]
——————————————————————————————-