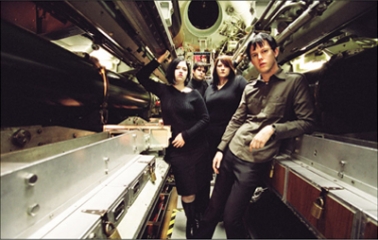 Some bands relish darkness. No, I am not referring to those talentless emo/goth hopeless hopefuls either. This one goes out to the artists who actually know more than three chords, the ones who have the ability to create an atmosphere based on their audible songwriting alone. Post-punk was one of the first genres that brought this perspective to the masses, treating us with gems in the works of Joy Division, Bauhaus, and many of those who followed in a similar path; there are simply too many influential examples to name without sounding overbearing. The ability that an artist has to remain consistent while also avoiding repetitive redundancy is harder than it appears. While artistic styles do indeed come naturally to many, it becomes an issue if their aforementioned stylistic viewpoint has a tendency to become a similarly sounding representation every time. Have you ever heard one of the embarrassing Duran Duran albums created in the '90s? Yeah, that would be an appropriate example. Sure, they established their own sound… a few decades ago, in fact. But now, it seems that their magic is gone. It is becoming rarer to find artists who remain consistent in a subjectively "dark" sound without attempting career revitalizations or anti-aging lotion. But, when one possibly comes along, you know a treat is in store.
When I hear a band like Charmparticles, I know that they are headed for either one or two things: Humiliating backlashes or cult-like followings. The intended path is up to them. What is certain is that they have all the tools. With a vocalist that soars in rare emotional capacity, a guitarist whose infectiously haunting melodies are in the forefront of each song, and a drummer whose fastidious approach seems impressively natural, Charmparticles appear destined for great things. The looming question is whether or not their stylistic approach can translate to a form that does not sound overly repetitive. We have all seen bands in a similar genre fail time after time, giving up hope when realizing that fans really do enjoy diversity when quality prevails. Charmparticles looks to satisfy that expectation. While post-punk certainly remains a rooted influence toward the trio's gloomy sound, they cite the shoegaze explosion of the early '90s (specifically Brit shoegazers like Cocteau Twins and Slowdive) as their primary motivation. I personally am viewing their sound as a mixture of shoegaze, post-punk, and mid-'90s adult-alternative. Whichever way you mix and match, the result is quite enjoyable. Also, purely coincidental (and a bit confused by their .co.uk domain), they are the second artist featured on this site in a row that hails from Portland, Oregon. First the folky roots of Leigh Marble and now the dark shoegaze elements of Charmparticles? Man, talk about a diverse music scene.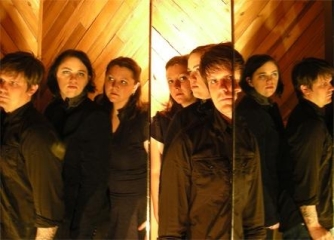 Speaking of this desirable multifarious mindset, it should be satisfying to know that Charmparticles are at least aware of it. In regard to their debut full-length album, Alive in the Hot Spell, they cite a variety of "spare ballads" and "bombastic, angry rockers", with a droplet of "pretty pop songs" to please the masses. I take the quoted directly from their official web site; perhaps it can bring them an assorted fan base. Still, I see the majority of future fans as those who prefer the color black (and there is nothing wrong with that!). The album follows up on their 2004 EP, Sit Down For Staying. It featured previous member Adam Wayne, who left the band shortly after its release. Charmparticles remained in a busy state though, keeping with the now-trio of bassist/vocalist Pamela Rooney, guitarist Sarah FitzGerald, and percussionist Nathanael Merrill in their trek to release the first album. Shortly before the recording process for Alive in the Hot Spell, each of the three members spent time in a different part of the world: Rooney in Japan, Merrill in Austria, and Fitzgerald in New Zealand. Their reasons? I have no clue. They claim that it was done to "recharge their batteries solo" and, listening to the album, the impressive chemistry displayed must have done the trick.
There is no doubt in my mind that Alive in the Hot Spell is certainly one of the most ambitious debuts I have come across this year. With the majority of the 12 tracks nearing or surpassing 5 minutes, there are plenty of moments to rejoice about. The most immediately accessible will likely be in the vein of the rollicking "Gold Plated Shot" or "Relapse", both tracks that rely on rapturous vocals and intensely invigorating guitar arrangements in a successful effort. The futuristic grip that "Gold Plated Shot" manages to maintain with a flurry of spacey synth pads is fully supplemented by FitzGerald's roaring guitars and Merrill's ceaseless drums. They both collaborate in full form over Rooney's fantastic vocals to create a sensuous emotional punch. "Get Your Complex On" is one of the grittiest out of the bench, exposing Merrill's percussive talents in full form. Rooney's vocals are also in top form here during a chorus that surrenders itself as one of the most eclipsing moments on the entire album. Still, even with gems like "Gold Plated Shot" and "Get Your Complex On", the most impressive track on Alive in the Hot Spell comes in the form of "A Danger to You Health". One of the most subdued tracks on the album, the melody and build-up is the most focused I have heard from the band. Rooney shows outstanding range in transitioning from a guitar-filled romp to a mellow semi-relaxer in which FitzGerald's swooning guitar line is both addictive and instantly fulfilling. When the powerful chorus in "A Danger to Your Health" nears its closing and Rooney admits, "'Cause nothing, nothing breaks my heart like what you've done," I recommend you to prepare your spinal cord. Chills will be creeping up shortly thereafter.
——————————————————————————————
Charmparticles – A Danger to Your Health

[audio:https://obscuresound.com/mp3b/cpart-ada.mp3]
——————————————————————————————
Charmparticles – Gold Plated Shot
[audio:https://obscuresound.com/mp3b/cpart-gol.mp3]
——————————————————————————————
Charmparticles – Get Your Complex On
[audio:https://obscuresound.com/mp3b/cpart-get.mp3]
——————————————————————————————