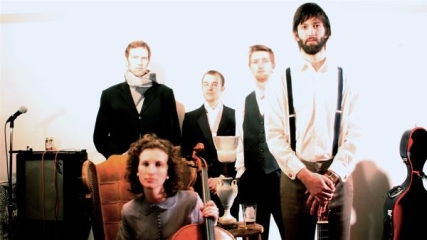 As unfortunate as it sounds, contemporary artists with a strong emphasis on classical instruments continue to be a dying breed. It is difficult to argue against the fact that guitars and rhythmic supplementation are often the common melodic forces in modern songs. While musical quality is loosely defined and there are thousands of guitar-oriented songs that I enjoy immensely, there comes a yearning for a change of pace and style. While piano and string instruments are and will continue to be a prominent force in the production of contemporary music, they are often forced to take a backseat in adjustment to a youth movement that remains fixated in loud guitars, thumping bass lines, and fastidious percussion. Wisconsin's Pale Young Gentleman (a collection of four pale gentleman and one young lady) reaps from an instrumental style that, while considered unconventional in recent years, is largely dependent on the melodic progression carried by the piano and cello. While guitars and rhythm are certainly a factor in the cumulative result, the focus on key-laden melodies with an embracing cello accompaniment creates a force that should not be reckoned with.
Pale Young Gentleman formed in the summer of 2005, with brothers Mike and Matt Reisenauer teaming up with guitarist Brett Randall in an initial trio. After adding cellist Elizabeth Weamer and bassist Andrew Brawner, they began to gain momentum by gathering hype and touring with the likes of the Clientele Beach House and The Robot Ate Me. Though their name is somewhat indicative of a lifeless, anti-social enigma, Pale Young Gentleman craft some of the most emotionally appealing music I have heard all year. With the Reisenauer brothers and Brett Randall taking control of piano, drums, and guitars, the most unique aspect of Pale Young Gentleman comes in the form of another member, Elizabeth Weamer. Like the other 5 members, she is an excellent performer but it is her instrument of trade that truly gives Pale Young Gentleman their differentiating sound. As a professional cellist, she adds a sense of elegance and singular beauty to each song on the band's excellent self-titled debut. Such an involved profession gives the band flexibility when describing their own sound. They have done it some entertaining justice though, as their description of "Jacques Brel meets Randy Newman meets rowdy thespians" is witty and accurate enough to grab listeners on it alone.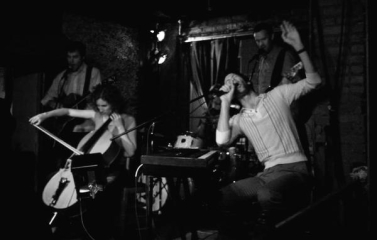 While the ten tracks on Pale Young Gentleman are ultimately a collected group effort, the majority of upfront work was done by Mike Reisenauer. As the group's vocalist, pianist, and songwriter, he demonstrates an extreme talent in crafting the superbly distinguished sound of Pale Young Gentleman. When I first popped in their debut, Reisenauer's vocals appeared to be a blend of two recognizable, yet extremely different, artists: Randy Newman and Coldplay's Chris Martin. While Coldplay has generated some substantial dislike from the indie crowd over the past several years, the hate has largely been concentrated on the band's repetitive style. Martin's vocals have rarely been a subject of substantiated criticism. While the vocal comparison may appear inconclusive in several tracks, there is no denying the likeness on songs with prominent piano usage like "A Shadow on the Wall" and especially the touching "As a War". While Reisenauer delivers a similarly pleading set of vocals, the lyrical content is more suitable in the mood of a more sullen Randy Newman. "She will turn me down, but then at least know that I'm around," he sings over a brisk piano line on the catchy opener, "Fraulein". Even if such lyrical depiction sounds emotionally wounding when read in plain text, the agile use of keys in association with Reisenauer's nimble vocal delivery molds "Fraulein" into a great opener that, if anything, is more optimistic than reflectively downcast.
Though the actual storytelling throughout the album is not as concentrated or metaphorically desperate as Newman's earliest work, Reisenauer's depiction of social characters, whether it be the "piano players" on "Fraulein" or the old-fashioned maudlin dancers on the bouncy "Clap Your Hands", is extremely rewarding with consideration to all the dynamic instrumental aspects. The piano work on tracks like the beautiful "My Light, Maria" is yet more proof of the band's impressive dexterity. After all, it is not everyday when a band produces an exceptional debut album with a cello and piano headlining. Oh, want another reference to that Martin comparison you are probably sick of by now? Check out the outstanding bridge on "Saturday Night"; you will not regret it. As Reisenauer moans into a near-falsetto over the steady weeping of Weamer's cello, the notion of an impending chorus is enjoyably imminent. "Oh Saturday night, take me in your arms, I flash a smile to my friends in the car," he sings joyously when the lively chorus finally arrives, "Oh Saturday night, what a friend you are." Such an enthusiastic display makes me yearn for the weekend even more. One of the most pleasing debuts of the year, Pale Young Gentleman's debut is one of a unique beauty.
——————————————————————————————
Pale Young Gentleman – Saturday Night

[audio:https://obscuresound.com/mp3/pygent-sat.mp3]
——————————————————————————————
Pale Young Gentleman – Fraulein
[audio:https://obscuresound.com/mp3/pygent-fra.mp3]
——————————————————————————————
Pale Young Gentleman – My Light, Maria

[audio:https://obscuresound.com/mp3/pygent-myl.mp3]
——————————————————————————————