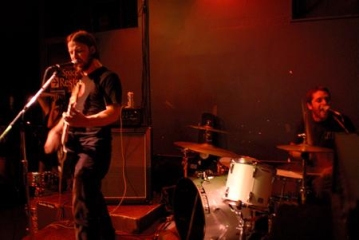 Unless one is referring to a singular mind of genius capabilities, the sentiment that "two heads are better than one" certainly rings true in a variety of aspects. Music, of course, is one of the many forms of art where partnerships can be found at the root of monumental success. While it is easy to pinpoint thousands of musicians who have made a substantial impact by flying solo, the majority of these artists got their start by either collaborating, listening to, or being taught by at least one other musician, even if their talent quickly surpasses that of their scholar. I always admire a band like The Femurs; they are an act that conducts a fully accompanied sound with the sole contributions from two members. Both multi-instrumentalists who regularly share vocal, guitar, percussion, and songwriting duties, the two leading men in Rob and Colin have been friends ever since childhood. While only Rob's last name (Schaeffer) is known to me, it appears that they consider themselves to be tight as brothers, with their monikers proudly being "Rob Femur" and "Colin Femur". The chemistry certainly is shown in their music as well, with their eclectic blend of power-pop, early '80s punk, and alternative rock resonating quite profoundly.
The boys of The Femurs got their start back in New York, being good friends throughout middle school and high school. After their schooling ended and it grew time to find something to pay the rent, both Rob and Colin were relocated to Washington. With Rob in Olympia and Colin in Seattle, the two dabbled in a variety of other musical projects before finally coming together again in the formation of their energetic duo, The Femurs. While it was originally Rob's solo project, Colin once again joined forces with him in 2005 for the release of their six-song EP, the oddly titled Jack Cafferty vs. Chuck Scarborogh. While only under Rob's name, The Femurs' first release came in 2004 with the self-titled The Femurs. A self-proclaimed "mix of electric pop-punk and acoustic indie/pop songs", it gave them quite a following around their Seattle base, with old friends in New York also taking note of their debut. With the addition of Colin, Jack Cafferty vs. Chuck Scarborogh was released the following year and proved to be an expansion of the band's sound. More polished with a slew of intelligently weaved hooks, it was a tidy preview of what was to come for The Femurs.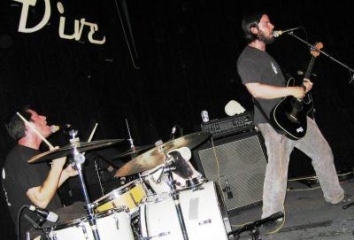 Though their first album, The Femurs, was released with the band's name in bold, it appears that both Rob and Colin do not consider the album to be a part of the current lineup's discography. This is telling in how much Rob values Colin's instrumental and songwriting contributions, as their mutual work ethic provides for a sound that would simply not work if one of them were not present in the creative process. With this in mind, their newest release, Modern Mexico, is considered by the band to be The Femurs' full-length debut… as a duo, anyways. To add a bit of fun to the release of Modern Mexico, The Femurs' made the subsequent name change/translation to Los Femurs. While their official name remains to be The Femurs, the change simply is an example of duo's carefree and spirited approach. However, even with the Mexican theme, The Femurs' whimsical approach remains largely the same. With acoustic guitars often serving as the main ingredient in The Femurs' melodic constructions, it is hardly in the form of subdued folk-pop we have come to expect from artists who utilize acoustic guitars as a prominent instrument. Take a listen to the irresistibly catchy "Round and Round" if you hold any doubts; it is a wildly enjoyable summation of The Femurs' style wrapped into a three-minute pop gem. With rollicking acoustic riffs layered under the frantic enthrallment of several percussive elements, The Femurs incorporate standard pop fanfare with shades of experimentation later into the song that edges near Animal Collective-esque psyche territory.
As the 12 tracks on Modern Mexico eventually progress, The Femurs' style becomes familiarly intuitive quickly. Songs like "Vitamins" and "Not Giving Up" could easily be classified as early '90s power-pop if not for the equally successive vocals of both Rob and Colin, showing a flare for influences both in punk and popular alternative. With acoustic melodies reaping in efficient changes of key and fastidious forms of percussion serving as properly energetic suppliers in persistent tracks like "Allison", it works well for the most part. Though describing their vocal deliveries as a series of whimpers would be too linear, The Femurs' confident approach remains entirely repetitive through the album; it is an aspect that will vary in enjoyment depending upon the listener's initial enjoyment of The Femurs' style. Though an occasional change of pace or tempo would be nice, The Femurs have little room for a ballad on their hands. Their wholesome energy speaks for most aspects that are critically necessary. For a series of fast-paced, rambunctious pop-punk songs whose values are largely dependent on catchiness and fervent displays of accessibility, The Femurs' Modern Mexico is certainly recommended.
——————————————————————————————
——————————————————————————————
——————————————————————————————
——————————————————————————————