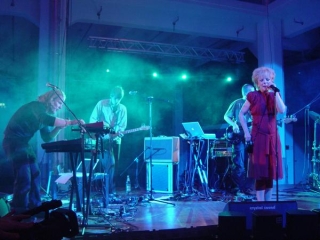 When it comes to music, age knows no limit. While it is customary to expect genius composers like Philip Glass or Ryuichi Sakamoto to continue creating music into their latter years due to the precise and delicate nature of their instrumentally laden craft, there are a handful of aged individuals who can tackle the art of pop music willfully without coming across as desperate or stylistically frail. This being said, many modern bands would be hesitant if their lead singer was a 50-year-old women. This type of hesitation would be obsolete in appliance to the talents of Julee Cruise. As the lead singer of Marcus Schmickler's psyche-shoegaze project, Pluramon, the only thing that should audibly matter to listeners is her wide-ranged experience. Known to many hip connoisseurs as the lead singer to the theme song of cult television television show Twin Peaks (and also an actress on it), her collaborations stretch as far as David Lynch, Angelo Badalamenti, Supa DJ Dimitri, and most recently German-based Marcus Schmickler. If you have not noticed or are not a fan of Lynch's work, Cruise manages to dabble in tones that would be widely considered "dark". With a voice that remains airily haunting with a tinge of fragility depicting romanticized longing, it has always been an extremely suitable fit.
Though her career remains ample with respectable figures in tow, I personally am most enamored with her work involving Pluramon. Apart from the fact that Schmickler is a skilled songwriter in his own right, their collaborative purposes go together like peas in a pod. His atmospheric, brooding mixture of post-punk, shoegaze, and psychedelia, has been treating audiences since the release of their debut in 1996, Pickup Canyon. Though Pluramon's early material did not feature Cruise on vocals, albums like Render Bandits in 1998 did more than enough to solidify their status as one of the more enjoyable shoegaze acts out of Germany. When Cruise's involvement with Pluramon became more readily apparent with their fourth album, Dreams Top Rock, in 2003, it marked the initial stages of their fruitful partnership. Along with a variety of other instrumentalists and backing vocalists, Pluramon has become an act distinguished by their ability to blend rhythmically based instrumentation with plentiful effects of surrounding reverb and atmospheric serenity, all marked by precise musicianship.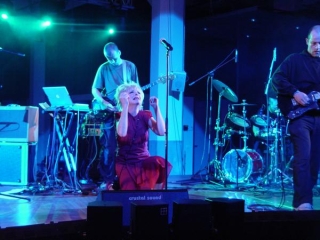 With Pluramon's fifth and most recent album, The Monstrous Surplus, set to be released on October 23rd, it marks perhaps the first occasion where Cruise's involvement is full-fledged to a point where she is considered an official member. With that in consideration, it has also evolved to be the best album from the band in recent memory. I know it may sound generic, but the one word to describe it would be "beautiful". Any of those in doubt should look no further than "Border", a sprawling, lush beauty of a song that works of droning guitar lines, echoed percussion, and a pair of reverbed vocals that lifts the song into places unimaginable for previous incarnations of the German shoegazers. The first few lines do a nice job in summing up the song's reflectively romantic outlook. "This is life – it's alright because I'm in love," Schmickler sings with a deep croon, with Cruise's endearingly airy vocals supplementing his shortly thereafter during a chorus that relies on minimalist structures and guitar-based arpeggios. When the song erupts into a near-explosion of ringing keys and singularly driving synths, Cruise's vocals become more frontal and the moment provides an instant realization into one fact: "Border" is the best song Pluramon has ever produced.
While they are certainly not as strictly in the genre of "shoegaze" as other influential artists like My Bloody Valentine or Cocteau Twins, the diversity of Pluramon makes the personal experience quite rewarding. The thing that most impresses me about The Monstrous Surplus is its ability to remain consistent. While past Pluramon albums have found struggles with some songs being of a lesser quality or stylistic reach than the stronger efforts, this is a cumulatively impressive album that reaps from a collection of beautifully executed songs. While the outstanding "Border" was largely reliant on instrumental progression and slick production, "If Time Was On My Side" and "K-Land" are largely dependent on the elusive vocals of Julee Cruise. With guitars being the main instrument of trade in both songs over the occasional whirring of synths, both are nearly rewarding as "Border". Cruise carries a leading vocal melody through traditional structures that increase in intensity as the song itself progresses. Though the sample-led "Fresh Aufhebung" is a slight mess in comparison to the other tracks on The Monstrous Surplus, the rest of the tracks are extremely enjoyable and should hopefully serve as the epitome of future releases from Pluramon. With a relaxing demeanor contained in songs that are both serene and elegant, The Monstrous Surplus is one that will be hard to miss.
——————————————————————————————
——————————————————————————————
——————————————————————————————
Pluramon – If Time Was On My Side
[audio:https://obscuresound.com/mp3/pluramon-ift.mp3]
——————————————————————————————