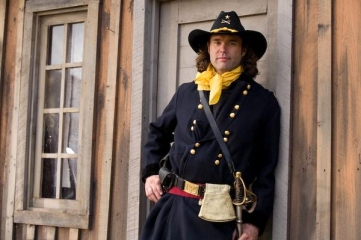 O Canada! Why is your music scene so damn unpredictable? Now, whenever I hear a new Canadian artist, I have no clue what I am about to get. Country-folk from Kent McAlister & The Iron Choir? Synthy post-punk from Feu Therese? Or how about throwback Brit-pop revivalism from Spiral Beach? Whichever genre it is that you fancy, Canada has been certainly supplying it over the past few months. Unlike several locations in the United States, there remains no part of Canada where one musical stereotype reigns over all the others. No country music in the south, no grunge in the upper Midwest, and no sob story emo failures on either coast. It is a free-for-all adventure, one that welcomes all genres and stylistic intentions with wide open arms. While niches remain somewhat more common than in other parts of the world, Canadian artists like the ones featured over the past few months have attributed to the newly energized embrace of genres that stray from the typical nationalistic trend of expectancy. Foreign styles are becoming less of an oddity and, with the multitudinous array of new artists causing a momentous effect on what is now considered a stylistic "norm", the rash unpredictability within a scene has become something of an envious ambiguity.
One of the more experienced Canadian artists making a similar impact is Edmonton-based songwriter Corb Lund. With his fifth studio album, Horse Soldier! Horse Soldier!, set to be released on November 15th, it marks yet another strike of consistency for the country-folk songwriter who has built up his name of being one of the most beloved folk songwriters in Canada. In fact, Lund describes the grouping of his fans as quite an eclectic mixture. "Because of the some fo the mainstream country play we've been getting, our audience is a mixture of hipsters and regular country listeners," Lund says. Try and picture those two types in a crowd. Fun stuff. If I had to guess, I would say it is the allure of Lund's distinct storytelling that makes both types savor his releases. A self-proclaimed history buff, Lund has shown great interest in military history and strategy. As a result, Horse Soldier! Horse Soldier! is about a subject that many artists tackle controversially: war. More specifically, it serves as a dedication to the importance of cavalry during the dozens of historically memorable wars that embrace our cobwebbed high school history books. Lund has the background to boot too; his lineage apparently dates back to a bloodline of cowboys who made their homes in the south. He now makes Alberta his home and embraces it, using it as a descriptive backdrop in a variety of his songs. It could almost make us forget that Lund is a Canadian songwriter who looks, speaks, and sings like an American revolutionary. To his credit, such esteemed originality works exceedingly well.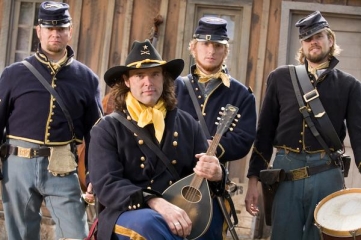 I will say right now that country music is not my cup of tea. It never has, it never will be. But still, when I stumble across an artist like Corb Lund, such stylistic prejudice becomes obsolete. He is an artist where both style and substance are of equal importance. He is not an artist whose goal is to write a radio-friendly hit with a stellar melody with embarrassingly generic lyrical content. He does not aim to expose poetic elegance over a dull melody either. Instead, Lund manages to incorporate both rich lyrical content with a musical style that remains consistent but never tiring. His classification as a country artist is indeed flexible, whether it be the brassy mariachi ode in "My Saddle Horse Has Died", the rollicking "Hard On Equipment" and its shades of '50s rockabilly, or the bluesy leading riff in "What That Song Means Now". With his influences in mind, it makes sense. "My heroes are the guys who transcend style, whether it's Neil Young or Bob Dylan or Steve Earle or Lyle Lovett," Lund said. "They start out in whatever scene suits them best, and then they grow." Horse Soldier! Horse Soldier! is the type of album where buying a hard copy is nearly a necessity, as the included booklet of each lyric is something that provides great additional entertainment to Lund's rich 15 songs.
Arguably the finest example of Lund's storytelling talents on Horse Soldier! Horse Soldier! comes in the form of the politically rousing "Student Visas". Lund calls it the "most contemporary tale" on the album, taken from a real character that Lund met while touring in the USA. The character was a grizzly veteran who had served in the covert anti-Contra operation in Nicaragua in the '80s who, after a few beers, began telling Lund about his turbulent service time. "Every couple of minutes he'd stop and say, 'I'm not supposed to be talking about this,' but then he'd continue," Lund said. "He would vacillate between being a tough guy with bad-ass soldier talk and super heavy crippling remorse." The song ultimately displays the challenges and frustrations put forth because of a war that simply does not make sense from a humane perspective. "Did Reagan give the order? Did cocaine pay the bill?" "They said we's fightin' communists but it was kinda hard to tell." "This was before Blackhawks and RPGs were king," he finally declares, clarifying to younger listeners that real war is the precise opposite of fun-filled video games that attempt to capture the wounded experience. Casted over by a rapid acoustic progression and a flurry of dark strings, the gloomy touch makes Lund's bleakly reflective viewpoint even more effective. "Horse Soldier, Horse Soldier" is also an excellent display of Lund's string use, being an ardently depicting factor that achingly summarizes Lund's somber reflection on an under-appreciated occupation. It almost seems like Lund is a few centuries too late (and I mean that in a good way). The fact that "I Wanna Be in the Cavalry" sounds like a pro-war recruitment song crafted in the 1700s is simply part of its charm.
——————————————————————————————
——————————————————————————————
Corb Lund – Horse Soldier, Horse Soldier
[audio:https://obscuresound.com/mp3b/clund-hor.mp3]
——————————————————————————————
Corb Lund – I Wanna Be in the Cavalry

[audio:https://obscuresound.com/mp3b/clund-iwa.mp3]
——————————————————————————————