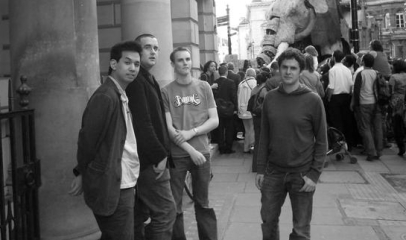 I am sure that at one point in your lives, many of you have experienced a feeling similar to the one felt by Matt and Edd of The Hidden Messages. It is a feeling of isolation, barrenness, and deprivation. And no, it has nothing to do with shoddy romance. While managing to juggle studying and an avid pursuit for musical arts, the two founding members of The Hidden Messages were completely disgusted with the lack of music-related knowledge exhibited by their fellow friends at classmates at the University of Surrey. According to them, they were surrounded by people "who believed that The Velvet Underground and The Clash were clubs in Guildford, who believed that The Beach Boys only wrote about surfing, and who didn't like The Flaming Lips because 'the singer can't sing'." Now, unless you sulk around in some pretentious scene club where the chance of admittance relies on the amount of gel in your hair or the tightness of your jeans, it is difficult to find a music fan who is content with their social atmosphere in regard to conversations about music. This is why many of us consider the internet to be a haven in this regard. I doubt many of you would be reading music blogs like this one if you thought otherwise. It allows us to communicate freely about artists who live up to our form of quality without the person on the other end of the conversation scratching their head while looking utterly confused. Though it often comes as a culture shock, we are able to find intelligent music fans who think similarly and ideally without irrationality. Many of us listen to, chat about, and practically live off music. Some others create it.
As discouraging as living in a secluded environment was to Matt and Edd, they did not let it get them down. Instead, they formed The Hidden Messages in 2005 as a two-piece with a boatload of aspirations. The two were no stranger to collaborating musically, as their previous band, The DAs, gave them a share of experience together. Shortly after their formation they asked themselves a simple but important question: Where in England will give us the biggest chance of opportunity? The answer should be immediate. London, of course. After seeking solace in the shadow of Big Ben, the duo was joined by Matt's schoolmates, two of the few who the duo deemed knowledgeably appropriate for the task. After taking the majority of 2006 as a time for performances and songwriting, the group welcomed a new member, Claire, into the band, officially making it a five-piece. It remains somewhat difficult to classify the roles of each member in The Hidden Messages. Apart from Justin's singular task of being the group's bassist, the other four members are craft multi-instrumentalists. Keeping it somewhat short and not nearly conclusive – Matt sings and dabbles in an assortment of guitars and strings, Kenny is the main percussionist and surveyor of keys, Edd provides more vocals and guitars, and Claire takes over with a set of beautifully enhancing backing vocals and additional violins. I said that all in one sentence? Wow.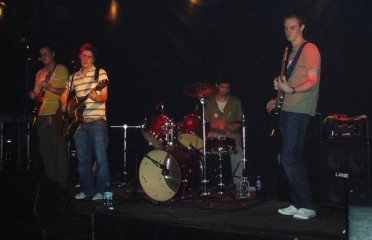 2007 marks the introductory year for The Hidden Messages. Though the members have been involved in their share of musically-related projects for several years, their first release came just a few months ago. The Hidden Messages have opted to, instead of releasing a full-length album with 8 tracks, oddly release two joint EPs with 4 tracks each. Entitled Animal Actors EP1 and Animal Actors EP2, they both provide an exceptional display of the five-piece's invigorating pop mindset. The opening track on EP1, "Such a Disgrace" should serve as the group's defining track if they should suddenly receive a boost of well-deserved recognition. As the first several seconds demonstrate a simplistically layered acoustic guitar, many will come to expect a small-town band looking for a small-town hit in a big city. However, once the exotically sweeping strings enter the scene almost immediately thereafter, you should be well aware that The Hidden Messages are not simply an average act. They are exhibiting some of the most infectious and most expertly crafted pop songs I have heard all year. With homages to all the giants of British guitar-pop from the past 50 years, The Hidden Messages are also a group that remains extremely accessible. From obvious influences like The Beatles and XTC to fellow contemporaries in the vein of Radiohead, their involvement of British invasion, jangle-pop, college rock, and psychedelica remains fresh and ceaselessly exciting.
In stark contrast to the infectiously gliding, radio-friendly flair of "Such a Disgrace", the group explores territory that could be dubbed somewhat psychedelic in the equally exceptional "The Underground". This time showing a knack for innovation and, dare I say it, melodic genius, "The Underground" should not be missed. Guided by the steady beat of a drum and a haunting array of keys, it proves to be a chilling track that could arguably serve as The Hidden Messages' most impressive song to date. "Elephant Graveyard" falls somewhere in between the two in terms of style, this time using a bouncy keyboard instead of sweeping strings. It twinkles with keys, booms with horns, and repeats itself – an enjoyable mix, for sure. The verse's vocal melody initially begins as a splitting image of Radiohead's "Airbag", though the song's main message in conveying that "love will see you through" is a cheerful shrug of mortality, going hand-in-hand with the song's atmosphere expressed by an intimate spur of keys and horns. Like most acts striving to make it big, "Such a Disgrace" is a chronicling of the band's urges to move out of the small spotlight and into the bigger, more rewarding stage. In addition to personal frustrations caused by ignorant social norms (the use of kitchen appliances, awkward silences, etc.), the group righteously yearns for proper success on their leading track. "I'm waiting to break out," Matt sings over the translucent allure of guitars and strings, "Got to get out of here." One thing is for sure: success for The Hidden Messages will occur eventually. If The Hidden Messages continue to produce music as enjoyable as the material displayed on their two debut EPs, their irresistible messages will be impossible to hide.
——————————————————————————————
The Hidden Messages – Such a Disgrace
[audio:https://obscuresound.com/mp3b/hmessages-suc.mp3]
——————————————————————————————
The Hidden Messages – The Underground
[audio:https://obscuresound.com/mp3b/hmessages-und.mp3]
——————————————————————————————
The Hidden Messages – Elephant Graveyard

[audio:https://obscuresound.com/mp3b/hmessages-ele.mp3]
——————————————————————————————