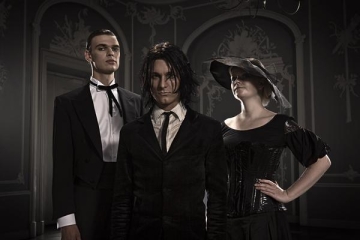 I try to spread the genres out a bit with my day-to-day articles. A little bit of pop one day, a touch of rock the other, and full-fledged electronica the next; diversity certainly makes our lives a lot less tiring. It also keeps me on my toes, disallowing me any opportunity to grow tired or ashamed of one particular genre. Like many of you, I have learned to love it all. Considering that I just featured the irresistible all-girl dance-pop of Girls Aloud on Saturday, I was admittedly a bit hesitant about posting Private so soon. Simply, I did not want to overwhelm people with, in my opinion, the two best dance-pop albums of the year by posting them in the same week. We all need time for albums to grow on us and there is no doubt in my mind that fans of one group will surely cherish the other as well. Sure, while neither Girls Aloud or Private serve up the masculine, guitar-powered form of indie-rock that has been the supreme choice for elitist showmanship, they are offering some of the strongest songwriting I have heard all year. Call me impatient, but I simply could not wait any longer. The "acceptable" norm gets dull sometimes anyways
I also suppose some might say that posting a band that the infamous Perez Hilton has already praised goes against the purpose of this site in its goal to expose quality lesser-known artists to an audience that truly deserves the opportunity to listen to them. However, as it seems now, their presence throughout music blogs is nearly obsolete. Maybe Hilton scared them off. Still, considering that Private's debut offers some of the catchiest dance-pop tracks of the year, I find it hard to resist sharing. Much of this acclaim can be attributed to the stunning talents of Thomas Troelsen, a masterful composer and producer from Denmark. Though his name remains fairly unknown outside of Denmark, his work is cherished in his home country for good reason. Make no mistake though, he has had his share of time on the international charts; it was just not as a performer. He has produced several chart-topping hits primarily aimed at a dance aesthetic, notably Junior Senior's "Move Your Feet", Monrose's "Hot Summer", and Melody Club's "Baby". With those three acts hailing from Denmark, Germany and Sweden, respectively, Troelsen seems intent on capitalizing on the European craze for dance-pop. With his skills, I cannot say I blame him either.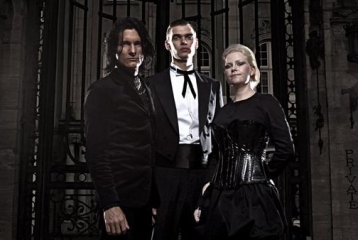 The formation of Private dates back to Troelsen's first breakout group as a performing artist. He manned the vocals and synths for the Danish six-piece, Superheroes, a group that saw three successful albums and three notable singles in their native Denmark. Upon Superheroes' abolishment in 2006, Troelsen nabbed two of Superheroes' other four members and formed Private. Now comprised of Troelsen, guitarist Asger Tarpgaard, and vocalist Tanja Simonsen, Private seems destined for ultimate success. They have already achieved a monumental amount of it in Denmark, as their outstanding single, "My Secret Lover", sits atop firmly at #1. With their new album, the similarly titled My Secret Lover, starting to generate substantial hype amongst the dance scene, Private is truly one of the several breakout successes of 2007. I have found it to be one of the catchiest albums of the year, with gems like "I Can't Wait" and the self-titled "My Secret Lover" being sparkling examples of what quality contemporary dance-pop should sound like. Troelsen's style with Private recalls the dance sensibilities of Michael Jackson and Prince at their peaks, all while providing a futuristic sound of electronica in the process. Though the majority of songs on My Secret Lover are introduced by a glaring synth that sounds 20 years too late, the majority eventually fold into intricately layered dance masterpieces.
Though it can be overshadowed by the irresistible "My Secret Lover" in terms of initial appeal, my favorite track on My Secret Lover is "I Can't Wait". As it begins with a swanky synth and seductive bass line, Troelsen's vocals immediately thrust the song into the category of "dancefloor favorites". The chorus is unconventionally introduced immediately but, with it being the most likable part of the song, it proves to be highly effective. As the song nears its final stages with a Yellow Magic Orchestra-like synth solo, it should be recognizable to many that Private are quite different from other aspiring dance-pop acts. They are tighter, more fluid, and their bag of hooks seems bottomless. Though Troelsen's use of a drum machine is spread throughout the album, "I Can't Wait" shows wholeheartedly that it does not interfere with the crisp production and vocal delivery. Much of it is on the shoulders of Troelsen because, simply put, he sounds like a pop star in his prime. He can sing, produce, and write songs with excellent proficiency. There are not many artists who can say the same.
Tanja Simonsen is found singing backing vocals on "I Can't Wait" and several other tracks but she most notably takes center stage on the serene "One in a Million". It is a spacey treat that is a good display of Troelsen's unselfishness, giving his fantastic voice a rest to give Simonsen a shot. She pulls it off just as well. He also takes aid from a few guest songwriters on three of the tracks, "Crucify My Heart" (with Tom Burris), "Killer on the Dance Floor" (with Remee)), and "Waiting for Tonight"; the latter was written by both Troelsen and Junior Senior member Jesper Mortensen. If you are a fan of '80s pop and contemporary dance, Private's My Secret Lover could very well be your favorite album of the year. Apart from a mediocre song or two in the middle, it is near flawless.
——————————————————————————————
——————————————————————————————
——————————————————————————————
——————————————————————————————
Want to find a lover who also loves the same music as you?   When you are looking for a date, the internet is a good spot to begin. By using free dating, you'll get great dating advice as well as get free personals.