Posted
December 14, 2007 by Mike Mineo
in Features
Steve Aoki's Pillowface and His Airplane Chronicles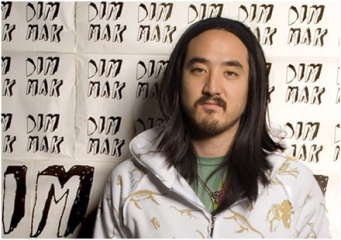 If you live in Los Angeles, attend parties every weekend (or weekday), and love to dance (or just listen to it), then the name Steve Aoki probably sounds more familiar than George W. Bush. Aoki has more fans, I can say that much. A part-time DJ and full-time founder of Dim Mak Records, Aoki is a staple in California under his DJ Kid Millionaire moniker. His reputation as a DJ is largely unmatched in California and his skills as a musical entrepreneur are just as impressive. Success seems to run in the family too; his father, Rocky Aoki, is the owner and founder of the Benihana restaurant chain and his half-sister, Devon Aoki, is a very popular model and actress. You may know her best as the elusive Miho in "Sin City". Even though his family provides for some fun facts, the careers of Aoki's father and sister is largely irrelevant to his importance in the music scene. With his natural proficiency and keen ear for quality, Aoki would have likely had this reputable status even if his childhood was unprivileged. Simply put, he knows good music when he hears it. Whether it be in his knack for remixes or discovering a soon-to-be hit artist, Let's put it this way: If you were a music executive in California, you want DJ Kid Millionaire on your side. His record label, Dim Mak Records, is the label responsible for making Bloc Party one of the most popular indie-rock bands in the world, with newly signed artists like Klaxons, The Rakes, and Mystery Jets already making names for themselves.
I admit that I am not usually one to become infatuated with mix tapes, as I am one of those guys who always prefers the "full experience" of a cumulative album over a few select tracks . I usually see it as a clever romantic gesture though; a good mix tape always works well as a mini-Christmas gift for that special someone. The hardest thing when compiling one, though, is the mentality that the tape is not just for the compiler. It is for the intended audience, whether it be one person or 100,000. With his massive following, Aoki understands that the amount of people listening to his debut mix album, Pillowface and His Airplane Chronicles, will likely approach the 7-digit mark. Featuring guest vocalists Steve Bays (Hot Hot Heat), Mickey Avalon, Todd Fink (The Faint), and Uffie alongside crafty remixers like MSTRKRFT, Erol Alkan, Soulwax, and Weird Science, Aoki has expectedly chosen a bunch of very enjoyable remixes for his fantastic mix debut. Though tracks like Justice's "D.A.N.C.E. (MSTRKRFT Remix)" and Klaxons' "Gravity's Rainbo (Soulwax Remix)" have been favorites on the blogosphere for several months now, Aoki has compiled the best remixes from the indie-electro scene of 2007.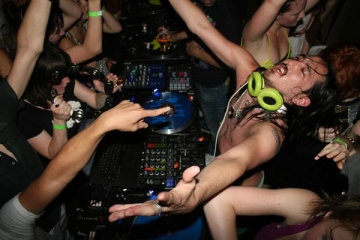 Considering that Aoki plays dozens of the latest (and somewhat undiscovered) electro-dance hits every night, one would expect Pillowface and His Airplane Chronicles to be exceptional. They certainly will not be disappointed either, with several instrumental and vocal additions being highly notable. Steve Bays lends his whimsical whimpers to the frantic rush of Datarock's infectious electro-funk in "Fa-Fa-Fa" and they fit surprisingly well in the process. While not a drastic overhaul by any means, it is hardly subtle either. Erol Alkan's version of Franz Ferdinand's "Do You Want To" sees him drag out the introductory guitar lick for about a minute, shortly supplemented by a pulsating bass synth that adds a whole new grip to the song. It manages to be enjoyable without sounding too similar to the original, yet the regained guitar licks still adds an aroma of art-rock that stands strong. When a light synth echoes Alex Kapranos' original vocal melody in the last several seconds of the remix, it serves as quite an accomplished tease. Artists on Aoki's fantastic Dim Mak label are also represented well, specifically Mystery Jets and Scanners. The Rilton Re-Dub mix of Mystery Jets' "The Boy Who Ran Away" is also commendable, using a variety of glitch effects over the slight tinge of eerie synths. L.A. Riots' remix of Scanners' "Low Life" is just as good, being more intensely repetitive but arguably even more enjoyable than the original. Additionally, though it may be deemed as a guilty pleasure for many, Peach's minimal vocal involvement in Weird Science's remix of Bloc Party's popular "Helicopter" is substantially pleasurable. Imagine that.
Though the conventional purpose of a remix is to expose a song in an enjoyable new light, some tracks on Pillowface and His Airplane Chronicles like "Low Life" and "Gravity's Rainbo" actually exceed such boundaries and come close to or surpass the original. Thanks to DJ Millionaire for compiling this gem; apart from the screamo touch in Refused's opening "New Noise" (it's simply not my style), the following 16 tracks will have you tapping your feet long past dawn. Aoki seems to literally DJ every night and, though most of the dates are in California, he will be making a few shows in New York, Chicago, Washington, and Nevada in late January. Check out his upcoming shows on his MySpace. Want to see what an average show hosted by Steve Aoki looks like? Boom. Yeah, the dude knows how to make kids dance. He is able to, quite literally, be the life of a party.
——————————————————————————————
Klaxons – Gravity's Rainbow (Soulwax Remix)

[audio:http://mineorecords.com/mp3/klaxons-gra.mp3]
——————————————————————————————
Justice – D.A.N.C.E. (MSTRKRFT Remix)

[audio:http://mineorecords.com/mp3/justice-dan.mp3]
——————————————————————————————
[audio:http://mineorecords.com/mp3/datarock-faf.mp3]
——————————————————————————————
Franz Ferdinand – Do You Want To (Erols Alkan's Glam Racket Remix)
[audio:http://mineorecords.com/mp3/franz-doy.mp3]
——————————————————————————————
Mystery Jets – The Boy Who Ran Away (Rilton Re-Dub)

[audio:http://mineorecords.com/mp3/mystery-boy.mp3]
——————————————————————————————
Scanners – Low Life (L.A. Riots' Remix)

[audio:http://mineorecords.com/mp3/scanners-low.mp3]
——————————————————————————————
Bloc Party – Helicopter (Weird Science Remix feat. Peaches)

[audio:http://mineorecords.com/mp3/bloc-hel.mp3]
——————————————————————————————
Mike Mineo
I'm the founder/editor of Obscure Sound, which was formed in 2006. Previously, I wrote for PopMatters and Stylus Magazine. Send your music to
[email protected]
.