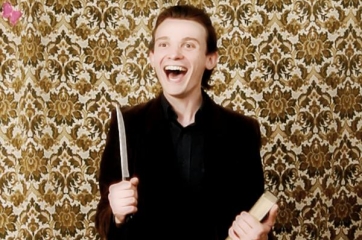 I understand that the sheer number of albums released last year can be a bit intimidating for those whose tastes are a bit more specific than the average listener. I made my Top 50 Albums of 2007 feature for that very same reason – to hopefully help those misguided listeners discover some of the year's greatest albums quickly and efficiently; I tried to include a substantial amount of variety too, hopefully succeeding in the process. However, in the midst of albums by Radiohead, Spoon, Arcade Fire, and other items of popularity, I often found myself most satisfied in revealing artists in the upper portions of the list that were lesser known in stature. Though I have yet to read a review of them that appears even slightly negative, Field Music are one of these bands whose slightly lackluster popularity does not coincide with the great quality of songwriting displayed in their music. The three-piece boast a form of orchestral indie-pop that incorporates a variety of guitars, brass, strings, and glockenspiels over melodies that remain infectious and wholly consuming from start to finish. Their newest release, Tones of Town, earned a spot as my 13th favorite album from '07, demonstrating a form of pop songwriting brilliance that rarely sees the light of day in an age overpowered by overly technological methods of production and sketchy showmanship.
Before I go into detail about David Brewis' excellent solo project, School of Language, I feel a steady obligation to urge those into buying Field Music's outstanding sophomore album, Tones of Town. It was one of the best pop albums of 2007 and it remains accessible to listeners of all tastes and intentions. And let me say this too: If you are a fan of anything put out by Field Music, I would be shocked if you did not find Brewis' solo material to be as fulfilling. As one of the three members in Field Music, he has proven to be a vital contributor toward the brand's embracing sound, with his vocal and multi-instrumental work being highly impressive. Enjoyably enough, School of Language does not stray too far stylistically from the shimmering pop flair of Field Music. Like his previous work with the band, Brewis produces admirable nods to pop greats in the vein of XTC and Brian Wilson, intertwining accessibility and melodic aptitude for an appeasing experience. He has finished preparing School of Language's debut album, Sea from Shore, for its release date on February 5th. The solo project comes off somewhat ambiguous news that Field Music has split up, at least for the time being. Though the band states that Field Music will continue because they already have "a bank account under the name", they appear adamant on not creating music together for at least some time. Hopefully, after a few solo projects or so, we will see another album from the three-piece. On the bright side, David Brewis' gem of a debut will certainly keep fans on their toes while they wait.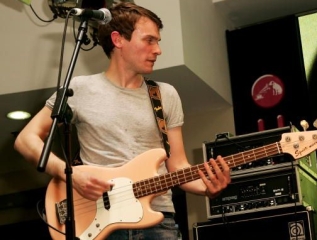 I suppose that it would not be fair to compare Brewis' solo project to his work with Field Music, though it is hard to resist when the melodic comparisons are so blatantly enjoyable. If we were to look for something in specific though to differentiate from one another, Sea from Shore proves to be different in that the focus is largely on guitars and rhythm. Though Tones of Town held a similar form of instrumental dexterity, there was a larger abundance of keys and orchestral elements in the vein of strings and brass. Perhaps those elements can be attributed to the other two members in Field Music, Peter Brewis (David's brother) and Andrew Moore, though the lack of diverse instrumental flair on Sea from Shore does not stop it from being an excellent release. In fact, its more personable nature allows Brewis to produce what a proficient solo project should sound like. While the emphasis on instrumentation may be marginalized in complexity, the melodies are as strong as ever. It allows him to demonstrate his skills on guitar, bass, and percussion in forms that the ambitious scope of Field Music may not have allowed. "Nothing that we'd ever really done up to now was something that you couldn't have done on a reel to reel tape machine. This is me embracing the laptop!" Brewis says proudly of his solo project and the unchartered waters he plans to explore in the process.
For those who are unfamiliar with Field Music, if you are looking for a great example of Brewis' instrumental and melodic prowess, I recommend that you check out "Disappointment '99″… immediately. I know that it is too early to decide on this sort of stuff, but it is is easily one of the best songs that I have heard so far this year. Once the screech of a guitar and a flurry of rapid drums kick off the song, it is easy to recognize that the relationship between the guitars and rhythm section is ingeniously executed. Brewis' trademark vocals carry themselves over from Field Music, appearing both highly emotional and singularly unique in a near-falsetto tone. He uses his form of vocal ingenuity brilliantly in the bridge, mimicking the quick chords of a high-pitched guitar with a shrill shriek. Surprisingly, that only serves as one of the song's hooks, with the sole plucking of a guitar guiding a percussion-less form of Brit-pop during the chorus' final moments (with vocals provided by Futurehead David Craig) also being aptly enjoyable. The beauty of "Disappointment '99" is that the verse, bridge, and chorus are so excellently implemented that it is difficult to choose a favorite moment in the song. My favorite moment occurs during the last chorus of the song, where a subtle eruption of sorts occurs and all of the instrumental elements of the song collapses into one intuitive verse. Field Music included, "Disappointment '99" is certainly one of the most impressive moments of Brewis' career.
Though they lack the structural divergence that the brilliance of "Disappointment '99" conveyed so well, both "This Is No Fun" and "Poor Boy" show shades of pop brilliance in their own exclusive forms. "Poor Boy" is led by an infectious bass line that appears muddled in reverb. It carries the entire song over several guitar tracks and percussion that increases in intensity as the song progresses, with Brewis using different pitches of his own voice as backing vocals. It works very well too, providing melodic variation for a song whose instrumental variety may sound skeptical the first few listens despite eventually growing in likability. The catchy "This Is No Fun" reminds me of Field Music's "Working to Work" for several reasons, one being that the name of the song is repeated in the chorus consistently throughout the song. The song is led by a series of quick guitar chords and sharp vocal spurs, with the occasional addition of synths proving to be an absolute treat. I suppose that is one aspect of Brewis "embracing the laptop!". Throughout the album, there are several moments where the entire rhythm section halts and gives way to a series of guitars and occasionally vocals. This is best demonstrated on both "Disappointment '99" and "This Is No Fun", both excellent tracks. With a plethora of similarly blended techniques of pure success, School of Language's Sea from Shore is a monumental achievement for Brewis both as a songwriter and solo artist. With 11 wildly infectious pop songs, it is one of the best releases of 2008 so far.
——————————————————————————————
School of Language – Disappointment '99

[audio:http://mineorecords.com/mp3/solang-dis.mp3]
——————————————————————————————
——————————————————————————————
School of Language – This Is No Fun

[audio:http://mineorecords.com/mp3/solang-thi.mp3]
——————————————————————————————