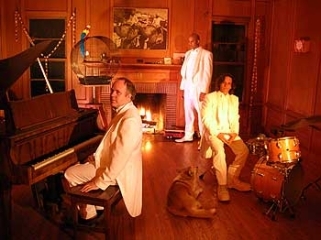 It is not excruciatingly difficult to find a class that covers the basics of audio recording. Whether it is offered as a college course or a class at a community center, some handy help from Google will likely dig up some info for an area near you. However, even though a few of these classes are run by experienced veterans of the audio recording industry, few can say that they were taught the basics by someone who is universally described as "the father of modern recording". With this in mind, I am sure that it would have been a shocker if Jim Putnam grew up to thrive in an industry other than an occupation specializing in music. After all, his father, Bill Putnam, was no stranger to the field of audio recording. As the inventor of the modern recording console and founder of one of the America's first independent recording studios, the elder Putnam worked with the likes of Duke Ellington, Sarah Vaughn, and Patti Page throughout his career as an entrepreneur of the music industry. Putnam is widely considering to be one of the most enduring figures in the history of modern recording. He passed away in 1989, several years before his son Jim burst onto the music scene with his band, Radar Bros., but it seems evident that father taught son the do's and don'ts in the field of recording, as Jim's project has collected an ample gathering of fans over the past 12 years.
Looking to express his songwriting talents in a separate entity, he formed Radar Bros. in Los Angeles after gathering bassist Senon Williams and drummer Steve Goodfriend. With guitarist Jeff Palmer being added to the lineup later, the group went on to release 4 albums from 1996 to 2005. All recorded in Putnam's "Skylab" studio, his roots allow any production-based skepticism to be erased completely. It shows in the 4 releases too; they are all enjoyable, and the occasional hiccup is never due to faulty production. Along with Radar Bros.' fifth full-length album, Auditorium, set to be released on January 29th, Putnam is also preparing a side project by the name of Mt. Wilson Repeat. The unrevealed project will release its debut in April on the Eastern Fiction label. Since signing to Merge in 2002, Radar Bros. has built a steady reputation as one of the more consistent acts in slowcore indie-rock today. Their Merge debut in 2002, And the Surrounding Mountains, is widely considered to be their best release to date, with impressive songs like "You and the Father" and "Still Evil" being proper showmanship of the four-piece's ability to implement variations of guitars, keyboards, and percussion over light backing vocals and occasional trickles of brass to a result of resounding success.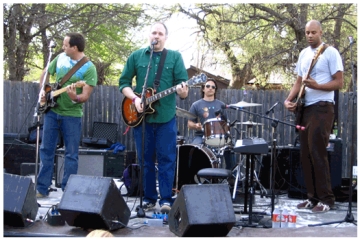 Auditorium is primarily the work of a band who holds the recognition that, if their trademark sound is working well, there is truly no need to change it. The album is a stylistic continuation, often incorporating slowly strummed guitar progressions, gliding keys at a steady pace, and vocals that softly coo in correspondence to the amiably relaxing melodies that Putnam expresses in his weightlessly sympathetic vocals. "Warm Rising Sun" is the second song on Auditorium and it serves as a very accurate introduction for the band. Initially led by the lethargic pace of a moderately distorted guitar, the soft shuffle of percussion and newly attributed harmonics from a more luminously produced guitar eventually make themselves the backdrop of Putnam's cushy vocals. In typical Radar Bros. fashion, the chorus is capitalized on by the additional reverb of several backing vocals, most of which appear to be Putnam in varying pitches. In comparison to their more instrumentally subdued tracks, "Warm Rising Sun" recalls the slight psychedelic flair that Radar Bros. displayed on a few tracks on their previous release, The Fallen Leaf Pages. The serene pace that the band works at supreme ease, nearly like an electric lullaby.
"Hearts of Crows" continues at a similar pace, yet the instrumental emphasis is now on the breezy melody of a piano. Putnam's vocals remain at a comfortably ethereal pace, letting out a periodic series of ooh's and ahh's when the bustling qualities of the piano increase in intensity during the bridge and chorus. Once again, Putnam's production techniques shine brightly. Whether it be in his eclectic use of backing vocals (often his own) or the tranquil setting that the band's collective instrumentation conveys, it is hard not to be impressed. I doubt that the band's intentions for the style of Auditorium or any of its preceding releases ever once came out faulty, as I have yet to hear a song by Radar Bros. whose potential was ruined by botched production. The pleasing "Happy Spirits" is appealing in the same form that "Warm Rising Sun" is, with the correspondence between an acoustic guitar and twinkling keys being exceptionally executed over Putnam's endearing vocals. "Please tell us what language you're speaking again," he exclaims throughout the song, briefly showing a genuine dosage of ardency. Even when the four-piece attempts more energetic displays like the synth-tinged "On Nautilus", the result is largely successful thanks in large part to both the production and pastoral pace that the track works with. All in all, Auditorium is yet another release from Radar Bros. that denotes profound quality within the often inconsistent spectrum of slowcore indie-rock.
——————————————————————————————
——————————————————————————————
——————————————————————————————
——————————————————————————————