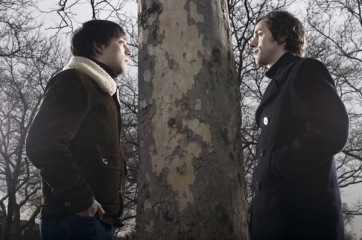 Taking a voice away from a vocalist is like taking away a pen from a writer, a brush from a painter, and the means necessary to express genuine ideals from any type of artist. Though Brandon Summers will always have his skills as a guitarist to fall back on, one can only imagine how he felt when a doctor informed him in 2005 that he would lose his voice if he did not take an immediate break from singing. As half of the Oregon-based duo, The Helio Sequence, he retrospectively knew that the precautions would be necessary. After all, after nearly a decade of playing together, Summers and best friend/keyboardist/drummer Benjamin Weikel had finally hit the big time. About a year earlier, the duo had signed with the prestigious Sub Pop label, releasing their third album (and Sub Pop debut), Love and Distance, a few months later. Jumping to such a prominent label meant an onslaught of back-to-back shows along with other media obligations, eventually taking its toll on Summers both vocally and mentally. The beginnings of Summers' vocal difficulties can be traced back to a lengthy six month stretch of shows after the release of Love and Distance. Alongside the likes of Modest Mouse, Blonde Redhead, and Kings of Leon, The Helio Sequence chugged on as Summers' vocal chords grew weaker and weaker as he attempted to wash the pain away with songwriting and whiskey. At one point, he resisted talking during daylight to save his vocal energy for gigs at night. Eventually though, it got to a point where he could not carry on. As he recalls, "Going into 2005 I actually had to think, 'If I lose my voice, what will I do?'"
The Helio Sequence's fourth album, Keep Your Eyes Ahead, is impressive in so many more ways than a listener without background knowledge of the band would even begin to comprehend. It is demonstrative of the duo's dedication to their work, as Summers has successfully overcome an obstacle that most vocalists would consider a career-ending plague. Nearly like a baby learning how to talk, Summers began a self-teaching process in 2005 that involved vocal exercises, jogging, and microphone techniques, all in an effort to revive an ability that was unfortunately all but lost simply because of the duo's commitments to their show-going fans. In addition to lots of Throat Coat Tea, Summers also attributes his vocal rediscovery to an artist who, despite a continuously weakening voice, continues to dominate the music industry whenever he releases new material. Yes, of course – Summers listened and sung along to Bob Dylan songs as an exercise of sorts, an appropriate method that turned out to work quite effectively. Though Dylan was never the most powerful of vocalists (he let his music and lyrics do the talking), there is no arguing that he did the best with what he had. On Keep Your Eyes Ahead, Summers takes a similar approach. Though his vocal range and flexibility has diminished noticeably, he still carries himself well on all 10 tracks. Friends since their middle school days, Summers and Weikel appear to have a bond that will not allow any obstacles to block their pathway to success, even if it means reconfiguring a primary aspect of their sound altogether.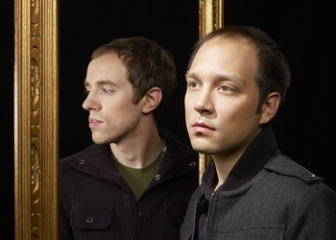 It remains somewhat ironic that although Summers' vocals are not as strong as The Helio Sequence's past three efforts, Keep Your Eyes Ahead is the duo's most enjoyable release since their excellent debut, Com Plex, in 2000. This is not to say that his vocals are by any means weak though; they are just weaker in comparison to their previous releases. In fact, if one were not familiar with his past struggles, I would be surprised if any listener even identified Summers as an individual whose vocal chords are damaged. One listen to the album's most engaging track, "Can't Say No", should prove that wholeheartedly. It is the strongest form of songwriting that The Helio Sequence have displayed in several years, with both the instrumentation and vocal work being highly impressive. Initially led by the fluttering of a spacey synth-led melody that glides serenely throughout the entire song, a series of reflective guitars eventually supplements the entrancing melody. "Even if you wanted to, even if you could, oh-oh you can't say no," Summers sings effectively during the song's infectious chorus, marking one of the most accessible moments on Keep Your Eyes Ahead. Though the influences that they earned in their first two releases to shoegaze and psychedelic post-punk acts in the vein of My Bloody Valentine and the Jesus & Mary Chain will be relinquished by this form of synth-oriented indie-rock, the transition appears suitably enjoyable. Though I still prefer the sounds of psychedelia and drenched reverb in their earlier material, Keep Your Eyes Ahead presents plenty of gems in a genre that The Helio Sequence manage to pull off just as well.
Considering that I personally found their Sub Pop debut, Love and Distance, to be an unexciting step back from their excellent first two releases, Keep Your Eyes Ahead is a fresh sigh of relief. Despite the stylistic transition that the duo has chosen to take, the majority of tracks are executed successfully. "The Captive Mind" appears more guitar-led than its preceding "Can't Say No", drawing noticeable comparisons to Modest Mouse in Summers' fast paced, Isaac Brock-like delivery. The comparison is not at all surprising though, as Benjamin Weikel played drums for them on their 2004 album, Good News for People Who Love Bad News. The chorus in "The Captive Mind" distinguishes itself as a variation of guitar effects and transitioning vocal pitches, hearkening back to the band's first two albums in superb form. Though the vocal melody is repetitive, the slick guitar licks and imposing underlying production effects provide for an exciting listen. As the longest track on the album, "Hallelujah" stretches only 4 and a half minutes long and, though it can be conventionally classified as the album's anthem with its hearty chorus, it proves to be yet another spectacle of sheer accessibility. It being the longest track also provides good indication of the album's general structure; Keep Your Eyes Ahead is filled with 3-minute songs of a consistently accessible nature, often interchanging variations of synths and guitars over Weikel's steady percussion. And once again, Summers has to be commended for a job well done. Though his superb guitar work is appeasing as expected, his ability to handle the vocals proficiently after his past experiences deserves considerable praise. The satisfying Keep Your Eyes Ahead drops on January 29th.
——————————————————————————————
The Helio Sequence – Can't Say No

[audio:http://mineorecords.com/mp3/helioseq-can.mp3]
——————————————————————————————
The Helio Sequence – The Captive Mind
[audio:http://mineorecords.com/mp3/helioseq-cap.mp3]
——————————————————————————————
The Helio Sequence – Hallelujah

[audio:http://mineorecords.com/mp3/helioseq-hal.mp3]
——————————————————————————————
If you love listening to music, purchase new home electronics for your  house!   Check out the Internet for some fantastic product discounts. Whether you are looking for entertainment centers or need to research a noteworthy bargain on dvd players, you'll find nearly everything you need to purchase on the Internet.