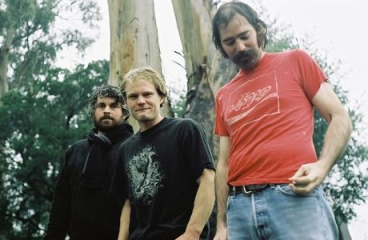 In appliance to both musical and personal relationships, break-ups are generally regarded as an unavoidable aspect of life. Regardless of talent, mutual beliefs, or even natural chemistry, it is rare to find an individual who has never experienced detachment from someone they previously worked with or felt strong emotions for. Most of the time, the previously involved parties go their separate ways, pursuing new projects (or mates) in an effort to move on with life in an efficient manner. At the beginning of 2007, the fate of Howlin Rain looked like it had been decided by a few members who felt that leaving the Oakland-based group would be best. Ethan Miller, the group's lead songwriter and vocalist, could have simply considered it the end of some short-lived project, hoping to find success elsewhere. However, as the intricate nature of his music suggests, Miller is no stranger to astute observance. Recognizing the great potential of Howlin Rain, he instead chose to hold on to the two members who felt similarly (bassist Ian Gradek and guitarist Mike Jackson) and add a few more musicians in the process, transforming the group into a five-piece upon the addition of multi-instrumentalist Joel Robinow and drummer Garett Goddard. Listening to Howlin Rain's second album – and first with the new lineup – it is quite apparent that the decision to keep chugging along was a damn good one.
For those keen on contemporary neo-psychedelia, you may also recognize Miller as the frontman for the rhythmically-led trio Comets On Fire. Signed to Sub Pop, their 4 albums encompass the traits of Miller's influences in their eclectic representations of psychedelia, garage rock, and post-punk. Howlin Rain's self-titled debut in 2006 echoed Miller's sentiments for a more simplistically accessible version of the ceaselessly entertaining form of stylistic variety found in Comets On Fire. "On our first album, I tried to make the songs have a simpler pop resonance than the avant-garde rock of Comets On Fire, where the music is much more complex and harder to dig through," Miller explains. "So I pared it down to basic chords, but left room for a certain amount of controlled chaos." Upon its release in 2006, Howlin Rain was quite an impressive effort. I personally preferred it to Comets On Fire's fourth album, Avatar; the two albums released less than two months apart from one another. Howlin Rain was a nostalgic joyride that brought back images of the Grateful Dead in their prime while simultaneously incorporating the forms of neo-psychedelia and garage rock that fans of Miller have grown accustomed to. Though it would be acceptable to argue that Howlin Rain was more cumulatively accessible than Avatar, one's own definition of accessibility varies. The preference for either group lies in one's own taste. However, if you are a fan of classic rock acts who were able to improvise and jam brilliantly for hours on end (think in the vein of The Allman Brothers and The Grateful Dead), Howlin Rain would most certainly be the most rewarding project to tackle first.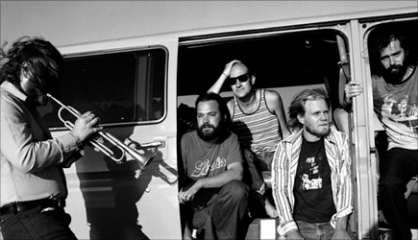 Along with a new lineup comes a slight transition in stylistic tone. Do not fear though, as it is clearly for the better. Howlin Rain's second album, Magnificent Fiend, sees Miller and company expand upon the prior successes of their debut, crafting a sound that ultimately sees Miller at his career-high peak. "With this new album, my goal was to retain that simple pleasure element while making the actual music far more complicated," he clarifies. "I wanted to make something complex sound simple, where the emotional complexity – the relationship between the listener and the music – would still be there." Recorded in the same Northern California studio where Tom Waits recorded Bone Machine, the five-piece worked with engineer Tim Green and Magnificent Friend was completed in a period of 7 days. Many factors that made the debut enjoyable – including Miller's ardently tempestuous vocals, thick instrumentation, and pure excitability – have returned alongside a more ambitious structural scope. As for the main difference between the two albums, perhaps Miller says it best: "The difference between Magnificent Fiend and our first record is primarily architectural: How high the castle got built and the intricacies of the workmanship." Now distinctively clinging onto influences that resemble blues, R&B, and classic rock 'n' roll over shades of psychedelia, Magnificent Friend exceeds its preceding debut in more ways than one.
Though there remains many impressive features of Magnificent Friend worth mentioning, the one that remains most immediately evident is the variability among the 8 tracks. Unlike the majority of the debut, the focus is never on one instrument or underlying melody. Instead, one should expect a variation of guitars, organs, and even brass to emerge as primary components. For most efficient showmanship, the breathtakingly epic "El Rey" utilizes nearly every instrument in Howlin Rain's arsenal to an equalized extent. The guitar chops of Miller and Jackson are shown in fledging form over the capricious infectiousness propelled from Robinow's keys and organs, with the latter being an instrument that is hard not to love in the genres of psychedelia and jam rock. A series of brass delivers the song's most devastating hook, with the chorus being both a fantastic display of Miller's vocal ability and an eruption of sheer instrumental talent. Not to mention, throughout the album, the rhythm section remains phenomenal; Gradek and Goddard exhibit pure rhythmic talent in a genre that absolutely requires it.
"Dancers at the End of Time" takes its name from the Michael Moorcock sci-fi novel of the same name, depicting sudden apocalypse as an ironic image of dumbfounded salvation in the form of personal ignorance. "Jesus will shine on you brightly, into the hollow lands!" Miller howls incessantly, sounding like some possessed preacher over the ceaseless strains of organs and guitars. Once again, the emotion conveyed from the five-piece is absolutely exhilarating. Apart from the brief opener, each track is over 5 minutes, leaving plenty of time for ample experimentation and fulfilled ambitions. This is why I am only posting two tracks (instead of the usual three) this time; both of these tracks encompass enough material and variation to count for half a dozen. Magnificent Fiend is very much the same way, demonstrating simultaneous instances of irresistible nostalgia and instrumental brilliance. In fact, Miller's words during the chorus of "El Rey" seem perfectly appropriate for this group's stunningly successful mentality: "You don't have to change, you don't have to hold onto your past."
——————————————————————————————
——————————————————————————————
Howlin Rain – Dancers at the End of Time
[audio:http://mineorecords.com/mp3/hrain-dan.mp3]
——————————————————————————————