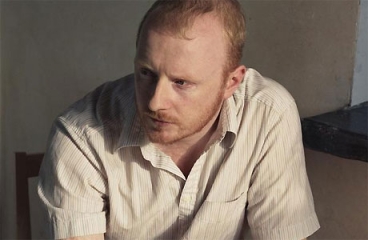 It would be an interesting environment if all creative relationships never reached a souring point. Success would carry on for the same bands year after year with little to no variation, newer artists would find it more difficult to emerge auspiciously, and the boundaries for newly originated stylistic eclecticism would decrease in margin. So, with those rather pessimistic examples in mind, is it really so bad when some bands break up? Sure, fans may find themselves heartbroken, but most of us have enough life experience to realize that relying on a relationship without any chemistry whatsoever is entirely pointless. This applies to all relationships too, romantic or platonic. A band breaking up also gives the singular artists in the group a new chance to reevaluate their musical priorities, most often resulting in a new project altogether. There is no doubt that Aidan Moffat and Malcolm Middleton had a great run during their 11 years as the leading men for influential Scottish post-folk duo, Arab Strap. During their time together, they toured the world and released 7 albums, several of which are highly regarded as influential touchstones of the emergence of indie-folk during the late '90s.
As both have proven since Arab Strap's disbandment in 2006, Moffat and Middleton are perfectly capable of writing songs successfully on their own. They have released 3 solo albums apiece; Moffat has been going under the alias of L. Pierre (Lucky Pierre until 2005's Touchpool) and Middleton has been using his own name. I wrote a feature concerning Middleton's solo career about a year ago, mainly touching on his album from last year, A Brighter Beat. Just as the album's name implied, the material was more upbeat in comparison to Middleton's previous two albums and material with Arab Strap. In a similar cause though, the album was received just as warmly as his previous releases, asserting that mood is a genuine but also elastic aspect of Middleton's work. Featuring twinkling keys, a wide array of guitars, and occasionally a pair of chirpy backing female vocals, A Brighter Beat was a slight transition in tone but it remained simply another commendable addition to Middleton's discography. As many critics could immediately tell you, Middleton – both solo and with Arab Strap – has never released an album that could be deemed as "bad". And, over 12 years after Arab Strap's first release, it remains true.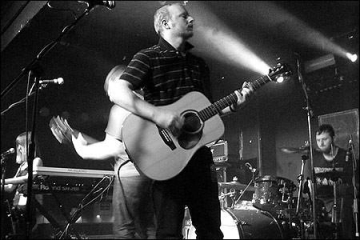 Always a quick one to produce and write material, Middleton's fourth solo release, Sleight of Heart, is set to drop on March 3rd via Full Time Hobby Records. It features 6 original and 3 cover tracks, the latter of which are Jackson C. Frank's "Just Like Anything", Madonna's "Stay", and King Creosote's "Marguerita Red". Looking at the tracklisting, the most immediate question many longtime fans of Middleton likely asked: What in the hell does a Malcolm Middleton cover of Madonna sound like? Well, as enjoyable expected. In one of the stronger tracks on a pleasing Sleight of Heart, his stab at Madonna plays a game of naturalized instrumental substitution. Instead of pulsating synths and driving rhythms, Middleton implements his trademark tone of somberness by instead incorporating softly plucked acoustic guitars, beautifully arranged strings, and weightless keys. All in his stylistically uplifting thick Scottish accent, Middleton's gentle vocals provide an ardently suitable atmosphere for his instrumental arsenal and melancholic tone. When Middleton sings "True love is so hard to find", one will likely be aware that his intentions are slightly different than Madonna's interpretation, and that is one of the many features attributing to the cover's irresistibility.
Though Middleton's cover of "Stay" is one of the album's most enjoyable moments, my favorite track is easily "Week Off". Opening up the album, it prepares the listener for an enjoyably subdued ride through Middleton's interpretation of indie-rock. Being one of the most bustling and energetic tracks on Sleight of Heart, it shows Middleton's instrumental eclecticism at its best. His variations of keys, guitars, and strings are each arranged in a meticulous manner, with the subtle catchiness it conveys showing the glimpse of both accessibility and unpredictability. His lyrical tellings concern that of the importance of reflection and the true mental relaxation it requires for fulfillment. It is an appropriate topic too; Middleton's days in Arab Strap are certainly worth looking back on and re-listening to. The cover of King Creosote's "Marguerita Red" is fun as well, displaying a jangly guitar and piano riff over Middleton's infectious vocal melody. Though the tedious "Love Comes in Waves" and the repetitive "Total Belief" are far from Middleton's best work, the rest of Sleight of Heart is certainly worthwhile. Middleton begins touring in Scotland, the UK, and Australia during March and into May, so be sure to check him out if you enjoy the upcoming Sleight of Heart.
——————————————————————————————
——————————————————————————————
Malcolm Middleton – Stay (Madonna cover)

[audio:http://mineorecords.com/mp3/mmiddleton-sta.mp3]
——————————————————————————————
Malcolm Middleton – Marguerita Red (King Creosote cover)

[audio:http://mineorecords.com/mp3/mmiddleton-mar.mp3]
——————————————————————————————