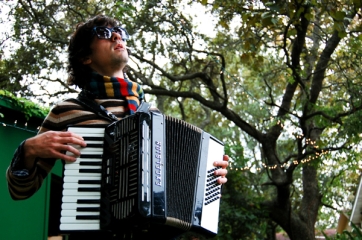 It is always interesting to explore the new solo project of an artist whose familiarity remains strong to the listener, primarily because of a past group or project they participated in. Unless the artist decides to transform their style into an instrumental spawn of some genre that is entirely unfamiliar in comparison to their earlier works, vocalists usually have the most arduous time in separating themselves from previous releases and niches. Even if they were to go from lush folk to intensified metal, these artists often discover that critics deem prior musical engagements inseparable. I personally find it to be the fault of laziness on the critic's part on most occasions, though it is true that some songwriters simply are not talented enough to dwell on more styles than one. Others, however, discover stylistic variety naturally, increasing their reputation as an eclectic songwriter and performer even more so. I have mentioned Rick Colado on this site before, with his band, Julius Airwave, being one of the most surprisingly enjoyable artists of the past year for me. When I wrote a feature on their second album, The City, The Forest, a year ago here, I was impressed with the group's ability to deliever amiable hooks through the traditionally laden style of indie-rock.
Led by infectious arrangements that were primarily bolstered by the leading melodies of guitars and keys, Julius Airwave's exceptional "Appley" become one of my most revered tracks of 2007. It was an enjoyably simplistic indie-rock romp that recalled the likes of The Strokes and Franz Ferdinand, with such likable comparisons leading me to believe that thre group was well on their way to becoming a relatively domineering force in indie-rock. Though The City, The Forest was one of my favorite albums of the year (#40, to be exact), it never caught on like I thought that it would. I suppose it would be easiest to blame the five-piece's preference of style, as their blend of typical indie-rock allowed plenty of alternatives that proved more reputable in the eyes of the mainstream press. Still, the songwriting displayed on songs like "Appley" and "Glory, Glory" leads me to believe that the group's efforts are not fully diminished yet. Though it applies to thousands of other bands, they are just one hit away from getting the recognition they deserve. Julius Airwave, however, certainly has the undeniable talent to do so. Even if it does not work out though, lead songwriter, vocalist, and multi-instrumentalist Rick Colado has something else to fall back on: his own solo project. Going under the name of RickoLus, he provides a style that is both equally promising and enjoyable.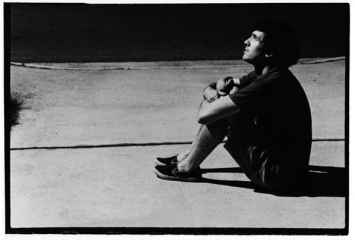 Generally discarding the guitar-based distortion and elaborate rhythmic supplementations of Julius Airwave, Colado's solo efforts are more reminiscent of breezy indie-pop. He capitalizes on the allure of DIY lo-fi, focusing on a variety of delectably weightless keys and charming acoustic guitar progressions over Colado's amiable vocals; the voice remains familiar but the approach differs, mainly in lyrical approach and melodic conveyance. Though it contains a similar degree of infectiousness when compared to Julius Airwave, the integration of acoustical instruments over less convoluted arrangements creates cause for a more personable approach. Generally seeing RickoLus as a project of constant development and artistic progression, he has offered all the tracks for free on his web site. The site features three albums and one "soundtrack for a movie that's never been made". Being his lengthiest venture yet, Colado's newest album is American Backyard, released late last year. Featuring 12 tracks of Colado's most refined indie-pop yet, it is well worth the download. Though some tracks suffer from repetition and general fatigue, Colado's ability to craft hooks has clearly been carried over from his work with Julius Airwave. In RickoLus, they are just more subtly placed.
Out of all the free tracks on Colado's site, I consider the most impressive to be "Backyard Baby". Like many of his other solo tracks, the instrumental focus remains on the responsive actions between acoustic guitars and keys. With the simplistically steady percussion backing up, . It sounds tropical, yet innocent in a way that Colado clearly intends for. The chorus is the most enjoyable snippet, with Colado raising his emotional pitch and singing reflectively melodic notes over an increased sprinkle of keys. "Sicamore Sally" is further demonstrative of Colado's songwriting abilities, this time showing his tendency to implement transitional tempos. Colado plays with the floating-at-sea angle during the song's first of several parts. "Sicamore Sally" later makes the transition into a bouncy indie-pop ballad with Colado's acoustical progression mashing with the increased percussion. When that subsides, the track ends where it started with Colado singing his exuberant "yo-ho-hoho-hos" over skewered harmonics. "Lucky Me" is more traditional than the other two in an indie-folk sense. Though additional instruments accompany the melody a handful of times, the emphasis now lays on the minimal usage of an acoustic guitar, backing percussion, and Colado's vocals. A slight key pad supplements the airy melody and Colado delivers a slew of hooks using his vocal ability alone, capturing the listener with a series of well-placed whistles and heightened pitch deliveries. Both accessible and simplistically impressive, most of the material on Colado's site is well worth the download.
——————————————————————————————
——————————————————————————————
——————————————————————————————
——————————————————————————————