Posted
February 9, 2008 by Mike Mineo
in
What Made Milwaukee Famous, Pt. 2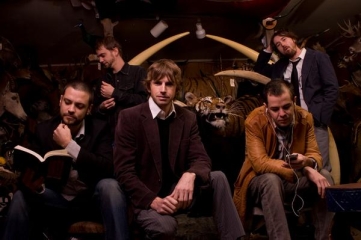 When I wrote about What Made Milwaukee Famous' generally enjoyable debut, Trying to Never Catch Up, nearly two years ago, I held a belief that it was only a matter of time before the five-piece from Texas emerged as one of several indie-rock groups that so-called "music channels" like MTV would latch onto in an effort to diversify their image. After all, the debut effort was catchy, accessible, and radio-friendly; all in all, the group's potential was difficult to overlook. Looking back two years later at the album's lukewarm commercial success, I admit that I was wrong in the fact that the band never broke out in the large way I had initially presumed, though there is still plenty of time for this talented quintet to become radio staples. I suppose that the issues many took fault with in Trying to Never Catch Up trace back to the belief that there were a lot of stylistic alternatives at the time. Trying to Never Catch Up delivered a form of melodic indie-rock that was accessibly infectious, yet the distracting structural simplicity presented on some songs definitely served as a distraction. It was a promising though glaringly inconsistent debut; some songs like "Sweet Lady" and "Hellodrama" were absolute gems, though a handful monotonous attempts like "Judas" and "Almost Always Never" left a lot to be desired and dragged the overall result down. Even so, the great moments were more than worthwhile and it was a promising debut that had me looking forward to their eventual sophomore effort.
I will cut to the chase here and declare What Made Milwaukee Famous' sophomore album, What Doesn't Kill Us, as one of the most improved efforts I have heard in the past year or so. Instead of even slightly touching upon a sophomore slump, the five-piece has improved tremendously by capitalizing on the strengths of their debut and omitting the aforementioned hiccups. The songs are even catchier, the production is sharper, and the songwriting is more eclectically progressive; it is hard to overlook the steps forward that this group has accomplished. Sure, the Spoon comparisons remain inevitable, but the band's improved stylistic efforts should now be looked upon as the result of innovation and not manipulation. I suppose that Jim Eno (Spoon's drummer) mixing a few tracks on Trying to Never Catch Up and Spoon remaining friendly with their Austin-based contemporaries can attribute quite a bit, but those of these groups recognize that they are vital contributors to Austin's thriving indie music scene. And now, with What Doesn't Kill Us turning out the way it has, it only gives more reason to check out other groups in the area. I have featured a few more reputable Austin-based artists like Voxtrot and several more lesser-known acts in the vein of The Lord Henry, but I encourage everyone to check out more from the area. There are certainly quite a few great ones left to be discovered.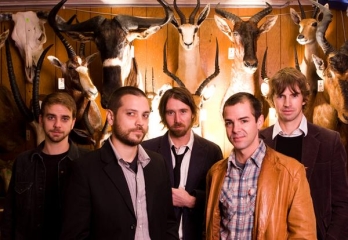 When I first popped in What Doesn't Kill Us, I have to admit that an initial sense of disappointment came over me. I found to the opening track, "Blood, Sweat & Fears", to embody most of the structural characteristics that made a few of the weaker tracks on Trying to Never Catch Up unmemorable. However, as I have learned time and time again: Never judge an album by the first song alone. As it turns out, "Blood, Sweat & Fears" is – in my opinion – the weakest track on the album. The rest is an absolute joy to listen to, with the brass-led irresistibility of "Sultan", the downright infectious of "Cheap Wine", and the haunting key-led aroma of "Resistance St." being the most blatant highlights. If comparisons to Spoon are meant to be enjoyably continuous, "Sultan" is to What Made Milwaukee Famous as "The Underdog" is to Spoon. In addition to an array of guitar-led hooks, fervent use brass, and a stellar rhythm section, and Michael Kingcaid's vocals being the freshest I have heard since "Sweet Lady". I expect this to be the track that truly establishes What Made Milwaukee Famous as a band that finally lives up to their potential. "Your only guarantee is the fear of the unknown," Kingcaid sings in a pleading croon, capitalizing on a grandiose chorus with a commendable melodic transition. If this does not break the five-piece out, I don't know what will.
"Cheap Wine" strays in acoustic territory for the first minute or so, but then transitions into an explosive guitar-oriented chorus. The acoustic introduction is merely a build-up and serves as a perfect introductory use of melody, with the addition of electric guitars and rhythm over Kingcaid's soaring vocals being a moment of near perfection. The chorus is slightly reminiscent of Ted Leo's material, though Kingcaid delivers it with less of a snarl and more of an emphasis on melody that most of his early workings. Other highlights on the album include the synth-led "The Right Place" (which even shows shades of Magnetic Fields) and "Resistance St.", the latter which is supposedly the album's first single for good reason. What Doesn't Kill Us drops on March 4th and, as I said earlier, the improvement that What Made Milwaukee has exhibited makes the purchase entirely worth it.
——————————————————————————————
What Made Milwaukee Famous – Sultan
[audio:http://mineorecords.com/mp3/wmmf-sul.mp3]
——————————————————————————————
What Made Milwaukee Famous – Cheap Wine

[audio:http://mineorecords.com/mp3/wmmf-che.mp3]
——————————————————————————————
What Made Milwaukee Famous – Resistance St.

[audio:http://mineorecords.com/mp3/wmmf-res.mp3]
——————————————————————————————
If music is your forte, find the best Music knowledge Trivia via the internet.  Whether you are looking for 1960's music Trivia or you want to impress your friends with your Movie soundtrack Trivia, sign online today!
Mike Mineo
I'm the founder/editor of Obscure Sound, which was formed in 2006. Previously, I wrote for PopMatters and Stylus Magazine. Send your music to
[email protected]
.