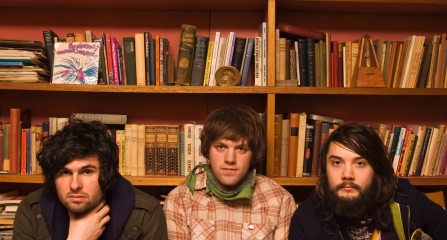 I always find local labels to be something of a quaint necessity in the world of independent music. Most major labels could care less where an artist is from when they sign them, but the sense of genuine and personalized commitment that these tiny local labels put forth always proves to be a breath of fresh air when compared to other sickeningly grandiose corporate attempts at commercialism. Sure, the material may not be aided by a team of Grammy-winning producers or hired songwriters, but that is all part of the charm of a DIY local record label. Their selection process is generally limited to their surrounding state or city, with prior press coverage often being of surprising irrelevance. For the slew of good ones, bias is generally nonexistent too, with the only determining factor being the evident talent and showmanship of the artists involved. And even if none of their friends had heard the name of the record label before in their lives, any new artist who gets signed to one at least has this comforting fact to keep in mind: There is actually someone rooting for you who enjoys your music and will do their absolute best in exposing your material to an increasing audience. It may sound like a simple ideology, but sometimes all an artist needs to break through is a little bit of support from his local following.
Though I have yet to find a substantially sized label where I enjoy every single artist on the roster to a noteworthy degree, stumbling across a small label like Don't Stop Believin' Records should allow anyone to appreciate what a local label has to offer. With the majority of the artists signed to the label being based out of Seattle, Don't Stop Believin' has taken it upon themselves to reveal the best of what Washington has to offer. Out of the 10 artists on their site, only one (Casy and Brian) is based outside the state (California). To give an even better idea of the selfless ideology that a record label in their localized vein employs, several separate artists collaborate frequently with one another. Consider it an accessibly artistic atmosphere, with most artists having the intended goal to reveal Washington as a budding source for quality independent music. The band that I am enjoying most out of all the label's offerings, The Pharmacy, also proves to be a defining example of this. The two founding members, guitarist Scott Yoder and drummer Brendan Bowers, can trace their origins back to The Terrordactyls, an entirely separate Washington-based band that is also currently signed to Don't Stop Believin'. Whilst still in high school, both Yoder and Bowers founded The Terrordactyls in the late '90s with Michael Cadiz and Tyrel Stendahl; the band originally consisted as a quartet before Bowers and Rubicz left the band in 2002 to form The Pharmacy. With both bands now a duo, they both carried on in commendable form.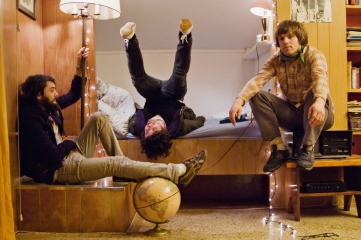 Apart from consisting of mutual friends and being signed to Don't Stop Believin', both The Pharmacy and The Terrordactyls have a strong working relationship with Kimya Dawson, the ex-Moldy Peaches frontwoman thrust to the center of the spotlight after her musical contributions to "Juno". The Pharmacy toured with Dawson in 2005, building up their reputation as capable live performers while playing as her backing band. The Pharmacy's early goings consisted of a variety of demos during their first several years together, releasing a single or handful of demos every year or so since 2003. Just released at the end of February, their full-length debut, Choose Yr Own Adventure, is finally available. Now rounded as a trio with the addition of Stefan Rubicz on keyboards, the result is a collection of cleverly executed indie-rock songs with an involvement of guitars, strings, horns, and a variety of synthesizers. Upon first listen, their variability reminded me at times of The Unicorns, though repeated listens reveal a more consistently presented appeal that relies more on conventional structures and widely diversified instrumentation. Their ability to border on electro-pop while simultaneously churning out glimpses of deftly approachable guitar-led rock makes each song a different experience; the impressive abundance of hooks simply backs it all up.
In terms of both instant accessibility and infectiousness, there is not one track on Choose Yr Own Adventure that rivals "Tropical Yeti". Barely exceeding two minutes in length, this concisely enjoyable indie-rock gem is best demonstrative of The Pharmacy's potential. "In one more hour I'll be gone, it takes too much to get along," Yoder sings with a tugging whine, adjusting pitch accordingly in collaboration with constantly transitioning layers of guitars and keys. He is one of those vocalists that can easily craft an acceptable hook using his vocals alone, relying on melodic comprehension more so than actual range or pitch. "Little Toys on a Shelf" is a better display of the trio's overall songwriting traits, providing more melodic variation and instrumental congruity. The organ-like keys bounce off in flawless form, with Yoder's melodically uplifting whimpers being of an extremely enjoyable effect. "Did you drown in all your wealth?" he asks propulsively during the song's appealing chorus, bringing up topics of superficiality and one-sidedness consistently. For additional songs like "Warm and Untorn" and "Try to Explain" that take solace in the amiable blend of keys and guitars, more of the same accessibility can be found. On the impressive Choose Yr Own Adventure, it would be difficult for the listener to select a moment on the album that proves even slightly mundane.
——————————————————————————————
——————————————————————————————
The Pharmacy – Little Toys on a Shelf
[audio:http://mineorecords.com/mp3/pharmacy-lit.mp3]
——————————————————————————————
The Pharmacy – Warm and Untorn

[audio:http://mineorecords.com/mp3/pharmacy-war.mp3]
——————————————————————————————