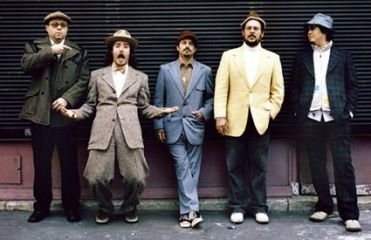 One of my favorite YouTube clips is of legendary funk bassist Bootsy Collins laying down a slick live bass solo in 1978 with Parliament-Funkadelic, treating an audience in Maryland to the glorious sight of his nearly unmatched skills as a funk bassist, his trademark space bass, and a form of emotional involvement that very few modern musicians are able to express on both an audible and visual level. Take a look at the clip here and let me know if you are aware of many other contemporary artists who exhibit the same form of passion and personal enjoyment that Bootsy does; you may be able to name a few, but certainly not many. Sure, a naive critic could pin it all on the hallucinogenics of the '70s, but it is inevitably agreed upon by fans and critics alike that Bootsy would be strutting out his unparalleled skill regardless of his level of intoxication, with his talent and personality leading the way. It would be safe to say that he found his own perfect little world in funk music, the infectious fusion of soul, jazz, and R&B that originated in the mid-1960s. Since the funk explosion of the '70s, the popularity of the genre has diminished throughout the years, as alleged substitutes like dance and synth-pop began to reign dance floors and lure listeners who begged for anything that was hip, new, and instantaneously infectious. It had to do with both a decline in quality and a commercialized demand for something else, leaving new artists with funk influences in a bit of a daze.
Though it seems that all the sensationalized pop stars feel the need to cling onto the "hot new thing" in order to capture a fan base, independent artists have maintained a commendable mentality that shuns what is recently accepted in order to create a fresher, innovative, and more engaging sound. In fact, as the Brooklyn-based Chin Chin prove on their glaringly impressive debut album, recapturing the nostalgia and infectiousness of '70s funk can give off an ironic feeling of freshness, even if the rooted elements of the result take their dues directly from artists who thrived over 30 years ago. With subtle implementations of dance and contemporary pop, Chin Chin's grasp of funk provides for a listening experience that should appeal to both veteran and new listeners. In addition, the group remarks simply enough on their web site that their intentions are to make listeners dance, chill, relax, and "bug out". Though I have not had such a simultaneous rush of emotions during one single track on their self-titled debut, it remains heavily apparent that it was the intentions of the group to do so. Instead, each differing track provides enough variation in the genre to give off multiple and differing sensations. It would be easy to call such a rush a trademark of quality funk music, as artists like Sly & the Family Stone, James Brown, and Parliament-Funkadelic have proven in the past. Chin Chin provides a glimmer of hope that enjoyable funk music still has its niche in the often cluttered world of independent music.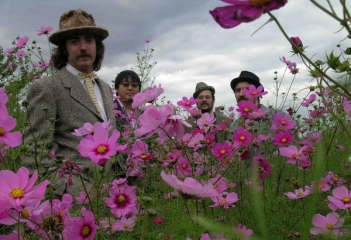 Chin Chin is primarily the work of a trio in guitarist Jeremy Wilms, keyboardist Wilder Zoby, and drummer Torbitt Schwartz. However, in most press photos and live performances, they are accompanied by a variety of musically capable friends. Session musicians Tada Hirano, Jeff Pierce, Jesse Boykins III, Yusuke Yamamoto, Felix Chen, Yoshi Takemasa, Marcus Farrar are most of the collaborators, often transforming the band into anything from a four-piece to a group of nearly one dozen musicians capitalizing on their similarly touted influences. Wilms, Zoby, and Schwartz serve almost like conductors in the studio, directing the talented cast of session musicians on a route toward success. On the album they perform on, set to be released on April 29th via Definitive Jux Records, Chin Chin's self-titled debut follows a series of acclaimed singles and EPs that served as mere glimpses of the group's potential. With popular acts like Gnarls Barkley and Outkast bringing funk music with a contemporary, hip-hop edge to mainstream audiences, Chin Chin certainly chose a great time to come forth in the public eye. Audiences appear more receptive to funk music – regardless of its form – than they have in several years, which should be quite satisfying to Chin Chin and their fans, as Chin Chin is one of those few debut albums that proves memorable right from the get-go.
The primary aspect that makes Chin Chin so enjoyable is its tendency to stray outside the norm, playing with a variety of styles in ways that conventional thinking would not be able to comprehend. Despite utilizing a tight rhythm section and a plethora of brass that appears typical of most funk music, Chin Chin's inclusion of elements such as dance and world music makes it a very unique experience. Considering that Gnarls Barkley found extreme success with several funk-tinged singles, I would not be surprised if "Miami" turns out to be one of the most acclaimed singles of the summer. Its unpredictability and varied structure may make it seem too inaccessible for most radio stations, but most open-minded listeners who tend to discover quality music on their own should bask in its infectious glory; I was digging the track extraordinarily from the first time I listened to it. As an opener and a surefire ode to the city of Miami, it prepares the listener well for the rest of the album. Ardently soaring vocals, intricately bustling instrumentation, and a variety of great hooks are steadily prevalent, especially in the stirring chorus. The last two minutes of the song is entirely instrumental, transforming from a swanky brass to an energetic guitar solo; it is simply one example of Chin Chin's faultless display of musicianship.
As I mentioned earlier with Chin Chin's use of synth-pop and world music, "Appetite" serves as another incredibly catchy track that has the same chance as "Miami" of breaking the group out in a big way. In fact, considering its more conventional structure, its higher degree of accessibility may make it the first breakthrough track from this Brooklyn collective. The vocals are gently sung, quickly declaring "appetite!" during a chorus with underlying synths, snappy guitars, and a rhythm section with a concisely effective R&B flair to it. An excellent vibraphone solo, compliments of Yusuke Yamamoto, emerges around 01:52 after the blaring of horns subsides, providing yet another display of the group's multi-instrumental prowess. "Le Petit Mort" is fascinating in that it is so different than both "Miami" and "Appetite". Though elements of funk are constantly evident, the use of a vocoder over a swanky bass line is certainly something new for the group. The mixture of classic funk elements (horns, ) and slick modern techniques (vocoders, synths) personally reminds me of Prince, which is certainly nothing to be ashamed about. Be sure to pick up Chin Chin when it drops next week; I would be surprised if a better release in the realm of modern funk comes out this year.
——————————————————————————————
——————————————————————————————
——————————————————————————————
——————————————————————————————