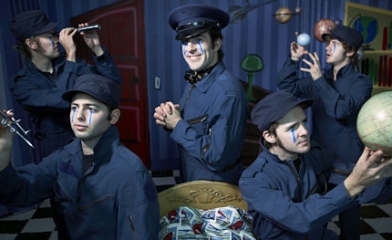 I remember finding myself in a state of regret when I discovered Bryan Scary & The Shredding Tears' debut early last year. With its portrayal of infectious '60s pop clashing fluidly with thematically invigorating forms of contemporary indie-rock, the quality exhibited would have likely stuck it in the top 20 of my "Best Albums of 2006" had I found it a few months earlier. It seems to happens every year though, when I stumble across a very special album a few months too late for qualification. In the case of Bryan Scary & The Shredding Tears, the self-titled debut album from the act of the same name, I even went as far to classify it as "the Sgt. Pepper of 2006". And as pretentious at that label may sound, Scary's proficient techniques involving glittering production and nostalgically stimulating songwriting created a sound that was quite incomparable in contemporary standards, making the fresh-faced comparison a bit more understandable for those who actually gave it a listen. Like innovative pop acts in the past like XTC, Squeeze, and most obviously The Beatles, Scary's debut presented audible creativity while simultaneously juggling aspects involving irresistible hooks and engaging lyrical ambitiousness. For the Brooklyn-based songwriter, it proved to be one of the most impressive debuts I have heard so far this decade, with Scary's oddly accessible ambitiousness arising as the most glaringly successful aspect within his meticulous craft.
Like their first album, the release of Flight of the Knife caught me by surprise. I was checking my e-mail a week ago when I came across the press release that offered Bryan Scary & The Shredding Tears' second album as a free download. I sensed no hype or feelings of anticipation, both sentiments that I believe will arise for Bryan Scary and his talented backing band once critics eventually get a hold of Flight of the Knife. Scary's self-titled debut album saw considerable critical acclaim from seemingly every critic who got a copy of the album in their hands, but the only foreseeable issue was that there were simply not many people who had access to it. If there are no hurdling obstacles of distribution preventing a more globalized release, I believe that Flight of the Knife should break out Scary and company in quite a big way. It reminds me that Bryan Scary & The Shredding Tears was a colossally successful debut, but an apparent weakness was that it was generally a one-man-show. Apart from the drums, Scary played every instrument on the album. And while his multi-instrumental aspects remain extremely impressive to this day, listeners were generally treated to one style of play throughout the entire duration of the release. However, for the illustrious Flight of the Knife, Scary has recruited his entire backing band for the creative process, providing more variation and audible fulfillment than ever.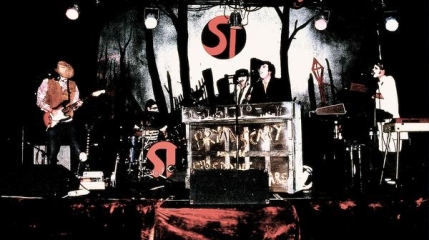 Previously exclusive to performing at live shows, The Shredding Tears make their momentous studio debut on Flight of the Knife in extremely impressive form. Consisting of guitarist Graham Norwood, bassist David Ostrem, keyboardist Mike Acreman, and drummer Brian Bauer, their addition to Scary's undeniable creativity expands his scope of ambition even more. It allows Scary to provide more variation in both songwriting and instrumentation, with the obstacle of playing every single instrument an album to sheer perfection now being diminished substantially. Scary has resorted to exclusively writing the songs and playing keyboards, a move that certainly shows off as a rewarding gesture when applied to the new-founded organization contained in the songs on the album. The title track of the album appears in two parts, with the first opening the album and the last concluding it. Like many tracks on the debut, the success of "Flight of the Knife (Part One)" tends to benefit largely from the operatic approach that Scary chooses to implement. Led by a swirling mixture of guitars, keys, and interloping vocal melodies, Norwood provides a slew of excellent guitar progression, invoking images of Rush, Jellyfish, and other throwback rockers in the process. Per usual, Scary's vocals fit the eclectic genre with perfection. His range is worth the price alone, with the genuineness of his ardency never being of a questionable extent. It perhaps is demonstrated best on "The Fire-Tree Bird", a striking track that involves both an instrumentally barren verse and a hectically excitable chorus. The seamless transition that Scary makes is one of extreme proficiency and apparent experience.
The track's concluding companion, "Flight of the Knife (Part Two)", is a more immediately accessible attempt when compared to its doppelganger, formulating a similar melody that is uplifted by a slew of new hooks and instrumental progressions. Scary initially provides serene synths over the melody of an arpeggiated piano, suddenly shifting into a bare acoustic melody before the rollicking addition of keys and rhythm. "Heroes are everywhere running our aces," he sings immediately before the song's most powerful hook, a quick interlude that sees a chorus led by vocals with heightened pitch. The moment in particular reminds me of Supergrass' most radio-friendly material, though it is understandable that their '60s-oriented influences are very similar when compared to Bryan Scary's enjoyable melodic outlook. Blues, '60s pop, and classic rock are all toyed with considerably throughout the song, providing a glimpse of Scary's eclectic nature in arguably its purest form. Still though, Scary manages to not be overly pretentious in his interpretation of throwback pop, providing contemporary indie-rock snippets like the catchy "Imitation of the Sky" in addition to nostalgic pop gems like both versions of "Flight of the Knife" and the contagious key-led intricacies of "Venus Ambassador". Like their debut, Bryan Scary & The Shredding Tears' Flight of the Knife serves as one of the most ambitiously impressive and downright infectious albums of the year. Considering that it is an even better display of musicianship than their debut, the chances of this one catching the year-end list this time is basically a guarantee.
——————————————————————————————
Bryan Scary & The Shredding Tears – Flight of the Knife (Part Two)
[audio:http://mineorecords.com/mp3/bscary-fli.mp3]
——————————————————————————————
Bryan Scary & The Shredding Tears – Venus Ambassador
[audio:http://mineorecords.com/mp3/bscary-ven.mp3]
——————————————————————————————
Bryan Scary & The Shredding Tears – Imitation of the Sky
[audio:http://mineorecords.com/mp3/bscary-imi.mp3]
——————————————————————————————