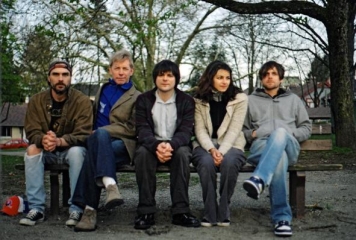 If one were to come across an artist who opens up an album with a track that depicts a desire to design one's own fantasy universe in a laboratory like some mad scientist, they would most likely assume the musical style to be largely unclassifiable, experimental in form and delivery. After all, most accessible pop music contains lyrical content that appeals to the mainstream, even if subtle underlying meanings are constantly prevalent. I suppose you could say that Cinderpop contradict such stereotypes, incorporating a form of accessibly infectious power-pop over lyrics that are anything but predictable in interpretation. They are also one of thousands of acts that puts the word "Beatlesque" on their press release, hoping to attract fans of arguably the most likable group in the history of modern music. All of this looks great on paper, but I have so often listened to an album and then felt disappointment after reading about such overly contrived comparisons. When I popped in Cinderpop's third album, A Lesson in Science, and I listened to the addictive opening track, "Bumblebee", I could not help but notice that Cinderpop appeared to be one of those rare cases where popularized comparisons were written with genuineness and not to simply attract new fans scouring for a type of innovation and quality that will likely never be echoed as consistently again. Sure, it would be easy to call their form of melodically enlightening form of power-pop "Beatlesque", but most of us are sane enough to realize that attempting to linearly manipulate a group like The Beatles will result in failure, which makes it highly evident why Cinderpop's approach to power-pop instead collects it dues from various styles of pop music that span over the past 5 decades.
Hardly a coincidence, I consistently find myself enjoying material from artists who choose to demonstrate a variety of influences from varying decades, reluctance to tread in one stylistic method too long in fear of repetition. Cinderpop openly reveal a few of their largest influences as The Beatles, XTC, the Pixies, Beulah, and New Pornographers. As I somewhat mentioned before, these 5 artists all originated from separate decades, demonstrating chronologically their approach to infectious pop music has taken its due from its aforementioned predecessor(s). Audibly, the varying influences show even more prominently. What Cinderpop appear to be aiming for is a stake in the pop greats of the 2010s, a "title" that will not even be decided for another 10 years or so. Still though, the five-piece appear to be off to a great start with three albums under their belt, with the quality improving each time around. Their debut album, Violet Gamma Rays, was released in 2000, attracting a buzz in their local Vancouver circuit. I understand that many people may be hesitant to listen to a band who has not even made a big name for themselves after 3 albums and 8 years, but I urge those to remember that not all successes began like the Arctic Monkeys. Hell, prolific bands like Pulp waddled around in mediocrity for over 10 years before emerging as staples of their own decade. And listening to A Lesson in Science, it appears that the time for Cinderpop to break out may be now.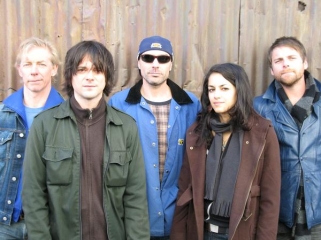 A Lesson in Science follows up on Their Skies Are Beautiful, the sophomore album from Cinderpop that exposed the group to a more global audience when it was released in the U.K., U.S., Spain, and Sweden in 2005. Despite receiving acclaim and gathering substantial airplay on XM and CBC radio stations, the effort still failed attract the attention and sales that the group's superbly executed form of power-pop clearly yearned for. The five-piece also seemed hesitant to fully consume themselves in their influences, perhaps shying away from any attempts at nostalgic thrills in fear of being labeled as desperate revivalists. Fortunately enough, A Lesson in Science appears to have rid the group of such beliefs, proving to showcase the best material of their career by a long shot. Despite toying with several styles like the interpretation of '70s psychedelia in the unconventionally exotic "Speed of Light" or '60s piano-led pop in the charming "Cinnamon Winter", the albums maintains a feeling of cohesiveness throughout its entire duration. With all of their influences creating hectic cause for singular classifications, I am most reminded of Jellyfish when I listen to Cinderpop. Like the former trio from San Fran, Cinderpop's ability to fuse together aspects of '60s and '70s pop music with modernistic stylistic techniques equates to a result that is nothing short of wildly enjoyable.
As I mentioned earlier, one of the most noticeably unique aspects about Cinderpop is that the content of their lyrics rarely match the instrumental tone of the respective track. Take one of my favorite tracks on the album, "Cinnamon Winter", for instance; it provides a breezily enjoyable piano-led melody that is supplemented by a simplistic drum pattern and slight tinges of orchestral-pop, with lead vocalist Kevan Ellis delivering a vocal melody that would give the impression of a sweet ol' love song. Listening to the summery melody and lovely chorus, not many people would guess that the song is actually about the joys of joining a sadistic cult and, in the process, abandoning one's personal ideals in the favor of someone who calls themselves a prophet. "You must admit that this has been a pretty amazing day," Ellis croons over the strumming of acoustic guitars during the chorus, easily one of the greatest moments on the album. The chorus is actually the only moment in the track where the keys take a backseat to other instrumental accompaniments, creating a devastatingly effective hook that is powered by Ellis' commendable grasp of melodic transitioning.
"Bumblebee" sees Cinderpop fast-forwarding to the future a bit, featuring a hectic progression of synths over the distorted chaos of an electric guitar. Ellis' vocals, as usual, make the jump with ease in their disposition of emotional intensity, with the aforementioned lab-oriented musings being a source of additional entertainment. With this particular chorus being complemented by a synth line that elevates upward in tone, it proves that Cinderpop can craft able hooks without using the same formulaic approach repetitively. With this skill in mind, it remains highly evident that if you enjoy at least some form of pop music from the past 50 years, there should be least one track on A Lesson in Science that you wholesomely enjoy. The album is due on May 13th.
——————————————————————————————
——————————————————————————————
——————————————————————————————
——————————————————————————————