Posted
April 29, 2008 by Mike Mineo
in
Mr. Gnome's Creature Delivery Service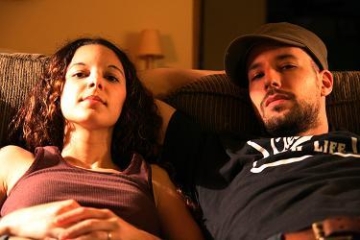 I can only imagine the diverse array of characters that encompass the set of a porno. Bubbly starlets who are either sexually conflicted or financially desperate, 55-year-old cameramen who consider their work to be an "art", and a crew of makeup artists who have the goal of minimizing superficial faults and maximizing robustness are just a few of the hired individuals in the quest for erotic stardom. I could be entirely erroneous in my judgment, as I have unfortunately never stepped foot in such an amusingly humorous atmosphere, but I am sure that most of the people involved get considerably annoyed when someone looks at their occupation with disdain. The stars and starlets of the picture are easy to criticize, but most of the cameramen, writers, makeup artists, and producers are just trying to earn an income. And hey, like all jobs, they may end up meeting people that will end up being future business partners, occupational connections, or even best friends. Many people would assume that the only thing that would originate at a porno is a misconceived child, but as the duo of Mr. Gnome have proven, prosperous relationships with no sexual relevancy whatsoever can sometimes originate in the most unexpected of places.
Since I tend to be interested in how bands form and whatnot, I have read a variety of accounts over the past few years by band members who explain how their project came to be. And to be honest, I do not think I have ever stumbled across a story as unique and humorously vivid as Mr. Gnome. Guitarist Nicole Barille and drummer Sam Meister originally went to high school together in Ohio, though they had no familiarity with one another during that time. As it ends up, the two truly met on the set of a porno, where Meister was a camera operator and Barille was a makeup artist. During a brief break, Meister was working with his camera equipment when he was suddenly drawn to the enthralling smell of pot. He also took notice of some very enjoyable music that he had never heard before emitting from a tape deck, a location that he concluded with his sense of smell was coming from the same direction. He happened to come across Barille smoking a joint, conversing with starlet, and listening to Björk, an artist who Meister had not yet acquainted himself in full to yet. He instantly fell in love with the sound. "Normally when I have a group of naked women standing in front of me, that would be my main focus, but I couldn't believe my ears," he recollects. "Before I knew it, I was getting high with porn stars and talking to Nicole about Björk and our musical influences."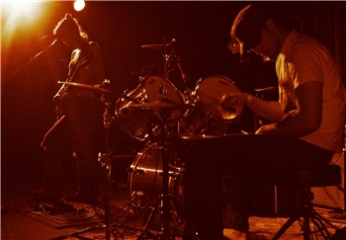 This interesting meeting eventually led to the group's first and now demised project, Draw Down The Moon, which never really saw the light of day. Next, the duo began experimenting with sound techniques that were unconventional in the realm of typical indie-rock, incorporating minimalist instrumentation with a plethora of transitional tendencies that included alterations in regard to volume, tone, and audible dichotomy in general. Calling themselves Mr. Gnome with their inception in 2005, their first EP, Echoes on the Ground, was released the same year. A self-titled EP followed up in 2006, guiding the duo on a newly originated national tour. Though the EPs sounded promising and they gained a bit of a following, they still classified themselves as a "homeless band" at the time, living in a van and sleeping on an occasional couch from time to time. However, with the release of their excellent full-length debut, Deliver This Creature, being May 6th, it looks as if the homeless days are long behind Meister and Barille. Like their sources of origination, it is one of the most interesting debuts I have heard all year. Their fusion of post-punk, alternative, and progressive metal provides for a sound that remains memorably dark in tone.
As I continue to listen to Deliver This Creature, it becomes increasingly prevalent that Meister and Barille are the type of songwriters who able to craft fluid hooks amidst a flurry of instrumental chaos, using stop-start guitar progressions and chaotic rhythmic supplementations as the primary devices of audible play. They have a tendency to go from heart-thumping velocity to a serenely invigorating soundscape in a matter of a seconds, usually resulting in enjoyable success. In addition to being the guitarist, Barille also serves commendably as the group's vocalist, providing a sensually enthralling type of flair that improves upon the originality of an already impressive style. Their diverse array of styles have drawn comparisons ranging from Death From Above 1979 to the White Stripes, even if the latter seems mainly initiated because of the male-female duo arrangement. The ardency is certainly there though, as displayed on tracks like "Deliver This Creature" and "Night of the Crickets". "Deliver This Creature" serves as a perfect example of the band's gritty sound. Barille's guitar and vocal usage go hand-in-hand, matching the intensity of one another with apparent ease. When the track shifts into a serene outro aided by keys and organs, the transition provides for a remarkable display of emotional variation. The opening "Pirates" sees a similar form of success, employing a variety of keys over Meister's steady percussion until Barille erupts into a vocalized yelp of sorts upon the sporadic entries of her electric guitar. I am personally most impressed with the group's grasp of emotional intensity on Deliver This Creature, making it a debut that is certainly worthwhile.
——————————————————————————————
Mr. Gnome – Deliver This Creature

[audio:http://mineorecords.com/mp3/gnome-del.mp3]
——————————————————————————————
Mr. Gnome – Night of the Crickets

[audio:http://mineorecords.com/mp3/gnome-nig.mp3]
——————————————————————————————
[audio:http://mineorecords.com/mp3/gnome-pir.mp3]
——————————————————————————————
Mike Mineo
I'm the founder/editor of Obscure Sound, which was formed in 2006. Previously, I wrote for PopMatters and Stylus Magazine. Send your music to
[email protected]
.