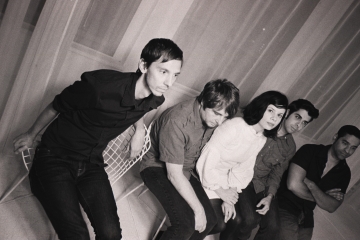 Since their inception, there are some genres that have maintained a mystique that causes any form of chronological classification for a first-time listener to be increasingly difficult. You could call them timeless, unique, or simply out of date, but if there is one style of music that has failed to undergo a substantial period of stylistic transition in the past 20 years, it has to be shoegaze. If a rock artists toys around with an incorporation of synths and guitars with plenty of reverb, their attempt would most likely be classified as a throwback version of '80s synth-rock. In most mainstream genres, styles grow into a more recognizable form in which radio stations and younger teenagers are more accustomed to nowadays. I guess you could say that shoegaze has remained stuck in time, an aspect which has heavily rewarded devout followers of the genre. For contemporary artists specializing in shoegaze, it appears that the style was so ahead of its time during its inception in the late '80s that an artist utilizing the exact same components of the "shoegazing method" in 2008 is simply recognized as a participant of a genre that is not bounded by forms of failed innovation or tireless contemplation. If done properly, it delivers a form of elegance, beauty, and preciseness that many other genres attempt with great frustration.
While I know that I have not featured many new shoegaze artists over the past year or so, the explanation for such a decision simply involves a lack of discovery. In fact, it was not a decision at all; I just have not stumbled across many contemporary shoegaze artists who bring something new and enjoyable to the table without being overly infatuated by glaringly obvious past influences by My Bloody Valentine and the Cocteau Twins. While it is impossible to dwell in a genre successfully without having at least some comprehension of your predecessors' methods, I have found too many artists who seemingly hold the desire to sound like an exact replica of their influence. This is the main reason why I am so impressed with Soundpool; they manage to create a style of shoegaze that remains original while simultaneously recollecting important influences of the past, but never to an overbearing extent. Like recent successes in the vein of Asobi Seksu and Thurshes, Soundpool's creativity in a genre that has been criticized for its repetition of linearly grounded innovative qualities has silenced most critics of the style, leading to a mass encouragement for more artists to try their hand at it.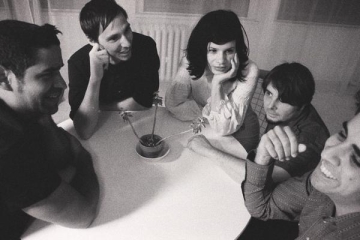 With elements of psychedelic pop and alternative rock also being considerably prominent, Soundpool's use of heavily reverbed vocal melodies over infectious rhythm sections and a variety of utilized guitar effects and innovative production techniques creates a style of shoegaze that sounds both vaguely familiar and freshly appealing. Vocalist Kim Fields has lush, serene vocals that are perfect for the genre, occasionally interloped with a male counterpart that provides an ample sense of variation. The rhythm section, consisting of James Renard and Dean McCormick, is unique in its songwriting, delivering catchy bass lines and reverberating percussion that are more reminiscent of dance-pop than shoegaze. Impressively enough though, it provides for a uniquely invigorating role that sounds faultlessly enriching over numerous layers of reverbed guitars, a steady trademark of shoegaze that Soundpool exhibits in equally striking form. The delicate keyboards of Mark Robinson complement all of the aforementioned components, providing melodic additions that prove to be latter manufacturers of slyly impressive hooks. The NYC-based five-piece released their debut album, On High, in 2006 to considerable acclaim, showcasing their unique form of shoegaze to the masses. Their second album, Dichotomies & Dreamland, was released last month and it appears to capitalize on all the commendable aspects of On High while improving upon the few aspects of over-repetition and stylistic generalization that plagued a track or two on On High.
The serene "Welcome to Dreamland" opens up Dichotomies & Dreamland with a delicately resounding force as Fields coos over strains of synth and a bustling rhythm section. The overlapping of a faint guitar can be heard in the background, but "Welcome to Dreamland" remains one of the few tracks where arrays of guitars are at the forefront. After the concise opener, "Pleasure and Pain" emerges with a series of discordant guitar lines over the familiar setting of keys, drums, and bass. The progressions sound nearly improvised, but the overall result gives the impression that the songwriting was the cause of skilled preciseness. The chorus differentiates itself when Fields indicates a subtle increase in emotion, perhaps best signified by the audible augmentation of shimmering synths. Already considering critical acclaim in its own right, "The Divides of March" is one of my favorites off of the album. The formula does not differ dramatically from the other material on Dichotomies & Dreamland but the chorus alone blends in so well with the rest of the structure that the result is irresistible. It is exotic and exhilarating, especially in the way Fields mixes up her vocal approach in dependence upon the instrumental intensity of the moment. The appropriately titled "Lush (What Becomes You)" is easily one of the most soothing tracks to be found from the band, with the gentle stroking of keys being the only main instrumental accompaniment to Fields' vocals. Dichotomies & Dreamland is already out in stores and I strongly recommend to fans of the genre. And, hey, even if shoegaze is not your thing, this one is too good to miss out on.
——————————————————————————————
Soundpool – The Divides of March
[audio:http://mineorecords.com/mp3/spool-div.mp3]
——————————————————————————————
Soundpool – Lush (What Becomes You)

[audio:http://mineorecords.com/mp3/spool-lus.mp3]
——————————————————————————————
——————————————————————————————