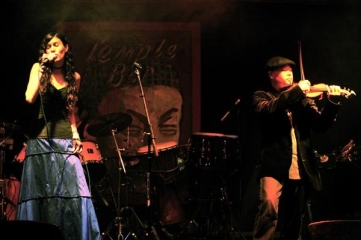 If there is one form of art that has gone hand-in-hand with music over the past several decades, it would have to be film. It is the only consistent and widely recognizable art form in which audible and visual stimulation is provided simultaneously in an effort to provide satisfaction upon the viewer. Film scores have been pivotal in the success of some of the greatest films of all time, even if they merely serve to supplement the rush of emotions that the cumulative plot, cinematography, and direction provides. Composers are often given a situation in a given movie with a targeted tone or style, leaving the rest of the process up to the artistic merit of the composer. Such a method can lead to a rather fascinating question: If directors and screenwriters were given an initial collection of songs to work with, would they be able to successfully manufacture a film in a similar vein in which tone and style analogously coincide with the respective songs. It has been done before in films like "The Wall", but such musically laden examples are usually involving of groups who can be considered a few of the most influential musicians of their particular decade. For lesser known artists who have yet to even break out, it primarily depends on whether or not the artist can produce an array of emotions that are both eclectic and consistently invigorating.
Featuring a plethora of self-proclaimed "cinematic soundscapes", the vaguely named Alu contains all of the characteristics of an artist who would feel right at home in such a film-centric atmosphere. Her presentation constantly varies in style, never leaving the listener in a state of complete relaxation. This actually works as an advantage though, as the ceaseless sense of variation provides to prevent the listener from even having the slightest clue in what to expect next. Considering that the majority of her tracks are meticulously constructed, the enjoyable result is one of the only widespread consistencies. The most prevalent genre is that of jazz; other elements such as pop and electronica blend into the initial structures proficiently, crafting a sound that is unique to Alu but should also sound familiar to anyone who has heard a fusion of jazz and vocalized pop before. As for the actual woman behind the magic, there is little known about the elusive Alu. She is based out of Los Angeles and released a debut album, Infomercial Gasmask, in 2004. Out of the few publications that got their hands on the limited release, some went as far to hail it as a "masterpiece", noting Alu's lyrical prowess as perhaps the most steady indication of her impending longevity. She is known to dwell on contemporary sociological trends, often turning to the darker aspects of humanity to invoke a sense of passionate urgency. It is a style that coincides extremely well with Alu's starkly enchanting arrangements.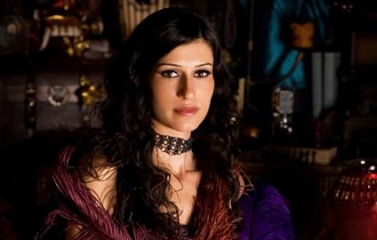 In addition to getting rave reviews and comparisons to the likes of Massive Attack and Tori Amos after the release of Infomercial Gasmask, Alu's debut also captured the attention of several filmmakers who thought that her music would be appropriate for their films; the concluding track on Infomercial Gasmask, "Last Lullaby", appeared in the low-budget action thriller "Juncture" in 2007 and a remix of a single from Alu's second album is set to appear in Clive Barker's upcoming "Midnight Meat Train". Success appears to be catching up rapidly for the budding songwriter, even if the primarily visible source of growth is in the transition from being featured in a flawed independent film to impressing Barker's generally reputable name. One listen to Alu's newest album, Lobotomy Sessions, should provide enough reason why one of the masters of contemporary horror and fantasy was so enamored with the artist. Set to be released on August 5th, the album plays almost like a dark comedy, tackling morbid tales in recognizable circumstances using a playful and slightly comedic tone. Regardless, Alu still has the ability to make a song sound purely dark if she opts to, a talent best evidenced by the eerie key-led progression of "Circus Cosmos" and the ghostly moans heard throughout "Aahhh". When paired alongside fun and more lighthearted successes like "Casket Salesman" and "The Metrosexuals". Actually, some people may consider the topics of the tracks to be the farthest thing from lightheartedness, but the comedy mainly derives from Alu's tongue-in-cheek vocal and lyrical delivery. Oh yeah, the hooks are superb too.
Out of all the tracks on Lobotomy Sessions, it is somewhat remarkable that the fantastic "Casket Salesman" manages to be arguably the most memorable track while containing the most simplistic of instrumental arrangements on the album. Considering that the album as a whole is very impressive, it simply goes to show that Alu's talents do not have to necessarily rely on intricate arrangements in order to satisfy. A truly unique love story in its own right, "Casket Salesman" is a track in which a future black comedy can easily derive from. Containing numerous metaphorical references that depict someone falling head over heels for an occupational symbol of death, whether one regards it as a satirical plea for suicide or just an oddly charming love story is up to the listener. "Bury me beside you and we'll kill some time, bury me beside you and I'll make you mine," Alu sings over the playful urgency of an organ, sparkling bells, and clicking percussion as she crafts contagious hooks with ease in each chordal transition. It may make you grin, sob, or do a little of both, but that is simply one part of its inherent beauty. The tinge of jazz in the seductive "Buzzin' in My Brain" makes for an interestingly captivating opener, aided by a several excellent string accompaniments courtesy of Hiro Goto. Goto and a few others provide several instrumental appearances throughout the album, but the entirety of Lobotomy Sessions was written and produced solely by Alu. Apart from being one of the most stylistically individualistic releases I have heard so far this year, Lobotomy Sessions is also one of the most consistent.
——————————————————————————————
——————————————————————————————
——————————————————————————————
——————————————————————————————
——————————————————————————————
***TRACKS REMOVED UPON REQUEST OF THE ARTIST***