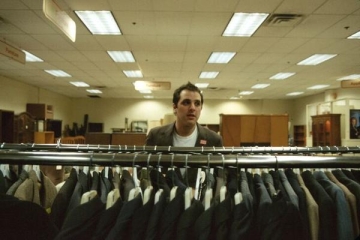 Many bands take the time to inform their publicist of something that makes them truly unique; a half-fabricated story of origination perhaps, or maybe even a few distantly connected reputable musicians with whom they collaborated with for an hour or so. I often find that many tend to exaggerate instances like this to keep up with the competition. After all, journalists occasionally have to take it on themselves to separate fact from fiction, and some bands believe that a unique anecdote or two will push them past other artists with better music but less background information. I am glad to say that this site always focuses on the music and uses the information as a source for writing AFTER I select whether to feature it or not; I never even look at a web site or one-sheet until I form a consensus on whether or not I believe that other people will enjoy it (in addition to myself). When I recently gave a listen to Frank Bango's The Sweet Songs of Decay, I formed a premature assumption about mid-way through that he had only been around for a few years tops. After all, the unique flair of his commendable songwriting led me to believe that I at least would have heard of the NYC-based artist by now if he had been writing songs like this for several years. So, you could imagine that I was surprised when I learned that Bango was no rookie to the songwriting business, as his debut was released over 14 years ago!
The one-sheet's praise for Bango as producing "some of the best and most original pop music that almost no one has ever heard" initially appeared as a hyperbole to me, but The Sweet of Songs of Decay proves to make the statement startlingly accurate. When Bango began the writing process for the album, he had a vision to create an adult's album for children. As he looks back though, it has turned out to be more accurately demonstrative of a children's album for adults. In a bit of a role reversal, this can be gathered rather humorously from the album cover, a striking image that depicts Bango sitting down with a deadpan state next to someone dressed in an Easter bunny's suit. The central meaning of The Sweet Songs of Decay, however, is more emotional than it is humorous. Bango was unfortunately diagnosed with cancer the day after the album was mastered and the albm's theme appropriately coincides with Bango's belief that everyone – regardless of health – should value each passing day as if it were their last. It is a mentality that is commendably bittersweet, and though his cancer was diagnosed after the album's completion, the ideology that he displays should leave fans to believe that Bango will continue to make music for quite some time. It is clearly a love of his and he does it extraordinarily well, meaning that we should perhaps expect another album by 2012.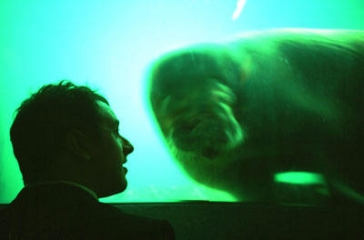 The Sweet Songs of Decay serves as Bango's fourth album. He ha previously released one album every four years since 1994, with I Set Myself on Fire Today, Fugitive Girls, and The Unstudied Sea being released respectively prior to The Sweet Songs of Decay. Like yesterday's featured artist, White Denim, Bango has acquainted himself with most forms of audio distribution. While the past has seen him release albums in conventional form when signed to a label, Bango has done all the recording, manufacturing, and marketing aspects for each of his 4 releases, playing the DIY card quite well. In fact, his approach reminds me slightly of indie-rock nice guy John Vanderslice. The style that Bango employs is one of an accessible nature, providing catchy pop songs within arrangements that are bolstered by a variety of instruments from guitars to strings. Those who prefer artists who dwell more in the experimental aspects of pop music may be turned off by Bango's immediate accessibility, but I personally see it as a refreshing alternative to the occasional franticness in music. Not all artists can pull it off, but Bango's form of folk-pop provides for an ample amount of hooks and a sizable degree of variation. And while the delicacies of '60s pop are occasionally present in tracks like "I Saw the Size of the World" and "Napoleon Again", most of his songs cannot be consistently classified in chronological form. Instead, Bango's pop influences appear to be a fusion of collected decades rather than just a clear focus on just one.
"Worm Was Wood" reminds me personally of Pulp's most recent material from We Love Life, an excellent album that saw Jarvis and co. rely more on acoustical progressions aided by fluttering string accompaniments. In "Worm Was Wood", Bango's voice appears to correlate with the instrumental evolution. Initially, when only backed by the strum of an acoustic guitar, he sings in a deep croak. When the percussion kicks in, his voice begins to demonstrate more ardency in the same tone. However, when the actual strings arrive during the chorus after a newly added electric guitar comprises the bridge, his voice takes on a higher pitch and establishes a stellar hook in the process. "I was in love with you, how quickly we forget," he concludes the chorus, preparing himself for a re-energized verse that is also accompanied by strings and a higher pitch. Led by a gentle acoustical rush, "Bunny in a Bunny Suit" is more demonstrative of Bango's lyrical aptitude. "Pretending to be myself again, acting as if I was who I am," he begins, aided by the placid rush of percussion and reverbed acoustics. The song speaks levels in regard to self-confidence and the petty urge some people feel to disguise their actual feelings and personality in order to be accepted by society's standards. While the latter half of The Sweet Songs of Decay tends to lag a bit, there is plenty of enjoyment to be found on Frank Bango's impressive fourth album.
——————————————————————————————
——————————————————————————————
Frank Bango – Bunny in a Bunny Suit

[audio:http://mineorecords.com/mp3/bango-bun.mp3]
——————————————————————————————
Frank Bango – I Saw the Size of the World

[audio:http://mineorecords.com/mp3/bango-isa.mp3]
——————————————————————————————