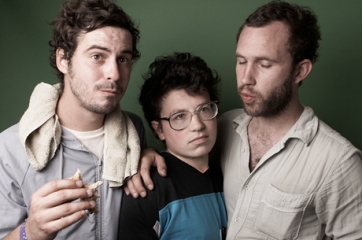 Lately among artists both old and new, there has been a form of immediacy that has become increasingly prevalent. They are beginning to take advantage of the internet like never before, releasing material in a digitalized format with a variety of technological methods to choose from. Whether an artist chooses to combine forces with a netlabel, go with a more recognizable service like iTunes, or simply self-release their material altogether, it provides for a large degree of flexibility for varying types of artists based. However, considering that many of these artists grew up in a digital age where the mass exchange of textual, audible, and visual information can be done in a heartbeat, it would be erroneous to say that the mentality has stemmed purely from impatience. Rather, it is what both audiences and artists have become accustomed to as of late. Radiohead's release of In Rainbows has obviously been the most publicized example, but this form of digitalization has been circulating for nearly a decade as the implementation gets less subtle with each passing year. It has its share of critics, of course, but I for one enjoy it. Perhaps my opinion would differ if my salary relied on an occupation within the recording industry, but as a music fan I can't help but feel that it provides the artists with more control and consequently results in a more fulfilling listening experience.
If you are someone who tends to read more than a few music blogs a day, then the name White Denim will likely hold some familiarity for you. Indeed, the trio from Texas has been one of the most blogged-about new artists of the past few months, with the nearing release of their debut album attributing to much of the hype. Prior to this, however, the trio made their debut with Let's Talk About It, a 5-track EP that was released in May of 2007. Their unique interpretation of garage-rock fueled some considerable acclaim, but it was not until the distribution of a new EP a few months later that fueled the intensifying interest even more. Previously recognized as both Tour EP and Workout Holiday, White Denim distributed the 9 tracks exclusively on CD-R format while touring throughout 2007. In order to make their recent material available to fans who could not make it out to a show, they signed to influential netlabel RCRD LBL in late 2007 to release a 3-track EP that featured "World as a Waiting Room", the opening track on the Tour EP. And now, after recently signing to their first label in Full Time Hobby, the band is set to release Workout Holiday, their first full-length album. Sharing the same name as their Tour EP, it features re-recorded versions of highlighted tracks from both preceding EPs.
So, to sum it all up, White Denim have went from self-releasing CD-Rs to working with a netlabel and then signing to an actual label. Clearly, it would be safe to say that these guys have most of the contemporary forms of musical distribution down pat by now, as the correlation between the type of distribution and their degree of reputability is very evident. Now that the two self-released EPs and one digital EP have garnered such considerable attention, the trio signing to a standard label to release Workout Holiday certainly looks to be the most efficient move. It appears to be a newly formed decision though, as it was just two months ago that bassist Steve Terebecki said that "vinyl and high quality digital downloads" were going to be the band's only forms of release, further stating that "CDs seem pretty worthless to us." Whether it is a dying cause or not, CDs remain a popular format, and White Denim must have heeded this sentiment when recognizing that Workout Holiday is an album that will grant plenty of enjoyment to a wide variety of listeners. For Terebecki, vocalist and guitarist James Petralli, and drummer Joshua Block, the ideology does not derive from financial gain, but rather a generally selfless vision that continuing upon commonly accessible methods will result in a broader fanbase, even if it causes more strain and less control on the artist's part.
While I noticed this comparison prior to hearing the finalized Workout Holiday, White Denim's use of concisely effective melodies over snappily energetic bursts of guitars and keys brings shades of Wire and the Minutemen to the table. The infectious "I Can Tell You" is most reminiscent of this, falling just under 2 minutes in a length that should be deemed enjoyably appropriate in appliance to its structure. Like such greats, the group employs a series of quickly laced guitar progressions and reflective keys over minimal percussion, further supplemented by vocals that are aggressive in tone. Terebecki actually first picked up a bass after being influenced by the short and fulfilling punk songs of the Minutemen, a fact that makes the driving bass lines on tracks like "I Can Tell You" and "Darksided Computer Mouth" even more nostalgically enjoyable. The new version of "Sitting" is condensed and ultimately more accessible. It features an initial piano accompaniment that is later bolstered by several rhythmic interjections and guitar progressions, with the staying power of the song mainly attributed to the powerful build-up it encompasses. It is in stark contrast to bursts of energy like "I Can Tell You", but it maintains the same sort of originality that makes White Denim so uniquely enjoyable. In fact, Workout Holiday is the most eclectic garage-rock album I have heard this year. And while fans may be disappointed that Workout Holiday does not feature much in terms of new material, the re-workings are a considerable step-up both in terms of both production and instrumentation.
——————————————————————————————
——————————————————————————————
——————————————————————————————
White Denim – Darksided Computer Mouth

[audio:http://mineorecords.com/mp3/denim-dar.mp3]
——————————————————————————————