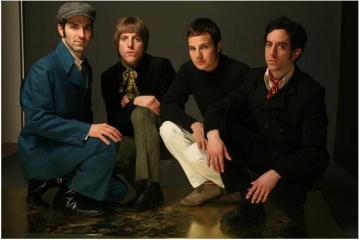 You could probably call it some sort of complementary bias, but I tend to be more selective when choosing which bands to feature from New Jersey. I guess it just comes down to tough love, as I would never want an artist who lingers in mediocrity to represent the place where I grew up. Springsteen has done wonders for the small (but crowded) state's musical reputation, as have the likes of Parliament-Funkadelic and Frank Sinatra, but it has been quite some time since a newly formed act from the Garden State has turned heads. Well, the Jersey-based My Chemical Romance received a considerable amount of attention a few years ago, but I am referring more to bands who promote artistic ingenuity without being overly emotive in the process. Based out of Jersey City, The Black Hollies appear primed to be one of the more memorable acts originating from the east coast this year. Through an incorporation of their preceding influences of '60s soul and psychedelia with a contemporary indie-rock edge, the four-piece simultaneously express veneration for the past while demonstrating a knack for modernistic methods of production. The result is a bountiful form of psychedelic-rock that sounds strangely familiar and surprisingly effective, at least in the sense that few modern artists can capture the feel of psychedelia as well as their cherished influences from the '60s.
The Black Hollies formed in the summer of 2004, with all 4 of the members being good friends already. They made a habit out of hanging out in guitarist Jon Gonnelli's attic, supplying entertainment by listening to '60s soul records on a turntable while reading books on art, mysticism, and spiritual enlightenment. "I guess we were trying to pick up puzzle pieces of our lives while discovering new mediums to express our ideas," lead singer and bassist Justin Angelo Morey explained. "I suggested trying to write similar music to the others and eventually we pulled the power plug of the record player out of the wall socket and turned ourselves on." The jump from being observers to actual participants seemed only natural to the band, as all 4 members were well-aware of the common musical interests that they all shared. With that in mind, the release of their debut album, Crimson Reflections, was quick to follow in 2005. The group saw the release as an experiment of sorts, mixing together '60s soul with accessible indie-rock to create a generally amiable listening experience. It had its rough edges, but Crimson Reflections drew acclaim nonetheless and produced an ample local fan base in the process. Guitarist Herbert Joseph Wiley V and drummer Scott Bolasci rounded out the quartet, though Bolasci was recently replaced with Nick Ferrante. Hot off performances at SXSW and CMJ that they deemed "unforgettable", The Black Hollies are prepared to release their anticipated follow-up in the improved Casting Shadows.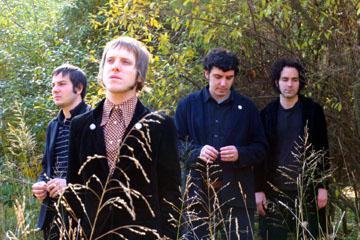 The most glaring improvement found on Casting Shadows when compared to the preceding Crimson Reflections is the addition of psychedelia to the group's stylistic equation. The band has always been followers of the style and they appear to enjoy just as much as soul and rock music, but they appeared to have some difficulty capturing the style on their debut. This resulted in a record that was occasionally predictable, albeit very enjoyable in the moments that were stylistically unwavering. The first track on Casting Shadows, "Whispers Beneath the Willows", provides for immediate proof that the group's stylistic boundaries are expanding considerably after only one prior release. Morey's quivering vocals take on a slight warble of reverb, almost sounding like some tortured soul stuck in a vacuum. A steady repetition of twangy guitar progressions reverberate over a rhythm section that collapses and re-emerges sporadically, all until it is suddenly uplifted in velocity when the chorus makes its entry. When there, we find Morey engineering a series of collaborative dual vocals before a more diversified verse materializes. Overall, it is a very satisfying opener that sees the band at a much more matured stage at this early stage in their careers. The songwriting is stellar with a variety of hooks and the production is adjusted appropriately to the track's specific leanings in psychedelia.
"Paisley Pattern Ground" should most certainly appeal to listeners who prefer garage-rock to the album's more focused psychedelic intent. Though Morey's vocals provide for the same form of quivering psychedelic tinge during the track's chorus, the halted chords of the verse remains more reminiscent of garage-rock revivalists in the vein of Jet and The Vines. "Oh baby watch your step," Morey snaps over the angsty rush of guitars. "You're gonna dress like that." His vocals take a turn from yelping garage-rock to quivering psychedelia as the verse and chorus alternate, being a rather tidy summation of the band's stylistic capabilities. I personally prefer the more ambitious scope of "Whispers Beneath the Willows" and "Under a Winter's Spell" to the straightforward "Paisley Pattern Ground", but I foresee the track receiving considerable radio airplay nonetheless. "Under a Winter's Spell" finds Morey sounding eerily similar to George Harrison himself, with the songwriting not a far cry from the Fab Four's more psychedelic works. The guitar work of Gonnelli and Wiley is also particularly impressive, providing a sense of further variation over the constant rush of the bustling rhythm section and Morey's impressively suitable vocals. Casting Shadows is available in stores now and is recommended for those who enjoy a fluid mixture of psychedelia and garage-rock.
——————————————————————————————
The Black Hollies – Whispers Beneath the Willows

[audio:http://mineorecords.com/mp3/hollies-whi.mp3]
——————————————————————————————
The Black Hollies – Paisley Pattern Ground

[audio:http://mineorecords.com/mp3/hollies-pai.mp3]
——————————————————————————————
The Black Hollies – Under a Winter's Spell

[audio:http://mineorecords.com/mp3/hollies-und.mp3]
——————————————————————————————