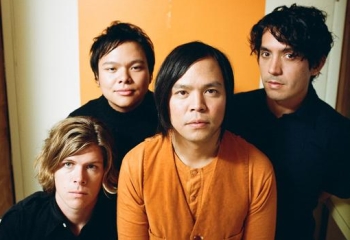 Thanks in part to the stimulating effect that the collaboration of audible and visual content in art can occasionally grant a viewer, many music fans (more often critics) have grown accustomed to classifying albums that somehow correlate to a certain season. Some people simply recall the season in which they got hooked into the respective album for the first time, but the more interesting of participants generate some sort of thought based on the actual melodic content and stylistic delivery involved. For instance, calling The Beach Boys' Pet Sounds a "summer album" would provoke little to no argument. Any band who produces a similar form of surf-rock have often fallen into the same grouping too. Despite lyrical content that often depicts a much darker picture, similar bands who deliver such upbeat melodies in the realm of traditional surf-rock or power-pop occasionally seem to be practically begging for that "summery" label. With that in mind, I imagine that any group who puts out brooding post-punk like Interpol or barren electronica like The Knife is setting themselves up to be compared to a season that is visually seen to be less optimistic ("wintry"?), an attribute that is shunned away from in fear of sounding far too much like a criticism. I tend to shy away from such seasonal comparisons due to it being a sign of descriptive laziness for the majority of the time, but some bands just give off a vibe that is too appropriately seasonal to shun away from.
The Little Ones are surveyors of a style that holds little complication and even less intimidation. The five-piece have even admitted themselves that an accurate description for their sound would be "happy", even if there are a number of other enjoyable variables involved. "The gist of it is we're here to have fun," guitarist Ian Moreno says, an admirably surefire critic of bands who are in it purely for the fame and loot involved. Alongside the recently featured likes of The Explorers Club, this ideology coincides rather nicely with the amiable nature of their brightly enthusiastic style. However, instead of tackling the likes of surf-rock, The Little Ones tread in waters that are more reminiscent of expected contemporary indie-pop. For this repetitively aforementioned "summery" feel, their percussive uses of hand claps and tambourines can attribute to it somewhat, though the defining factor lies in the melodies and methods of vocalization that the LA-based five-piece is able to convey. "The imagery and overall vibe is more of a summer album," Reyes says, stating the enjoyably obvious. Their West Coast roots are most prevalent in Edward Nolan Reyes' vocals, an enjoyable aspect that often shows traces of a commendable falsetto within glimpses of group harmonizing that appears reminiscent of '60s pop music. In appropriate form, their noteworthy debut album, Morning Tide, will be released this summer. With a bountiful array of hooks and melodic additives, it is just one of those albums that sounds best when complemented by sunshine, a cool breeze, and the mere sight of a beach.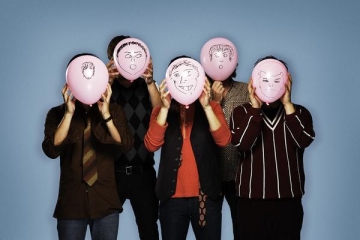 The formative process of The Little Ones involved a variety of past collaborators, current lovers, and childhood pals. Moreno and Reyes originally formed the first stages of The Little Ones after a band they had both participated in broke up, leading to an urge to form something new and greater. While searching for members, Ian happened to find out that his girlfriend's brother was proficient at both the keyboards and bass. Avoiding any awkward moments due to their instantaneous music-based connection, Moreno convinced Lee LaDouceur to join him and Reyes. After that, however, the search for the next member lasted almost a year until Moreno received a call from a childhood friend, Greg Meyer, who was moving out to Los Angeles from San Diego. Already familiar with Meyer's skills as a drummer, he was quickly recruited. Looking for another member to aid in LaDouceur's efforts as both a keyboardist and bassist, Moreno brought in his brother Brian to play whatever instrument LaDouceur wasn't during live shows. After David Esau replaced Meyer on drums, the five-piece was finally complete. The Little Ones' first big break came in 2006 when solo artist Matt Costa scored the boys a gig at the Bowery Ballroom, giving those outside of the West Coast a chance to hear them live at a prominent venue for the first time. The Sing Song EP followed in February 2007 and the recent Terry Tales and Fallen Gates EP was released this past April. Drawing comparisons to other bright indie-pop bands in the vein of The Shins and The Delays from pleased critics, the slow but steady rise to recognition brought them into supporting Kaiser Chiefs and We Are Scientists on tour during the last several months of 2007.
Like many young bands who have been recognized as having heaps of potential, The Little Ones had to experience the obstacles of dealing with a major label in appliance to the release of their debut. Astralwerks released the Sing Song EP in 2007 but voided The Little Ones' record contract in the beginning of this year. ""We already had an album in the can, and it was supposed to be released in April, then we were told that we had been released from our contract," Reyes explained. "But the good thing is they were gracious enough to get the masters back." The recovery of the masters means that Morning Tide should finally see a release this summer. I honestly have little clue as to why Astralwerks dropped them, but I imagine it will not be hard at all for The Little Ones to find another label. After all, one listen to the infectious "Ordinary Song" should have them lining up in masses. Apart from "Ordinary Song" being incredibly radio-friendly, it utilizes the group's self-proclaimed Uncle Lee's Rule of Feet, which states that a song is deemed appropriate for release "only if each of the Little Ones' feet could shuffle" when listening to it. Thanks to the impeccable harmonizing, the eclectic arrangement of glistening keys and guitars, and the devastatingly memorable hook that the chorus conveys, my feet personally respond quite well to it. When Reyes sings, "I met you on the radio, radio," during the fluttering chorus, I would be surprised if you did not have the same reaction. Though an official release date has yet to hit the horizon, Heavenly Records has recently swooped up this talented group to make the summer release date imminent for Morning Tide.
——————————————————————————————
The Little Ones – Ordinary Song

[audio:http://mineorecords.com/mp3/lones-ord.mp3]
——————————————————————————————
——————————————————————————————
The Little Ones – Gregory's Chant

[audio:http://mineorecords.com/mp3/lones-gre.mp3]
——————————————————————————————