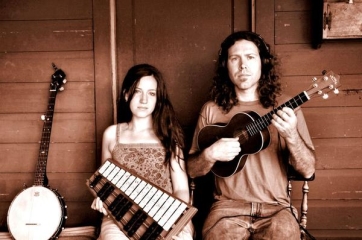 When one pictures the stereotypical image of a haunted house, they usually envision an unkempt mansion on a hill with nothing but a series of motionless cobwebs and eroding walls vacating the insides. Well, that and also the occasional creaking of floorboards from transparent residents who just simply will not move on. Step inside the house and one immediately becomes highly attentive, listening for any sound that may indicate the presence of something not so amiable. The atmosphere in itself creates a scenario in which even the slightest sound can give an impression that can shift one's entire perception of their surroundings, with precise timing providing to a factor of fear even more. It is in this phenomenon why the word "haunting" is so perfect when describing the startlingly unique sounds of Arborea. They do not by any means invoke feelings of fear or horror like an actual haunted house does, but the similarities arise in the sentiment that the duo is able to craft ardently potent moments in which the content relies more on timing and precision than it does volume or melody. Their melodic prowess is impressive in a subtly enchanting manner, but the most enjoyable aspect pertains to the inventive way they engineer the final result, haunting in that it lingers in one's head until it is forcefully put to rest.
When listening to their music, it almost sounds as if Shanti Curran and Buck Curran were destined to be together, much less make music together. That may certainly be the case too, but the fact that the chemistry between the husband-wife duo is so engagingly present when listening to their music alone is impressive in its own right. Their 2006 debut, Wayfaring Summer, caught the attention of many with such stimulating effects, but – as I listen now to their newest release – I know that it merely marked the beginnings of a duo that is blossoming rapidly. Entitled Arborea (Fire Museum), this semi-self-titled sophomore effort has been in stores since late April and I am surprised that it took me this long to stumble across it. They can be grouped in admirable form with other talented contemporary songwriters who dwell on a minimal style of folk, using acoustical instruments over powerfully unique vocal performances to complement poignant arrangements. A few recently featured artists who would fit into the category would be Russian Red, Ghost Bees, and Silje Nes, though Arborea's manages to be both more audibly subdued and stylistically varied when compared to most other partakers in the genre; it is one of several things that makes Arborea (Fire Museum) so haunting and memorable.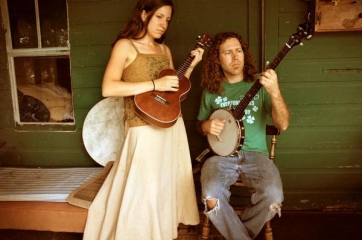 As far as the aesthetics go, the work between Shanti and Buck is split evenly. Buck provides most of the instrumental work, particularly in the vital use of acoustic and steel guitars. Shanti's beautiful vocals complements his stark playing with the utmost preciseness, adapting her vocal delivery in accordance to the instrumentation's depicted style. She provides some occasional instrumentation as well, but the most enjoyable aspect of her performance on the album is her voice. With the opening sequence sporting nothing but a barren acoustic arrangement under Shanti's vocals, "Seadrift" is a suitable example of Arborea's general approach. The bluesy finger-picked progression signals to Shanti to enter with a suitable vocal accompaniment and she does just that to perfection, adding some huskiness to her voice in a successful attempt to integrate herself into the fusion of folk and blues. The only melodic variation in the song arrives after each extended verse, in which a flurry of strings creep up to coincide with a heightened acoustical progression. When the adjustment from the ending verse to the evolved chorus occurs, it is a moment of rare and apparent beauty.
The reversed form of vocalized manipulation presented during the first minute of "Black Mountain Road" makes it a very interesting, if not misleading, opening. The technique proves to be used excellently though, as the transition from the reversed audio to the actual verse is startling and highly memorable. The song then takes an evolutionary turn as each new verse is accompanied by a revolving array of strings, a feature that complements Shanti's delicate vocals to the fullest. "Dark is the Night (In the Wind)" is more traditional in format, using two layers of varying acoustic guitars as the primary variables. The correspondance between one of the guitars and percussion that later emerges serves as a very beneficial rhythm section, even if the song's melodic content is minimal at best. The chugging nature makes it oddly appealing though, and the vocal performance exhibited by Shanti is once again subtly invigorating. Arborea (Fire Museum) may be passed over by those who tend to let quality experimental folk pass them by, but fans of the genre should definitely consider picking up this impressive release.
——————————————————————————————
——————————————————————————————
——————————————————————————————
Arborea – Dark is the Night (In the Wind)

[audio:http://mineorecords.com/mp3/arbor-dar.mp3]
——————————————————————————————