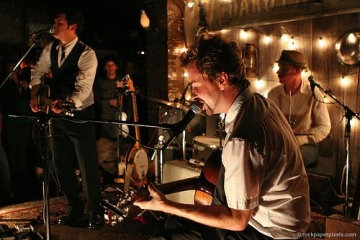 Attempting to follow a traditional etiquette while simultaneously bringing something fresh and innovative to the table can be a problematic maneuver for some bands. After all, if listeners have become so accustomed to a style that has nearly become set in stone, delivering material that actually differentiates itself from the masses that have already been available for years on end can be a rare and commendable achievement. Though the precise originations date back hundreds of years, the version of folk music that most of us are familiar with traces back to the 1950s. With a lyrical fixation on relatable social circumstances that were rarely defined by one specific period of time (unless a track was politically charged), both new and old folk material were ushered to the forefront in American and British music circles. Today, many bands continue to embrace the style as they incorporate the schematics of basic folk with stylistic and lyrical contemporary relevance, with the matter of whether or not the result is innovative and captivating being the primary defining factor in identifying modernistic success within the origins of a style that even most senior citizens are familiar with. It simply goes to show how timeless some genres of music can be.
A folk-laden trio based out of Ontario, Elliott Brood rightfully take pride in being a band who shows veneration for the past while bringing something new and exciting to the table. Originally a duo consisting of Mark Sasso and Casy Laforet, Elliott Brood formed in late 2002 with an energetic style of play that was difficult to classify; the band lists "urban hillbilly" and "death country" as being a few early classifications, admitting that none really did much in accurately defining the band's energetic ideology. Their debut EP, Tin Type, saw a Canadian release in 2004 and its consequential acclaim led the duo to the beginning of what would later be a busy touring schedule that stretched from Canada to Europe. At the time, current member Stephen Pitkin was not officially a part of the band but he had the role of producer for the recording process of Tin Type. When Elliott Brood's debut full-length album, Ambassador, was released in 2005, he joined full-time. Ambassador was nominated for the Juno award in Canada under the category of "Best Roots/Traditional Album". After the success of Ambassador prepared them for an even larger tour alongside the likes of Wilco, Broken Social Scene, and Do Make Say Think, they began work on their new album.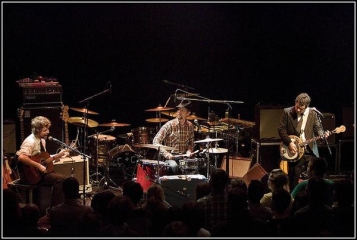 In their third release and second full-length album, Mountain Meadows, Elliott Brood have delivered an album that speaks volumes in portraying the band's high level of originality within the vein of conventional folk music. Ambassador did an excellent job in providing a good amount of lyrical variety, from entertaining throwback political commentaries like "President (35)" and "Jackson" to geographical odes like "Oh, Alberta", "The Bridge", and "Superior". It also featured "Edge of Town", a somewhat somber effort that is arguably the trio's only conventional love song. Keeping in touch with their historical aptitude, Mountain Meadows continues the group's emphasis on historical locations and the events that have occurred there; the title itself is a reference to the Mountain Meadows massacre of 1857. It simply stays true to their folk origins, depicting fascinating past events in a form that even the most technologically inclined could relate to. Scheduled to be released on June 24th on Six Shooter Records, it is an improvement upon the successful Ambassador in its melodic content while straying in an enjoyably similar historical realm. There is no considerable stylistic transition, but Elliott Brood continues to do some considerably innovative things within the genre of folk.
"Write It All Down For You" is an excellent example of Elliott Brood's ability to transform even the most structurally conventional folk song into something with an ample amount of ingenuity. The simplistic progression of an acoustic guitar carries the track's first few moments, only to be enjoyably interrupted by spurred percussion that is rhythmically backed by vocals proclaiming the end of a verse with a "hey! hey! hey!". The snippet lasts little over one second, but the parallel it causes between the progression and Sasso's raspy – yet uniquely powerful – vocals is considerably striking. "Without Again" is one of the album's more predictable tracks, though the polished blend of country and folk it conveys allows the song to be every bit as infectious as preceding gems like "Write It All Down For You" and "Fingers and Tongues". Slickly incorporating a harmonica over a varying degree of acoustical guitars, it plays the role of upbeat folksy ballad off very well. "Fingers and Tongues" is an engrossing opener that sees a rasher rock-oriented approach integrate itself into familiar folk territory. It is convincingly demonstrates Sasso's eclectic vocal ability, one that can make the transition from distorted folk-rock to acoustical ballads with ease.
——————————————————————————————
Elliott Brood – Write It All Down For You

[audio:http://mineorecords.com/mp3/ebrood-wri.mp3]
——————————————————————————————
Elliott Brood – Fingers and Tongues

[audio:http://mineorecords.com/mp3/ebrood-fin.mp3]
——————————————————————————————
——————————————————————————————