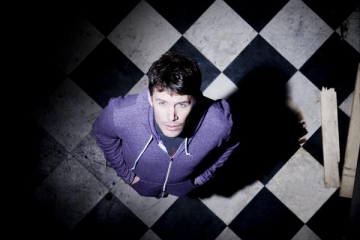 Oh great, just we need… another Swedish pop artist. Yes, another musically inclined Swede who crafts uniquely enticing hooks with a high level of accessibility has appeared on the horizon, this time in the form of Kristoffer Ragnstam. However, for all of those who have somehow grown tired of quality Swedish indie-pop by now, I must say that I believe Ragnstam to be arguably the most impressive of the bunch this year so far. This feat can be attributed to his upcoming second album, Wrong Side of the Room. Sweden has been expecting something big from Ragnstam for years now and I have as well, ever since I posted the opening track on his debut album, Sweet Bills, way back in 2006. As the sudden international explosion of Swedish pop was just getting underway, "Breakfast by the Mattress" immediately struck me with its highly infectious blend of funk and pop, causing Ragnstam's name to linger in my mind for the following two years. Sweet Bills was an excellent pop album but failed to attract a large international following upon its release in 2007, a shame considering the number of quality songs contained on the release. With its August 19th release date nearing though, Wrong Side of the Room appears poised to jump Ragnstam to a state of well-deserved recognition.
While Ragnstam does not yet have the same level of recognition overseas as fellow countrymen like Jens Lekman or José González, there is nothing indicating that his talent as a songwriter falls short of such other high-rising Swedish songwriters. In fact, I found myself so impressed with the final product of Wrong Side of the Room that I would be surprised if Ragnstam does not break out in a big way by the end of 2008. On the album, Ragnstam serves as the lead songwriter, vocalist, and guitarist, backed by a tight collection of players that have been dubbed "The Electric 4". Additional guitarist Joel Lundberg also co-writes a few of the tracks, most notably highlights like "Happy Mistakes" and "Disco Fiasco". Keyboardist Emil Carlsson's role also looms large, as Ragnstam's songs are often heavily dependent on a swirling mixture of guitars and keys of all variations. In addition to the seductive bass line and Ragnstam's suave croon, the ingenious use of keys on "Breakfast by the Mattress" was one of the aspects of the track that immediately drew me in. From the brisk synth usage on "Sorry for Being the Man of 1000 Questions" to the placement of a soulful organ on "May I Admire Her", Wrong Side of the Room is a continuation of this ideology, though not to an overbearing extent where the instrument is always in the lead or even used it all. With "The Electric 4" at his side, Ragnstam's instrumental approach is eclectic, just like the varying degree of enjoyable hooks he delivers in the process.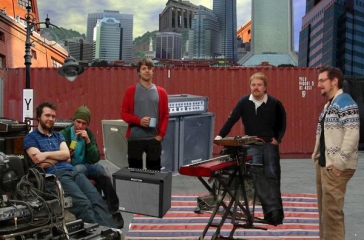 It is usually not a difficult task for me to select which two or three tracks to include in a feature, as I tend to straightforwardly choose the best all-around cuts. The minor dilemma involved with Wrong Side of the Room was that the album is so impressively consistent that it makes such decisions difficult. It seems that the majority of tracks would fare exceedingly well as singles, with Ragnstam's tendency to write stellar three-minute pop songs being heavily prevalent from start to finish. Apart from the acoustical closer in "Of All Summers", there are no ballads to be found, as Wrong Side of the Room consists of highly energetic fusions of pop, rock, soul, and funk for most of its duration. Focusing on a topic that revolves around semi-satirical, entirely humorous optimism, "Happy Mistakes" serves as a rather accurate summation of Ragnstam's ability, featuring an infectiously brisk chorus that improves in desirability each time around. As the chorus is introduced by a concise bridge featuring a swift bass line, a series of halted guitar chords and reflective keys assume their role as the melodic backbone. A variety of key and wind instruments collaborate efficiently in each successive chorus, complementing a somewhat simplistic but highly enjoyable track with subtle instrumental additions and clever melodic shifts.
Apart from being yet another appealing example of Ragnstam's ability as a songwriter (it is hard to find a track on the album that isn't), "Sorry for Being the Man of 1000 Questions" features Carlsson's key-led involvement in its most impressive form. Synths are the main force during the first several verses, seeing Ragnstam's unusually subdued delivery contrast well with the bare form of instrumentation. That restraint eventually transforms into a sharply ardent delivery that is more expected of Ragnstam when traditional keys take over, cueing yet another irresistible chorus that Swedes appear to just have a knack for. "2008" sees the keys and guitars in a witty collaboration of sorts, with the transition from acoustic to electric being precise and seamless thanks to the catchy progression of high-pitched keys that concludes each chorus, an aspect that reminded me of previously featured Swedish native Håkan Hellström. While the lack of stylistic variation on Wrong Side of the Room may not appeal to those in search of comprehensive experimentation, the number of irresistible pop songs on the album is simply too large to miss; the three tracks featured are simply the tip of the iceberg. With not a dull moment to be heard, Wrong Side of the Room is easily one of the most consistently infectious releases of the year.
——————————————————————————————
Kristoffer Ragnstam – Happy Mistakes

[audio:http://mineorecords.com/mp3/ragnstam-hap.mp3]
——————————————————————————————
Kristoffer Ragnstam – Sorry for Being the Man of 1000 Questions

[audio:http://mineorecords.com/mp3/ragnstam-sor.mp3]
——————————————————————————————
——————————————————————————————