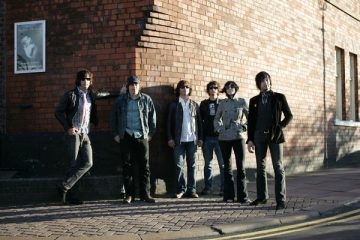 For any inquiries regarding the stylistic leanings of The Asteroid No. 4, the only bit of information one would likely require is that the six-piece were involved in a Spacemen 3 tribute in 1998, contributing a cover of "Losing Touch With My Mind" to a tribute album. Appropriately enough, that was also the year they released their debut album, Introducing The Asteroid No. 4. Apart from the simultaneous string of releases immediately proposing a definite proclamation of sorts in regards to their sound, it gave them the beginnings of a fan base who were very much enamored with the band's stylistic preference. After all, when you get off on the right foot by releasing a striking cover of a band with a cult following, there will be more than a few of those ears willing to give your debut album a listen. Set on the stylish mixture of space-rock and neo-psychedelia, they released Introducing The Asteroid No. 4 to the delight of fans' expectations, revealing a collection of strong songs that capitalized on the group's blatant admiration for the likes of Spacemen 3 and the space-rock sound that they influentially produced. Flash forward 10 years and The Asteroid No. 4 is preparing to release their fifth album, one that definitively proves to be their best yet.
Based on the time of release and reception of their 5 albums, the career of The Asteroid No. 4 is starting to bear a resemblance to Pulp. Releasing a handful of albums in the early '80s with little recognition or praise, Pulp went on to release a string of classics in the mid '90s to later become one of the most influential bands of the decade. Now, The Asteroid No. 4 have attracted a generous fan base throughout the years, but never enough to truly make sense for their ambitious nature. With the release of These Flowers of Ours: A Treasury of Witchcraft and Devilry occurring over ten years after their debut, it looks as if widespread critical acclaim is finally in store for the Philly-based sextet. Their previous album, An Amazing Dream, was their most successful album – both in terms of reception and content – and These Flowers of Ours: A Treasury of Witchcraft and Devilry follows it up very nicely, drastically improving upon what some believed to be The Asteroid No. 4's creative peak. Clearly, These Flowers of Ours: A Treasury of Witchcraft and Devilry exhibits the best the band has offered in terms of songwriting and production, resulting in the album that they were aiming for since 1998. Though bumps in the road have occurred, The Asteroid No. 4 are a testament of determination and an unwillingness to throw in the towel when a creative decision falters.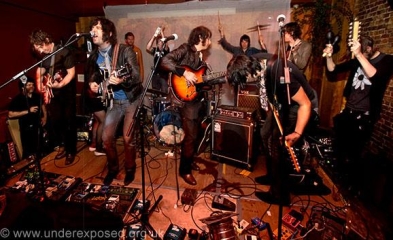 It is ironic in a sense that the biggest failure of The Asteroid No. 4's career will likely end up being a vital creative contributor. Prior to An Amazing Dream and subsequent to Introducing The Asteroid No. 4 and King Richard's Collectibles, they released an album by the name of Honeyspot. The 2003 release saw the group lean more toward styles of country and Americana, leaving fans and critics alike with mixed feelings of disappointment. Recognizing the animosity, they worked on An Amazing Dream for the next three years, returning to form with the style that bought them a sizable fan base in the first place. Now These Flowers of Ours: A Treasury of Witchcraft and Devilry is another stylistic continuation, seeing the group at their most ambitious and consistently successful. Now that most classics of space-rock appear to be in the past, The Asteroid No. 4 appear intent with excellent tracks like "Hold On" and "I Look Around" to be one of the few artistically capable acts still in the style,  a result of both confidence and innovation. The beauty of such efforts is that, unlike many other bands in the genre, they do not sound like generic tributes with rehashed ideas. Additionally, tracks like "Flowers of Ours" have a touch of Brit-pop to them, making the mixture often downright irresistible.
Consisting of all multi-instrumentalists, the lineup in The Asteroid No. 4 is eclectically impressive on record (I can only imagine their live performances being great). Scott Vitt, the lead vocalist, provides gently fervent vocals that materialize as a fusion of Jason Pierce, Kevin Shields, and Michael Stipe. On a track like "Hold On", where a swirling mixture of droning guitars collaborate with the whimper of a harmonica, he treads more in the appropriately designed Pierce/Shields territory. On the other side, with a more pop-oriented effort like "Flowers of Ours", the resemblance to Brit-pop is notably prevalent with the jangly guitars and infectious lead vocal melody. Psychedelia takes full force in the dreamy sitar-like musings of "Hei Nah Lah", while an epic track like "War" sees the group's ideas expand into an emotive jam where Vitt cries out for tranquility over a soothingly distorted guitar progression. Then you have "I Look Around", a track that wears a '60s pop influence on a sleeve with an organ-aided guitar solo that serves as the bridge between contrasting choruses, all set within a conventional callback method. With the heavy doses of reverb and distortion mixing fluidly with Vitt's tranquil vocals, it surprisingly contributes to the cohesiveness of the album while being individualistically stimulating. On These Flowers of Ours: A Treasury of Witchcraft and Devilry, this can be said for the majority of tracks, as the impressive nature of this release has led me to regard it as a precursor to The Asteroid No. 4's nearly imminent breakthrough.
——————————————————————————————
The Asteroid No. 4 – Flowers of Ours

[audio:http://mineorecords.com/mp3/tan4-flo.mp3]
——————————————————————————————
The Asteroid No. 4 – I Look Around (Rain Parade cover)

[audio:http://mineorecords.com/mp3/tan4-ilo.mp3]
——————————————————————————————
——————————————————————————————