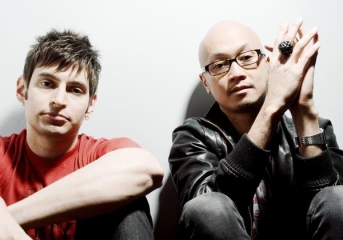 Making a career as a touring musician who plays on and off for a variety of talented artists can be great. Apart from making a steady income by playing music, the benefits can be found in both the experience gained and connections made from the individuals they are constantly surrounded by. Songwriters, record label heads, reputable journalists, managers… the list goes on and on in regard to people who have the power and/or talent to successfully give a fledging band their first push toward stardom. For these touring musicians though, the problem is rarely in getting noticed. Instead, it is more rooted in whether or not they can effectively produce work on their own that separates itself from the groups they have been constantly affiliated with as backing performers. Jumping into the spotlight as the head performer can certainly be daunting, even for musicians who have made a living as performers in front of live crowds for decades. It is even more difficult when the style that such an artist aims for is considerably different from that of their previous employer of sorts, as the connections made during the long haul may even serve irrelevant due to a sense of stylistic indifference among the journalists, managers, and labels that tend to gravitate toward a specific niche.
I never thought that I would ever make a post even slightly related to Panic at the Disco, as their leanings toward emo have always turned me off despite any recent and flawed attempts at '60s pop. As it turns out though, their occasional touring keyboardist has altered such a presumption. With his own project, Eric Ronick has abandoned his touring group's emo roots for a more fulfilling and expansive array of indie-rock that results in a sound that is his own preferred blend of past influences and personalized ideas. Alongside skilled multi-instrumentalist Than Luu, Ronick comprises Black Gold, a very promising duo based out of Brooklyn. Luu's past credits include a few names like M. Ward and Rachel Yamagata, two differing artists who have always seen their share of success. Between those two artists and Ronick's past work in Panic at the Disco and Ambulance Ltd., Ronick and Luu have a considerable amount of stylistic knowledge between the both of them. They also know what it is like to play in front of a large crowd, as artists like Ward and even Panic at the Disco have achieved a massive fan base throughout the years. The lead vocalist for Panic at the Disco, Brendon Urie, does make an appearance on "Plans and Reveries" with his signature emo-ish croon, an addition that feels somewhat out of place given Black Gold's contrary sound. Fortunately though, it is not prevalent enough to take away from the track's more consuming moments.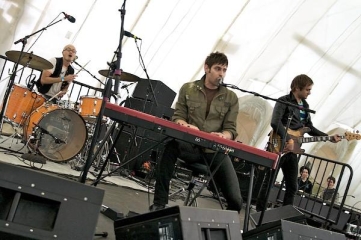 Considering that both Ronick and Luu have worked with artists who have achieved success through active radio play and sold out venues, it is not surprising that much of their work in Black Gold is of a very accessible nature. While it is true that their interpretation of indie-rock is a far cry from the generic hordes of overly simplistic rock music that vacates the radio waves today, it has a sense of instantaneous melodic substance that will capture the interest of most fans that do not require the most inventive structures out of their indie-rock. While it is true that Black Gold can be straightforward, the effectiveness of their tracks has to do more with melodic aptitude than it does with musical complexity. For this philosophy, if the end result is memorable enough to warrant a shameless listening experience then there is no reason to pout. Though Ronick and Luu have been known best as backing instrumentalists up to this point, their songwriting chops are really quite impressive when all the tracks on the 4-song sampler I received are put into consideration. Though it is only a slice off of their upcoming album, Rush, it demonstrates enough to convince me of the duo's potential.
The opening track on the sampler, "Detroit" is a song whose immense potential as a single can be recognized less than two minutes into it. The style demonstrated here sits somewhere between Manic Street Preachers and a subdued form of Mansun; the gradual descent involving multifarious guitar progressions and an eerie synth pad into a highly infectious chorus makes such comparisons to aforementioned '90s rockers evident, though several moments like the key-laden bridge are more evident of contemporary indie-rockers in the vein of The French Kicks or The Frames. Ronick's vocals are exceedingly appropriate for this highly melodic stylistic preference, as his range is flexible and his tone is ardent enough to provide substantial doses of variation in several areas where all else is nearing a state of repetitiveness (which is surprisingly rare). "Idols" is another track with an excellent chorus comprised within a similar formula, though this one is more reminiscent of recent idols than of past ones. The chorus is initially guided by nothing more than 4 chords who are strummed repeatedly over Ronick's vocals, all until and a beautifully executed bridge occurs around the 03:00 mark to commence the conclusion with grace. With their early showings seeing success from anthemic choruses and catchy progressions led by a stellar fusion of guitars (Luu) and keys (Ronick), Black Gold is certainly a band to keep an eye on this fall when their debut album, Rush, is released.
——————————————————————————————
——————————————————————————————
——————————————————————————————
Black Gold – Plans and Reveries

[audio:http://mineorecords.com/mp3/bgold-pla.mp3]
——————————————————————————————