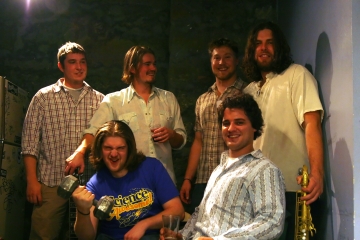 As all music fans know, a listener's mood can be a significant determining factor in choosing which record to pull from the shelf and give a listen to. Whether you are coming off the worst relationship of your life, partying hard on a Friday night, or cramming the night before a final exam, there is always something that just makes it seem all the better. As for an emotional state of indifference, a desire for something fascinating and memorable are often the only prerequisites, at least for me personally. A collection of varied emotional interpretations also serves nicely, depicting a wide range of moods that such a respective listener can tend to appreciate more than relate to. In such circumstances, the music of Acorn Project tends to sound best. Not only can the instrumentally eclectic group seamlessly unveil a wide range of both downcast and sprightly emotions, but they also do it in a form that is fun and consuming. Yeah, "fun" is a very linear sounding term when applied to music, but those who give a listen to Acorn Project should understand. With prevalent uses of saxophone and slide guitar making their way over a revolving array of accessibly intertwined genres, their ability to ceaselessly entertain has made them a local trademark in their native Bellingham, Washington.
Though I do believe that Acorn Project's music seems best suited for individuals with no consistent set of emotions, this is not to say that the music of Acorn Project is for overly passive individuals. I actually say it as a compliment, as there are certainly more artists today who specify in one specific sentiment than others who dare to venture in more emotionally flexible territory. Funk and prog-rock are the most evident styles at hand, though the sextet shows a tendency to dwell on as many varying genres as emotions. They usually correlate as well, as the perky piano-led pop in the anecdotally impatient fervor of "Hello Neuman" or the chilling alt-rock progression in the brooding "Wellness" demonstrates well. These tracks derive from We'll Be Fine, Acorn Project's second album. The 2006 release of their debut, Odd His Sleepy Soar, brought them plenty of attention throughout the Pacific Northwest and their shows – drawing hundreds of people due to their growing reputation – did even more justice. We'll Be Fine looks to be the album that should jump this talented group into a broader light, a more deserving placement considering their impressive diversity and esteemed level of musicianship.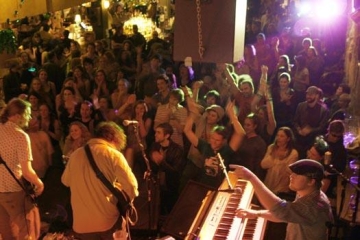 Acorn Project's swirling mixture of rock, blues, and funk serves as a cohesive format for the instrumentation of choice. Apart from the multifariously talented drummer and saxophonist Sam Lax (who is exceedingly impressive), each member specializes in an instrument in which they have clearly studied up on. To no surprise, considering that they have influences heavily derived from blues and funk, it is even prevalent on record form that Acorn Project are an exceptional live band. While infectious, radio-friendly pop and rock songs like "Hello Neuman" and "Gringo Starr" are noticeable on We'll Be Fine, the group's more ambitious leanings are also quite conspicuous. "Crystal Myth" features an enthralling intro that mixes the seductive croon of a saxophone with a few slick guitar licks and a more restrained execution of keys, a mere tease of what is yet to come. Along with Andy Pritiken's apt vocals providing a structural backbone, guitar solos, sax solos, unconventional percussive fills, and sharp key changes carry the song's success. When "Crystal Myth" shifts into an irate form of alt-rock around the 04:30 mark, listeners may be understandably caught off guard. But when the section subsides and the icy chill of a saxophone fills the air over a funky guitar progression, it becomes evident why it was put there in the first place. Shown best on the epic "Crystal Myth" and "Werner, Terner", the ambitious nature of Acorn Project nearly always comes out successfully despite any initial judgments that listeners are inclined to make.
The aforementioned "Gringo Starr" surprisingly borrows more from folk and country than it does blues and funk. Yet another indication of Acorn Project's eclectic nature, Pritiken muses about the merits of freedom from the perspective of some with a slightly microscopic interpretation of humanity. "That's when I realized that this is what I need to be free," he sings over a slide guitar and frantic variation of keys. "Free from anxiety that society brings down on me." It is nothing short of inspiring how Acorn Project are able to incorporate their select choices of instrumentation – saxophone, slide guitar, and keys – in nearly all of their tracks despite the altering style at hand. It just goes to show that the group has made the evolution from primarily a "live band" to studio whizzes with heaps of good songwriting ideas up their sleeves. There are 3-minute radio-friendly charmers like "Gringo Starr" sitting alongside epic forces like the 8-minute "Werner, Terner" and "Crystal Myth", with both forms finding success on their own separate terms. As is the case with most music whose origins trace back to blues and funk, the music is highly expressive, which leads us back to the sextet's highly interpretative display of emotionalized characteristics. Whether the lightheartedly optimistic view of "Gringo Starr" or the ominous sax-led flair of "Stomp" fits your current mindset best, there is guaranteed to be something for everyone's current psyche on the intricately resounding We'll Be Fine.
——————————————————————————————
——————————————————————————————
——————————————————————————————
——————————————————————————————