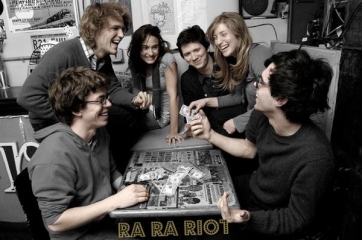 Losing a member of a band to death can be devastating. No matter how many arguments and fistfights were initiated in the past, it is a fact that many groups tend to form a family-like bond after years and even months of touring and working together. This is especially the case for bands that are just starting to see glimpses of success for the first time, as years of sharing a two-person hotel room with 5 other people when times are tough on the road allows for something more than a simple friendship to be made. Circumstances can be gruesome, but any group of musicians who have seen success together mutually have had a relationship that is fruitful in some form. And when death takes even one member away, it is often that the other members see no real reason to carry on. They become so accustomed to working with that individual and taking into account their contributions that writing music without them in the same group can feel foreign and frustrating. I hate to start this feature on such a negative note, but I have always appreciated how artists are able to transmit their negative energy into remarkable works of art, especially when their personal life is inflicted negatively by something beyond their own control.
When Ra Ra Riot's original drummer, John Pike, was found dead on June 3rd of 2007, his former band mates were stunned. "This has felt like the unraveling plot of a tragic piece of fiction," they said in a press release. "Nothing would have prepared us for such an immense loss." It came at a tragic time as well, as the talented sextet was just a month away from releasing their eponymous EP after recently generating a substantially sized fan base, thanks in part to their excellent live performances. They were signed to a label and clearly on their way; it was a form of success, though, that was delayed and possibly obliterated due to the death of the "wonderful person" that was their drummer. When I first heard this news about a year ago, I wondered whether the group would carry on. After all, such a young band losing a friend like that can be devastating. Considering that Pike also served as a lyricist, it reminded me a bit of guitarist/lyricist Richey James and his sudden disappearance in 1995. The Manic Street Preachers had already released a few praised albums at that point, but they were just beginning to receive national recognition after the release of the classic The Holy Bible in 1994. Whether or not the band would carry on was a question, but they have released 5 albums since, 4 of which have reached the top 10 on the UK album charts. Call it a hunch, but after listening to their debut full-length, something tells me that the members of Ra Ra Riot are strong enough to prevail similarly.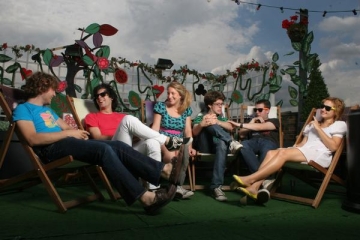 About a month after Pike's death, the band announced that they would continue in Pike's memory. He is still listed on the band's MySpace as "co-writer / lyricist / vocalist, drummer, and lifelong inspiration", a commendable sign that the band has moved on but will never forget. A string of tour dates and the eponymous EP in 2007 brought the group increased recognition as they prepared their debut full-length album, The Rhumb Line. Now, with the album set to be released in a week on August 19th, I can't help but be impressed with the final result, downcast past or not. Remarkably enough, the group plays with the same fervor they did a year ago when the public eye just began to loom. The album itself serves as a fine example of the group's potential, with their flashy style of art-rock serving as both an accessible and contagious interpretation of contemporary indie-rock. The New York-based group works with tinges of post-punk and punk, implementing both cellos and violins over a zealous display of dazzling guitars and tenacious rhythm sections. Vocalist Wesley Miles emits a sharp, slightly high-pitched tone that is reminiscent of vocalists in the vein of Nick Stumpf (The French Kicks) or a more subdued Hamilton Leithauser (The Walkmen). All together, it creates a very convincing sound that proves memorable despite its common originations.
In addition to his role as a co-songwriter on a handful of tracks, one notable posthumous contribution from Pike on The Rhumb Line comes in the form of lyrical content. With Miles, he wrote "Dying is Fine", a gripping track that wholly capitalizes on the group's stellar mixture of strings and guitars. The title and chorus borrows quite a bit from poet E.E. Cumming's "dying is fine)but Death", a fascinating work that reveals the difference between death and dying, where one is "perfectly natural" and the other is "strictly scientific & artificial & evil & legal". With the lines serving as the main hook, the topic is emotionally ironic and the melody is addictively consuming. The mournful "Ghost Under Rocks" also makes excellent use of strings, guiding yet another captivating chorus as Miles yelps in perhaps his most emotionally resounding vocal performance on the album. "Here you are, you are breathing like little ghosts under rocks," he sings, speaking of romanticized suffocation in mildly poetic form. "Winter '05" sees this string-guided approach take a major lead as strings solely guide the sweeping melody until a light use of percussion emerges. When compared to the regretful – though dynamically vigorous – yelps and moans of "Ghost Under Rocks" and "Dying is Fine", Miles' vocals here are appropriately more somber as the strings increase in intricacy and the percussion subtly adds several shuffled components. Along with a cover of Kate Bush's "Suspended in Gaffa" making the cut, The Rhumb Line serves as an enjoyably eclectic album within a fused genre that desperately needs it these days.
——————————————————————————————
——————————————————————————————
Ra Ra Riot – Ghost Under Rocks **
[audio:http://mineorecords.com/mp3/rriot-gho.mp3]
——————————————————————————————
Ra Ra Riot – Winter '05 **
[audio:http://mineorecords.com/mp3/rriot-win.mp3]
——————————————————————————————
**Tracks removed upon request of artist**