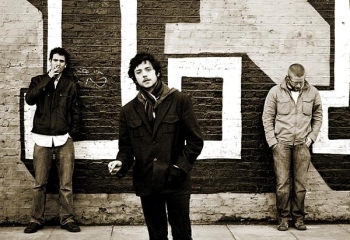 In a world where music distribution is considerably effected by the high level of impatience that many music fans now experience due to our digital age of instantaneous information, a band is sometimes forced to get clever if they want their future listeners to experience their music in the most efficient form possible. A method that is convenient enough for fans but still requires some sort of riveting innovation is ideal, though discovering a method that has not been used prominently yet is vital as well. Setting your own price is nice, but Radiohead and Nine Inch Nails were going to sell records regardless. It is in the artists with little to no recognition that are interesting to follow in this regard, especially if they produce music that is well worth listening to. Several months before they released their debut album, The Tunics decided to throw a scavenger hunt of sorts that involved its impending release. Considering that the band employed a traditional format that featured 12 songs and two equal sides, they released 6 tracks as singles (their own "a-sides") prior to the album's release. With the copies sent out to various locations, they released each single separately with another track, the second of which was another song on the album. For each copy, its cover was like a puzzle piece, featuring a snippet of a picture that was only revealed when all 6 copies were combined. FYI: 6 singles (+ 6 b-sides) = 1 album.
I imagine that some may scoff at their method as being nothing more than a nuisance in obtaining the actual release, but one must also keep in mind that their debut, Somewhere in Somebody's Heart, was not going to be released for another several months either way. For the fans who were hotly anticipating the release, the orchestrated game of sorts provided entertainment and satisfaction, two qualities that may have even resulted in the listening experience being enhanced as well. For Somewhere in Somebody's Heart though, the album is certainly good enough to stand on its own. These proceedings likely would not have been successful without at least a marginal fan base in the first place, a feat that the British trio had wisely accomplished by that time. Though their touring outside of the UK has been limited, they have made a name for themselves around the likes of London and their native Croydon with energetic shows and a sound that borrows quite a bit from the Brit-rock trends of the '90s. With a youthful snarl reminiscent of contemporaries like Liam Gallagher and Alex Turner, lead vocalist Joe Costello has a familiar presence. The difference with Costello from the rest of the imitators, however, is that his delivery seems instinctual and genuine as he demonstrates a form of impressive melodic range that is becoming increasingly rare in the genre.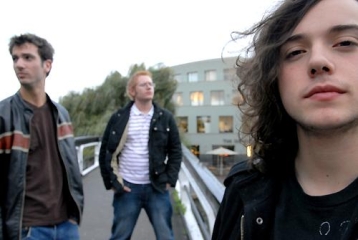 For most ambitious listeners, I imagine that the initial listen for The Tunics will be met with mixed feelings. After all, you have most certainly heard this style before and the vocalist sounds oddly familiar with that snarling British accent and all. But stick with it, as it may take several listens (or one highly attentive one) through the entire album for the band's impressive state of originality to sink in and become a realization, but it is well worth it despite any glaring similarities that may initially take hold of you. Though initial comparisons will be unavoidably made to Oasis and the Arctic Monkeys without much further thought, the band who I believe The Tunics will end up most accurately resembling is Supergrass. The Tunics' showing of songs on Somewhere in Somebody's Heart displays their tendency to dwell in familiar territories of Brit-pop and art-rock while simultaneously toying with new structural and melodic blueprints. This is one of the reasons why Supergrass is one of the most durable and successful British groups of the past 15 years, as their massive following remains enamored with a style that is comfortably familiar despite subtle periods of stylistic transitioning throughout the years. It is obviously too early in The Tunics' career to make such definitive comparisons, but based on their debut album alone, successful circumstances are at least likely.
To no surprise to the fans who scooped up all 6 singles with ease, The Tunics' Somewhere in Somebody's Heart offers plenty of straightforward excitement. There are few moments of clearly orchestrated ambition, but The Tunics' consistent songwriting approach never leaves the listener feeling dull or stylistically unsatisfied. Their roots are highly prevalent and they wear such ideologies on their sleeves, a method that sees such consistencies shine. The slick acoustic-electro combo in "A Winter's Tale" guides Costello's weary tale of unrequited love gone irate as he delivers his typical vocal form, a series of rushed near-spoken verses followed by a more ardently melodic chorus. Indeed, infectious choruses are a big component for a band of The Tunics' vein and they succeed on most songs, particularly on the highly entertaining "Waiting" and "Paris, France". The latter features the most delicately romantic on the album in its chorus, a surprisingly bare approach that features nothing more than a single violin, an acoustic guitar, and Costello's subdued vocals. "Please don't, please don't break my heart," he pleads. "I felt the wrath of your disdain, and I've never felt such pain before or since." The lyrics are not the most intelligent on the market but they fit well, being wholly genuine without succumbing to generic faults. Other tracks like "Cost of Living" and "Fade Out" seem like winners as hype-targeted singles, but I am personally a fan of more diversified efforts like "Waiting" and "Paris, France". If The Tunics can follow in a similar direction then we may have something quite special on our hands.
——————————————————————————————
——————————————————————————————
——————————————————————————————
——————————————————————————————