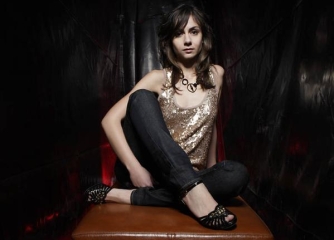 It is by no coincidence that two recently featured artists who dwell in the style of experimental electronica have early roots in classical music. Last week, I spoke about how Max Tundra (who received a strikingly varied reception via the comments) had began his interest in music by playing conventional pieces of classical music at an early age, later turning his early knowledge into a style that was all his own due to a previous comprehension of subtly influential music archetypes. Call it a hunch, but one of the reasons why these highly ambitious electronic artists often have ties to classical music can be related to the complexity and consequential mood of many landmark classic pieces; it is a striking style of music that can never truly be paralleled in our contemporary age the way it was several centuries ago. These new artists understand just how much of an impact these pieces made upon the release and the even larger impact they made upon modern reflection, consequently opting to pursue a format that serves aspects that are simultaneously conventional and stylistically groundbreaking. Electronic music, while around since the middle of the 20th century, has proven to be an applicable format for such ambitious techniques despite the overwrought attempts that continue to plague the genre (and others) today. Once in awhile though, one can stumble across an artist whose intentions are clear and resoundingly present.
The beginnings of Olga Kouklaki also trace back to her musical studies at an early time in her life, particularly at the age of 8 when she first took up piano. That was apparently all she needed to realize her future as a songwriter, as she apparently never looked back from there. Like Tundra's Ben Jacobs, her previous engagement with classical music allowed her interest of electronic music to peak at an early age, prompting a form of stylistic development that is rare in terms of both execution and presentation for someone of the Greek native's young age. Initially drawn into the style during her teenage years by an ambitious range of prominent early '90s electronic artists in the vein of Portishead, Massive Attack, and Björk, she began trying her hand at a variety of Greek bars and clubs by DJing. In 2001, just before her 22nd birthday, Kouklaki moved to Paris and began taking a few courses on contemporary music while also attempting to write her first original pieces of electronic music. Early 2003 saw her first track, "Don't Look at Me", being released under the name of ODD. Throughout the next several years, she continued to hone her skills and make some connections in the biz, also contributing vocals for tracks like Fred Avril's "TV Dinner" and Poni Hoax's "Budapest". After the collaborative period concluded though, she commenced working on her independent career for good reason.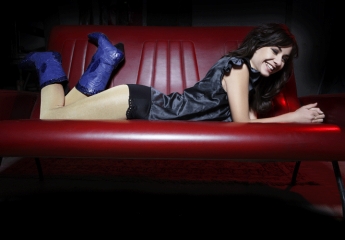 For the true beginning of her solo career, Kouklaki did well in enlisting Marc Collin to produce her first release. His name seemed very familiar to me until I finally remembered that he produced the the previously featured debut album from Phoebe Killdeer & The Short Straws, the fantastic Weather's Coming. Though the styles of Kouklaki and Killdeer differ somewhat from chilly electronica to delicate forms of soul, pop, and jazz, Collin has certainly shown that he has the ability to allow an artist to explore their creative tendencies while still contributing to the successful mold of styles. At heart, Kouklaki's interpretation of electronica contains elements of synth-pop, but such a grouping may be too linear for what she accomplishes on her striking debut album, Getalife. With the bulk of them being no longer than 4 minutes, they maintain accessibility while showing continuous glimpses of Kouklaki's enthralling presence as a songwriter. Apart from the bass guitar work by Thibaut Barbillon, Kouklaki wrote and programmed each of the 11 tracks on Getalife on her own, with the recording team of Kouklaki and Collin perfecting the rough edges and transforming the result into one of the most chillingly excellent debuts of the year. While it is true that her songs nearly always have a very dark mood to them, such a consistency does not detract from her content in the slightest bit. In fact, since she does it with such resounding success, it contributes to the result in vital form.
Clearly drawing influences from the likes of Depeche Mode, Siouxsie & the Banshees, and Nine Inch Nails in addition to the aforementioned electronica acts of the early '90s, Kouklaki's fusion of darkly tinted synth-pop and elegantly subdued industrial-rock creates for an atmospherically invigorating sound that allows the listener to become enthralled in her songwriting, vocals, and esteemed level of production. This is not to say her music is entirely scenic though, as her ability to craft a variety of infectious moments should not go overlooked. This skill itself reminds me a bit of The Knife, the Swedish electronic duo who broke out hugely with the tremendous Silent Shout in 2006.The title track should draw some other comparisons in admirable form, twisting an automated percussive sample into a series of crisply precise synth pad additions as Kouklaki's distinctively European vocals take charge. "This is not your life, go and get a life," she sings with a delicate urge, her vocals serving as an exceedingly appropriate entity for the genre at hand.
Despite the compelling force of tracks like "Getalife" and "Right Shot", my favorite effort on Getalife though is the fantastic "How Do You Feel", a brooding journey through deceit and self-doubt that is accompanied by an impeccable bass line and flurry of spine-chilling synth arrangements. The first chorus features little more than the bass line and soothing synth pad, but each successive force complements the previous until the song becomes a display of absolute immersion. The twinkle of keys during the second entry is remarkably placed, signaling a poignant melodic shift but an emotional standstill that is vividly depictive of the song's lyrical ideology and melodic output. Overall, it is a faultless display of Kouklaki's skill as a songwriter, one that is presently active throughout the duration of the heavily impressive Getalife.
——————————————————————————————
Olga Kouklaki – How Do You Feel

[audio:http://mineorecords.com/mp3/okouk-how.mp3]
——————————————————————————————
——————————————————————————————
——————————————————————————————