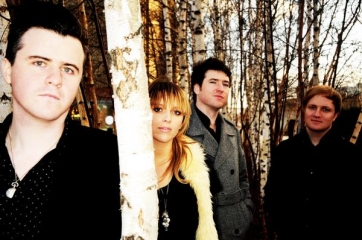 For a four-piece whose infectious qualities ride heavily on an unconventional mixture of heartfelt optimism and captivating hooks, the choice to name Sparkadia's debut album Postcards comes off as an apt choice. Because as lead vocalist Alex Burnett explains, the art of music is one of the best ways to channel emotions that are impossible to disclose in any other circumstances. "Many of the songs on this album are postcards I wish I had sent, and others are ones I really wish I didn't have to send," he says, being somewhat ambiguous as to how literal he actually is. Out of the 12 songs on Postcards, each one was apparently written in a different room in a different city over the past four years. To coincide with the name even more, each track was individually sent to their studio (Miloco Studios) in London with a stamp and postcard for its final mastering stages. As to whether or not Burnett was referring to the actual process of sending the band's material or instead hinting toward their cumulative level of undisclosed romanticism, either method would work in the long run. After all, considering how melodic Sparkadia's sound is, either postcard – whether it be the band members' romanticized musings or the audible content itself – contributes to the album's successful result immensely.
Most of us can recall in 2006 when the Australia-based Youth Group broke onto American shores with their highly publicized cover of "Forever Young", a track that seemed to take away from some of the more original moments on their album. As stylistic as some covers can be, I always consider it somewhat unfortunate when a band breaks out because of a cover on its own. I value stylistic ingenuity highly, and it personally irritates me a bit when a band finds immediate initial success because of a memorable song someone else has already released, regardless of whether or not the band covering it makes royalties off of it or not. I will be forthright here in saying that I believe Sparkadia to amass at least as much recognition as the their Australian natives in Youth Group, even without a surefire cover that airs on every television show targeted at girls in high school. The style itself is actually not a far reach, as both groups employ a sparkling form of rock music that borders on arena-rock tendencies. While the twinkling of keys in a track like "Space & Time" and the mixture of strings and acoustics on "Connected" shows Sparkadia's more tranquil side, the bulk of Postcards consists of tracks that appear as surefire radio hits with a wide array of bustling emotions and devastating hooks with a high level of melodic comprehension. Ben Hillier, notably a collaborator with several artists along the likes of Blur, Depeche Mode, and Doves, produced Postcards and has become a vital part of the band's sound with his ability to channel a variety of rock-oriented sentiments into a concisely polished sound.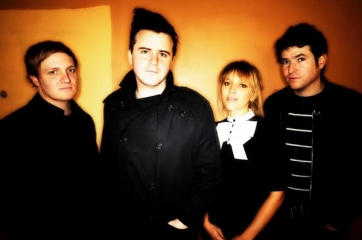 Though they do not give off the impression of a linear "singles band" by any means, Sparkadia certainly know how to choose their singles when it does happen. Since early 2007, the four-piece has released four singles from the recently released Postcards, beginning with "Morning Light" and "Animals" in 2007 and recently commencing again with "Too Much to Do" and the most recent "Jealousy" in 2008. All four of these tracks are excellent when given consideration to Sparkadia's genre; this is a group who aims for accessible enjoyment, opting for simplistically enthralling hooks over risky measures of ambition. One of the singles, "Too Much to Do", recalls the most simplistic of The Rosebuds' work, something in the vein of "Boxcar". Relaying a straightforward guitar progression over a series of tightly coordinated rhythmic additions, this track in particular sees the vocal harmonies remain the most uniquely impressive as Burnett's weightless vocals glide freely into a heavily expansive chorus in which he duets with keyboardist Tiffany Preece in exuberant form. Big choruses are an aspect that listeners of Sparkadia have grown accustomed to, as each track treats the listener to a newly engineered series of hooks, as can also be seen in excellent form during the art-rock leanings of "Animals". One of the most immediately satisfying tracks on the album, the introductory usage of eerily enchanting backing vocals over a placid backing synth pad during the chorus makes for a nicely executed contrast from the guitar-led verses.
My personal favorite out of the four singles is "Jealousy". Driven by a heavy bass line as a faint synth echoes the root note, the track builds up into a constructively adaptable chorus that is highlighted by an interweaved guitar progression. "Jealousy, look what it's done to you, look what it's done to me," Burnett sings with a distinctive form of melancholic glee. In terms of the postcards that he wished he had or had not sent, this one was probably best meant saved for the audible form in which it is in now. The guitar riff introduced during the chorus is memorable not for its complexity but for its precise execution and melodic qualities. Considering the track's memorable output, it is surprising that the structure itself consists of little more than a select handful of chords and minimal differentiating progressions. Simple it may be, but forgettable it is not. It is not as structurally or melodically intricate as other select tracks like "Connected" and "Morning Light", but it retains an even broader form of expression that sees Burnett and the rest of Sparkadia show what they do best in creating insanely catchy pop songs with Hillier's form of production appropriately geared toward alternative and arena-rock. Postcards is available now and is recommended for any fans of infectious alt-rock with no overwhelming tendencies whatsoever.
——————————————————————————————
——————————————————————————————
——————————————————————————————
——————————————————————————————