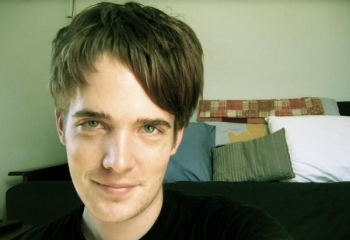 I suppose you could say that it proved very indicative of Tom Meluch's nature when he recorded his debut EP, Enge, on a built-in microphone embedded in a borrowed laptop. Immediately, I know what some of you may be thinking: Great, another one of these lo-fi artists who muddle their barren melodic content behind inaudible strains of static and singular instrumentation. Such an opinion can easily be deemed linearly assumed but occasionally accurate, though for Meluch it sounds as if any other stylistic approach would be detrimental to his body of work. He is not an artist who opts for a minimalistic format in order to cloak his fallacies; Meluch instead capitalizes on the format to reveal his subtleties in the most effective form possible. Under his increasingly reputable alias of Benoît Pioulard, Meluch's fusion of numerous elements within the satiable range of shoegaze, electronica, and pop has crafted delicately infectious results since the 2005 release of Enge, Meluch's first official EP and one that drew masses of critical acclaim. Barely in his 20s at the time of release, his experience was certainly not a pressing issue as mesmerized fans immediately became interested as to what the young Meluch would cook up next. With his newest release just a month away, it looks as if their anticipation will be answered quite resoundingly.
Prior to his stylistically appropriate signing to the experimentally ambitious Kranky Records in 2006, Meluch self-released a handful of mini-albums from as early as 16 years old. When Moongadget Records scooped him up for the release of Enge in 2005, one could imagine that they had already recognized the potential of the then-21-year-old at that point. Following the considerable critical success of the EP, Kranky Records took notice and decided to sign the Michigan-based songwriter and reissue Enge in 2006, giving new notice to a striking debut that certainly deserved all the acclaim that came its way. Meluch's style was simplistic but innovatively captivating, blending acoustics and soft percussion over sparkling keys and hushed vocals. The production itself, while most certainly lo-fi, created wildly appropriate atmospheric tinges that were constructed by variations of backing synth pads and serenely invigorating uses of reverb and phasing. Such a description fits within the realm of shoegaze and that coincides well with Meluch's ideology, but his songwriting itself is more indicative of hazy dream-pop. On Enge particularly, new hooks emerged upon each successive listen due to Meluch's simultaneous ability to create both a memorable atmosphere and melodic force in his sound. On his newest release, the success simply serves as a continuation.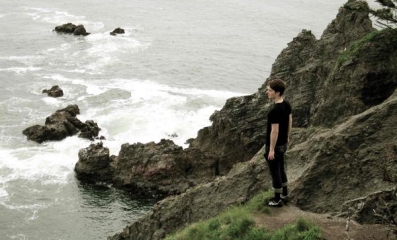 For someone who has been interested in music since he got an acoustic guitar at the age of 9, it is no surprise that Meluch has a tendency to experiment within genres that have a high degree of flexibility. Though he grew up on a heavy dose of memorable '90s alt-rock greats like Weezer and Hum, the opportunity for Meluch to have grown up during the digitalized age of music certainly shows that ambition is not going anywhere in music's contemporary age. If anything, his combination of conventional influences with a technological upbringing has aided his crafting of a wholesomely unique sound, one that sharply contrasts with most stern believers of traditional music values. This is once again demonstrated superbly on Temper, Meluch's second full-length under Benoît Pioulard. To be released on October 14th via Kranky Records, it is another stroke of success for Meluch as he commands his distinctive style with a sense of preciseness and originality that. Though not a stylistic departure from the impressive Enge, it progresses upon his flexibility to manufacture new and startlingly unique methods of play. Recorded between Meruch's native Michigan and new location of Portland, Oregon, it generally remains even more cohesive than the structurally sound Enge, primarily due in part to a more fixated view on pop songwriting.
Apart from his occupations as a full-time musician and part-time waiter, Meluch has an interest in both photography and field recordings. The latter is exhibited somewhat on Temper, as several tracks like the twinkling of bells and chirping of birds in "Ardoise" and the cricketing sounds of nature in "Cycle Disparaissant" capitalize on Meluch's longstanding interest in tape decay and field recordings. Combined with his intuitive grasp of melody and production, it contributes to his original sound in nourishing form as the atmospheric qualities are uplifted into a state of serene satisfaction. The standout "Idyll" is perhaps the most excitable track on the album, introducing a relatively quick-paced guitar progression over emerging keys and hushed vocals. The track remains subdued despite its pace due to a very entrancing backing of harmonics, with the concluding bridge resulting in an instrumental mash-up of sorts that ends with the distorted slide of a guitar. Overall, it is one of Meluch's best efforts to date. "The Loom Pedal" is a great example of Meluch's ability to craft subtle hooks, with one notable aspect here being the collaboration between the drizzling rain, acoustical progression, and slight high-pitched strain of synth. They all combine to create an enthrallingly beautiful effect, one that becomes memorable with each successive listen (a case with much of Meluch's work). The final track, "Hesperus", sees some of the most polished production from Meluch to date, featuring a sparkling array of keys over a gleeful guitar line that transforms from acoustic to electric in seamless form. Like much of Temper, it is executed in impeccable form. When this gem of a record drops in October, be sure to pick it up.
——————————————————————————————
——————————————————————————————
Benoît Pioulard – The Loom Pedal

[audio:http://mineorecords.com/mp3/bpiou-loo.mp3]
——————————————————————————————
——————————————————————————————