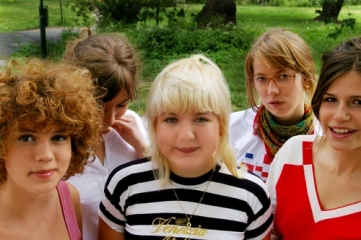 It speaks to the confidence of a band when the name of one of their first singles is "Hitten", a title that translates to "The Hit" in English. The native language, of course, should be no surprise; Swedish pop music has been invading US shores for decades in the most complementary form possible, and to have yet another band break through from the musically fruitful country seems more imminent these days than being even a slight surprise. The only surprising aspect of Those Dancing Days, though, is not their highly infectious melodic capabilities or rapid growth in national recognition, but instead how young the five-piece actually is. Just barely out of high school, they are crafting stellar pop music that is expected more so from professional songwriters than amateurs out of high school. Calling the five girls in Those Dancing Days amateur would be the worst of insults though, as they have created a sound that is both agreeably original and infectiously captivating enough to take both domestic and national audiences by storm. And I notice already that, like with most Swedish bands I feature, my overuse of the word "infectious" is becoming glaring. It is hard for me to help it though, as the word seems to be the most concisely applicable when it comes to acts like these.
Though it would not be shameful by any means to rightfully classify girl groups as a predetermined influence for Those Dancing Days, these five girls from Stockholm employ a formula that is too modernistic to be grouped in with other revivalists in the vein of The Pipettes. As shown on sparkling efforts like "Hitten" and "Actionman", the melodic fixation is reminiscent of such '60s ideologies but the instrumental and vocal approach is more representative of conventional indie-pop. Simplistically engaging guitar progressions are often sharpened by slick synth lines and tight rhythm sections, with the vocals being an ardent display of melodic talent that allows the apt construction of stellar hooks to flow freely. Linnea Jönsson is the prevalent lead vocalist, utilizing an impressive set of vocals that should appeal to all Swedish and western audiences alike with her crisp and refreshing delivery. For the most part, it is difficult to tell that English is her second language, though the snippets of accentuated vocal tidbits provide for precisely executed moments of enjoyment in a gem like "Run Run". Also, as many Swedish artists have shared with the western side of the world, their knowledge of the English language is often impeccable due to it being a mandatory school subject in the school systems since the 1940s. Quality Swedish indie-pop is not hard to come by, but something as thrilling as a handful of tracks Those Dancing Days have created is rare even in an international sense.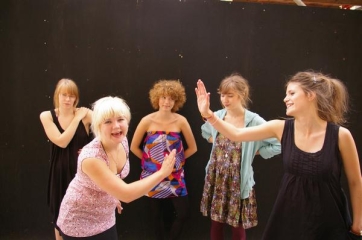 Much of Those Dancing Days' official lineup came together during the latter part of 2007, when a group of Stockholm-based girls decided to disband their old group and form a new one. These girls happened to be current guitarist Rebecka Rolfart, drummer Cissi Efraimsson, and keyboardist/synth whiz Lisa Pyk Wirström, most of them high school friends who had graduated as recently as 2007. Afterwards, they turned to an elder in bassist Mimmi Evrell, who was actually just a mere college student. Seeing the potential of the trio, she joined and also brought former collaborator Jönsson with her, completing the five-piece and setting them up for a flurry of recognition. After recording a few demos, posting them online, and getting a variety of good press, the five-piece recorded and self-released an EP in August that prompted them to sign to Wichita Recordings. This was also preceded by appearances on MTV2 and publications like NME and Spin, setting them up for what could potentially be the "next big thing from Sweden", even if dozens and dozens of bands recently could have fit that same exact level with perfection. The difference with Those Dancing Days, though, may be the high level of accessibility that they emit with their instantaneously memorable melodic tendencies, simultaneously memorable of quality indie-pop and nostalgic girl-group. The production is fresh and technologically active, but the songwriting itself appears old-fashioned in extremely commendable form.
Following the significant hype of their self-titled EP, Those Dancing Days announced that they would be releasing an album in the fall. And though the October 6th date has yet to arrive, a few of their tracks have already taken over the airwaves due to their addictive qualities, finely representative of the contemporary world of Swedish pop. One of the standouts on the debut, In Our Space Hero Suits, happens to be the aforementioned "Hitten", a track that will already sound familiar to many Swedish readers. Immediately complemented by a chirpy synth line and a guitar-bass combo generally reflective of one another, the reason for its success is glaring. For one, Jönsson's vocals carry the track to immense heights. Her vocals have been compared before by fans to being the female equivalent of either Morrissey or Julian Casablancas, both vocalists in the grittier realm of alt-rock but who often relay ardently melancholic vocal styles and lyrical content over instrumentation that appears outwardly more optimistic than downcast. It works remarkably well throughout the duration of In Our Space Hero Suits, particularly on the fantastic "Run Run" where she speaks of egocentric freedom through plenty of naturalized similes and a melody that serves as arguably the best on an album full of outstanding ones. Even in the competitive and wonderfully active world of Swedish pop music, Those Dancing Days are making a name for themselves in the most respectful way possible through solid songwriting and an engagingly familiar sound.
——————————————————————————————
——————————————————————————————
——————————————————————————————
Those Dancing Days – Actionman

[audio:http://mineorecords.com/mp3/tddays-act.mp3]
——————————————————————————————