Posted
October 8, 2008 by Mike Mineo
in Features
Peter Moore and the "Cycle" of Love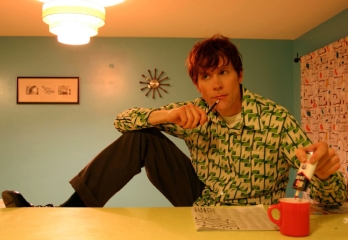 As is the case with many artists in all forms of art, Peter Moore has always shown a reluctance to be artistically inactive. In fact, he states quite memorably that the only time in his life when he was NOT writing songs was before the age of four and between the ages of seven and ten, the latter which saw him conform a bit to the conventions of childhood by pursuing football like the other boys on the playground. Afterwards though, he resumed his passion for music, one that was evident ever since he wrote his first song at the age of four. Like how some people feel distraught when they are unable to find time to work on aspects of life that have become previously habitual to them, Moore appears to be one of those individuals who would write dozens of songs even if there was no intended audience. There certainly is one for him though, as Moore has been active in prominent projects ever since he joined Think Tree (previously Psychotech) in the late '80s. The band saw only moderate financial success before their break-up in 1994, but managed to accomplish several feats like opening for Nine Inch Nails and appearing on MTV quite a few times in addition to a world tour. Moore's big break, however, arrived when he formed Count Zero, thanks in part to a certain video game that involved a plastic guitar and plenty of falsified self-esteem.
While it may be true that most of Count Zero's recognition derives from the two songs – "Sail Your Ship By" and "Radium Eyes" – that were featured on Guitar Hero and Guitar Hero II, respectively, it says enough of their structural delivery for a concise interpretation. Like most of the tracks on those two games, immediate accessibility with memorable melodic content is highly prevalent among his featured material. His solo efforts encompass little difference, as Moore's ability to tread between various styles remains commendable and constantly riveting. In addition to his more eclectic qualities, the only glaring difference between his more perceived work with Count Zero and his eponymous solo material is the level of intricacy. While his solo work is actually quite the opposite of intimidating or inaccessible, the tracks on his debut solo album, One Ride, exhibit a broader scope than fans may usually be accustomed to. And while this larger sense of ambition may occasionally overwhelm itself in the midst of an album that is very much thematic, the successes outweigh the faults by a very large margin. The album depicts four characters in phone-based dialogues that portray the "cycle" of love in its entirety. Like the majority of tracks on One Ride, it serves neither distracting nor overwhelming and proves enjoyable for the most part. While his approach remains consistently within the realm of pop, his ability to overlap a variety of genres from the smooth seductiveness of soul and R&B to the catchy snappiness of power-punk is admirable.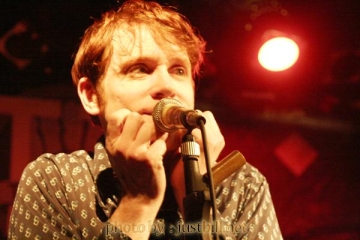 Any attendees at one of Moore's shows would likely tell you that he practically defines what it is to be a solo performer. I have not witnessed one of his performances myself, but it is apparently a very hands-on experience that sees him playing piano while simultaneously handling percussion and switching to a large variety of other instruments. It seems like a cross between Broadway, musical theater, and beatnik performance art; the show appears as an interesting fusion that invigorates many songs that were already enjoyable in their studio form. Speaking of studio form, the production of One Ride saw Moore exhibit the similarly individualistic qualities that he takes on in his live form. Apart from the effective use of strings and brass, Moore plays literally every single instrument on the album. Combined with the fact that he embraces nostalgic pop to a substantial extent, a comparison to the fantastic Bryan Scary is not all that distant. Comparisons found within One Ride itself, though, can tend to be quite diverse (just like the stylistic content). Easily the album's most radio-friendly track, "If Heaven Ever Knew", toys with a form of highly enjoyable power-pop that is instrumentally comparable to the likes of XTC while maintaining a form of structural accessibility that is more rooted in the alt-rock guilty pleasures of the '90s. It is simply one example of Moore's excitedly eclectic nature on an album chock full of them.
Since I consider myself a sucker for soul and R&B tracks that are actually done the right way with the right influences in mind, my two favorite tracks on One Ride are "Sister Sunshine" and "Droppin' Trou'". The lighthearted "Sister Sunshine" begins with nothing more than percussion and a twinkling key progression, steadily complemented by an occasional bass line that precedes the subtle entry of a guitar. "Your love's a gift for me, it shines like a Christmas tree," he sings during the progressive chorus, an evidently enjoyable section of a track that capitalizes on an initially surprising degree of melodic diversity within its accessible demeanor. As best demonstrated during the bridge around 02:07, he is able to seamlessly make a vocal transition between high and low ranges of pitch to somehow find a stunningly suitable ground for his soul-laced stylistic aim; it is an aim that he accomplishes with no hesitation or desperation. Apart from the elements of pop during the first 30 seconds or so of "Droppin' Trou'", the remainder of the track reminds me of the smooth mixture of pop and R&B that the Paul Weller-fronted The Style Council achieved with such resounding success. Thanks to his stellar vocal ability, multi-instrumental talents, and highly prevalent passion for songwriting and performance arts, One Ride is a stellar debut album that should find Moore further recognition beyond the hordes of Guitar Hero-obsessed teenagers.
——————————————————————————————
[audio:http://mineorecords.com/mp3/pmor-sis.mp3]
——————————————————————————————
[audio:http://mineorecords.com/mp3/pmor-dro.mp3]
——————————————————————————————
Peter Moore – If Heaven Ever Knew

[audio:http://mineorecords.com/mp3/pmor-ifh.mp3]
——————————————————————————————
Mike Mineo
I'm the founder/editor of Obscure Sound, which was formed in 2006. Previously, I wrote for PopMatters and Stylus Magazine. Send your music to
[email protected]
.