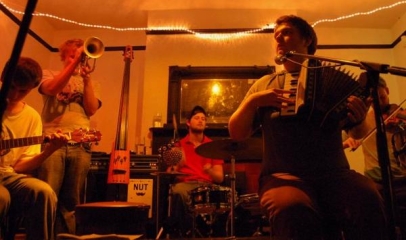 The divergence of folk music has been a common observation among fans of independent music for the past decade or so. Whether one most prefers the interpretation of Eastern European folk by the likes of Beirut and Gogol Bordello, the imaginative and somewhat historically narrative folk of the Decemberists and Sufjan Stevens, or the amusing usage of the term "freak-folk" that describes the likes of Devendra Banhart, Joanna Newsom, and Akron/Family, the genre inarguably remains as one of the most domineering styles of utilization for independent artists due to its high level of flexibility and room for creativity. A decline in the popularity of contemporary British folk music has been somewhat noticeable over the past several years, but it certainly does not coincide with a decline in quality. As previously featured British acts in the vein of Tunng, Hush the Many (Heed the Few), and Richard Hawley have shown with their variety of respective styles like experimental-folk, fusions of chamber-pop and folk, and traditional folk, there is no reason to have any fear regarding the cultural state of the genre. Such proficient interpretations propelled their releases into being a few of my personal favorites from their respective years. To add another one to that list, Jonquil is the most recent British folk group to showcase their talent in dazzling form.
Unlike many other British folk acts who can be easily grouped into either a form of traditional and experimentally unconventional, Jonquil are resoundingly unique in the fact that they tend to incorporate both qualities. They have the same narrative edge of traditional British songwriters in the vein of Billy Bragg and Bert Jansch, but their musical and structural tendencies tend to fall within a realm that is more comparable to experimental artists like the aforementioned Beirut and Tunng. With their lyrical and vocal approaches recalling a more nostalgic feel, the fact that their music often remains modernistic and synchronized creates a uniquely enthralling sound that has brought the group critical acclaim ever since the release of their first album, Sunny Casinos, in 2006. The debut received praise from most of those who heard it, but a limited release caused the group to not truly see their first signs of deserved success until the release of their second album, Lions, the following year. Originally consisting as a collection of home recordings by lead singer and songwriter Hugo Manuel, Lions went on to establish the six-piece as one of the most promising acts in their local Oxford music scene. It proved to be a successful departure from the more atmospherically enabled Sunny Casinos, a release that contained some impressive production and innovative ideas but failed to show the group's high level of songwriting in its true light.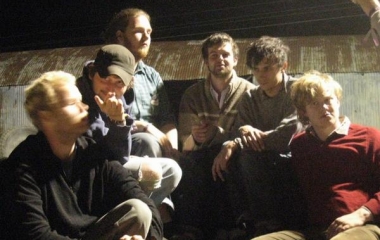 After the group expressed their mutual desire to stylistically transcend into a more exuberant form of songwriting that proved more infectiously demonstrative of their ability to combine elements of traditional folk with experimental interpretations of pop music, success started to come almost immediately. The decision to make a stylistic transition also had to do with the reception Jonquil was receiving live when playing Sunny Casinos, as the members felt that a stylistic shift would result in a more excitable and engaged demeanor from the audience. "It was very much a product of the studio," Manuel said of Sunny Casinos in an interview. "As soon as we started trying to reproduce that on stage, we realized it wasn't really what we were after." As heard from the self-titled track on Lions, it is very easy to notice the poppier demeanor that the group had chosen to undertake. They are clearly one of the few groups out there who are able to make an accordion progression irresistibly infectious, as the mixture of Manuel's sonorous vocals, his accordion, and an abruptly emerging rhythm section creates a sing-along of sorts that certainly coincided with Jonquil's ideology to make their performances more entertaining. "Our shows are all about having fun and we wanted to reflect that in our music," Manuel said of Lions. As you can see with the album's title track alone, the transition was certainly a success.
Now that they have had over a year to get accustomed to their stylistic alteration, many wondered what would be next for the young six-piece from Oxford. Their new EP, Whistle Low, is the first indication of that, showcasing the most confident and consistent stylistic focus from this tactful group yet. The opener, "Whistle Low", sees Manuel's vocals take a fluid approach over handclaps and the swift progression of an acoustic guitar, later to be complemented by an electric guitar and subtle whirring of synthesizers. "In the shade where no one knows, in the shade he whistled low," he sings, sounding remarkably like XTC's Andy Partridge in the process. The XTC comparison here may catch some off-guard initially, especially those who heard the first and second albums, but the style is certainly a stroke of success. The second section of the song is tranquil with two multiple guitar progressions, one electric and one acoustic, occurring concurrently as the vocal approach becomes more sporadically involved then before. "Putting Names to Faces" is also an outstanding effort for some excellent uses of percussion and structural shifts. Just shortly after the two-minute mark occurs, a hushed melody led by a harp-like instrument emerges that re-establishes the sheer beauty of the track. "Night Time Story", as the name indicates, is a lush ballad that sees Manuel's gentle voice soothed by an intricate acoustic progression, a simplistically reflective electric guitar, and a series of strings that surface at the conclusion to wrap up yet another beautiful effort.
For the seven songs presented on Whistle Low, it is quite remarkable that there is not one misstep to be heard. Though it only spans slightly more than 20 minutes, there is a prevalent sense of capitalization contained within the short duration; the group's constant expansion of songwriting ideas is ceaselessly impressive, even on tracks like "Water is Yours" and "Parasol" where they opt for the more atmospheric ideals of their first album, Sunny Casinos. In fact, tracks like these add to the overall feel of an EP. Due to the short duration but exceptionally high level of songwriting presented, I can't help but feel a bit teased. If anything though, it has made me even more excited for the eventual release of Jonquil's third album.
——————————————————————————————
——————————————————————————————
——————————————————————————————
Jonquil – Putting Names to Faces

[audio:http://mineorecords.com/mp3/jquil-put.mp3]
——————————————————————————————