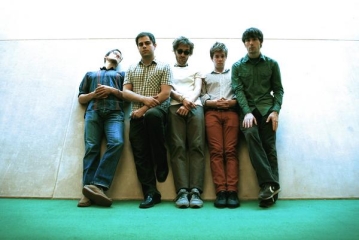 It says a lot about a band's confidence when they opt to choose the most natural settings possible for the recording of their music. Recording studios with precisely defined dimensions and millionaire producers have certainly spawned many classic records that are today considered touchstones, but when the level of songwriting is impressive enough so that certain effects and enhancements are not required to manufacture a classic release, I can't help but admire the sheer quality of something so raw and undeniably ingenious. By this type of production I am not referring to scratchy lo-fi basement recordings where a handful of people somehow classify discordance as "amateurishly appealing", but instead the type of production where a genuine effort shows that one does not need a shimmering studio supplied by a fancy label to craft a masterpiece. Mason Proper are one of the finest bands to recently showcase this selfless principle by releasing one of the most imaginatively addictive albums of the year. Their second album, Olly Oxen Free, was recorded in a small wooden house that the five-piece rented out for one month. Located on the corner of a very busy street, the ambience of cars was apparently an unavoidable aspect of production that the group ended up successfully filtering out; it is just one of the many enjoyably fascinating tidbits from the production process of a group that correctly perceives that their music is good enough to stand on its own.
Initially using the high-end Apogee Ensemble to record the tracks for < i>Olly Oxen Free, Mason Proper returned it after 14 days to cut costs and move forth. They reverted to the PreSonus FireStudio, a less prominent audio interface model that still proved to be a big step up from their previous endeavors for the album's demos. Much of the initial recordings were recorded on a built-in computer microphone, with some of those clips making their way onto the final release. One example is the opening "Fog", a standout track in which the lead vocals of Jonathan Visger were recorded on his computer microphone before the final track was even prepared. Thanks to the studio magic of producer Chris Coady (TV on the Radio, Blonde Redhead, Yeah Yeah Yeahs) though, he made the vocals appear flawlessly on the exhilaratingly haunting effort. According to Visger, there was an inherent reason for this. "I figured that you never get it more right than the way you sing it the day you wrote it," he said in an interview that even further detailed the album's interesting recording process. "It is a testament to his [Coady] mixing skills that he got them to sound so good." Several of the guitar progressions on "Downpour" were also recorded this way, an arguably more impressive feat considering the effectiveness of the choice in the echoed guitar tone.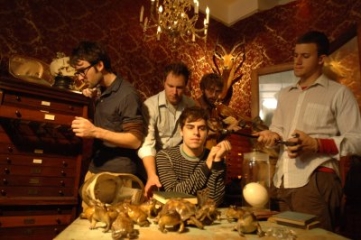 While the recording process of an album can certainly be intriguing, the reason I have so excitedly wrote about the minor details above pertains to the final result of Olly Oxen Free. Not only does it represent the true dedication and musicianship of tactful independent musicians, but the songwriting itself is strongly indicative of the skill that this particular group has. I attempted to think of a better phrase, but the term their press release uses suits them excellently: "charmingly weathered". The songs reap greatly from this raw yet refined style, as Mason Proper's material finds an outstanding mid-point between ambitious structural accompaniments and accessible melodies. There is no extraneous content to be found on any track within Olly Oxen Free, with the only additions being samples on a track like the bizarrely brilliant "Downpour", where a booming bass line supplies the lead over foreign vocal samples that prove neither distracting nor desperately implemented. Instead, they contribute immensely to the haunted aroma of the track, an aroma that is further complemented by an abundant use of reverb and erratic arrivals of assorted instruments; when a guitar progression enters, a brass section quick to follow with a polyphonic accompaniment that consists of an arpeggio and a smooth, near-improvised solo. As one of my favorite tracks on the album due to its astute execution, it is also arguably the most unconventional when compared to other highly accessible gems like "Point A to Point B" and "Lock and Key".
While the Michigan-based Mason Proper prove that they can produce innovatively gratifying indie-rock in an unconventional sense with unpredictable tracks like "Downpour" and the success of audible communication between boisterous guitar progressions, police sirens, and eerie sample-based laughter in "Shiny", they also show on Olly Oxen Free that they have no issues constructing a radio-friendly atmosphere where irresistible hooks are occasionally more prevalent than impressive structural experimentation. Now, that is not to say that some tracks are predictable. In fact, I cannot think of even one on Olly Oxen Free that is. Even the sensational "Point A to Point B" shows no reluctance to take time building to its peak, first showcasing the lead guitar progression and set of accompanying keys over Visger's hushed vocals before treating listeners to the meat of the track. The excitable chorus does not occur until the song is halfway over, seeing Visger transition into a yelp over the same progression that graced the beginning of the track. "I travel from point A to point B to point C!" he exclaims, "trying to fall from grace along the way to get lower." I expect it to receive considerable airplay on stations geared toward indie-rock, at least so that others can give this excellent album the chance it deserves.
Like the styles and structures presented on the album, Visger's vocals also prove to be enjoyably diverse throughout the release; "Alone" recalls The Pixies' Frank Black to a startling extent with Visger's half-spoken delivery, the hard-rock edge of "Shiny" is reminiscent of something along the lines of Kings of Leon's Caleb Followill, and the excitably brooding composure of "Fog" reminds me of Modest Mouse's Isaac Brock with Visger's yelps and background mutters. The vocal comparisons are fun to spot throughout the album, but they are not done to mimic anyone specifically. His vocal deliveries simply fit the styles on each track flawlessly, creating an indie-rock smorgasbord of sorts that lasts throughout the entire duration of Olly Oxen Free. As far as melodically accessible indie-rock acts go, you will find few as promising and innovative as Mason Proper.
——————————————————————————————
Mason Proper – Point A to Point B

[audio:http://mineorecords.com/mp3/mproper-poi.mp3]
——————————————————————————————
——————————————————————————————
——————————————————————————————