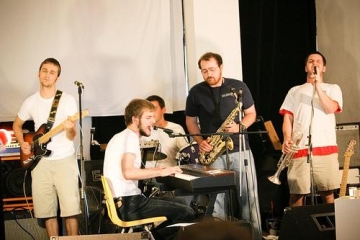 MP3 files are now working
When monumental success is accomplished through means of distinctive locality, I imagine that the sense of pride for a group is indescribable. You grow up with a certain group of friends, talk and occasionally bicker with them about music to pass the time during class, and even form an embarrassing band or two during the same period; it is all a natural part of growing up for childhood friends that share a mutual love for music. With that being said, to make a flourishing career out of something that has positively taken hold of you for the entirety of your childhood can be a dream come true. To do it with those same friends that you grew up with is a rare sight to behold, but it is certainly not impossible to find. The Pittsburgh-based Ball of Flame Shoot Fire can certainly attest to this, as the entirety of their band is made up of a group of friends who grew to be the best of friends during their high school years. They were often simultaneously friends and bandmates, a mixture that can occasionally prove to be complicated due to the highly sensitive nature of an occupational relationship. As displayed in their music though, the chemistry for this five-piece in undeniable, allowing the five friends to maintain their composure and combine their talents for something that is truly and uniquely riveting.
The list of influences that Ball of Flame Shoot Fire have appropriately compiled on their MySpace proves quite indicative of their modernistic approach. A few years out of high school, it is not surprising of them to list a few contemporary greats like Sunset Rubdown, Animal Collective, and Grizzly Bear as a few of their influences. However, their prevalent admiration for legends like Tom Waits, Harry Nilsson, and David Bowie also allows them to emit their veneration for past approaches. This ultimately results in a very flexible form of indie-rock that gravitates largely toward aspects that are largely experimental and occasionally psychedelic. A rather immediate comparison would be to that of Animal Collective, specifically displayed on the excellent "Mugs", but Ball of Flame Shoot Fire are certainly no imitators of a particular style or group. Apart from the fact that their songs differentiate from one another vastly through melodic, instrumental, and structural variation, their songwriting is captivating in a way that calls upon both inventively plausible hooks and audible energy; this aspect of songwriting is what makes the comparison to Animal Collective the most accurate. Fitting in nicely with imaginatively unclassifiable indie-rock acts in the vein of Animal Collective, Man Man, and Frog Eyes (all influences by no coincidence), Ball of Flame Shoot Fire have the capability to become the next big thing in the world of creatively unpredictable indie-rock.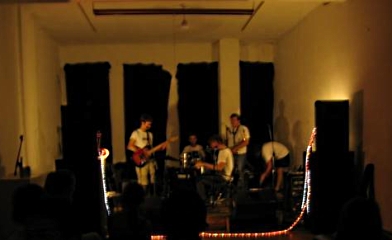 Though all five members were friends throughout high school who had participated in other miscellaneous projects, Ball of Flame Shoot Fire did not officially form until 2006. They have played primarily around Pittsburgh, achieving a startlingly emergent fanbase while opening up for acts as accomplished as Grizzly Bear, Man Man, and Mates of State. Listening to their music, it is quite easy to see why acts in the vein of Grizzly Bear and Man Man have sought out the five-piece to open for them too. Ball of Flame Shoot Fire do not only write songs that are somewhat influenced by the psych-folk of such groups, but their ardently expressive reliance on youthful exuberance is heavily prevalent. The same can be said for a group like Man Man that have made a name for themselves in being one of the best live acts around due to their highly energetic presence on stage and in the studio. Hot off some significant local recognition, Ball of Flame Shoot Fire released their debut EP, Grumpy Little Bird, in the fall of 2007 to some more consistent acclaim. Some local publications and sharp blogs were the ones to generate some buzz for this one, solidifying the group's status as one of Pittsburgh's most promising up-and-coming acts. Still though, the EP had yet to attract the national recognition that the group's sound so genuinely deserved. To check it out, you can to listen to it for free here.
After devoting most of this year to writing new material, the five-piece has emerged with Jokeland, their debut full-length. Set to be released by the end of December, it may very well be one of the most prominent unexpected hits of the year if it is released in time for annual consideration. Keeping steady with the unique quality that all of the group's members were good friends in high school, the album was actually produced by another one in Alex Herd; he went to elementary school with vocalist/saxophonist/keyboardist Peter Henry. Thanks to both this cumulative chemistry and the group's undeniable level of talent, Jokeland looks to be a fantastic debut that stems nicely from the great potential displayed on Grumpy Little Bird. The aforementioned "Mugs" is utterly irresistible, seeing an alternating cast of vocalists pull off their best Avey Tare impression with a variety of melodically infused yelping and slurring over an onslaught of harmonic variations that serve as a nod to this five-piece's songwriting ability. The track's presence truly comes alive when the backing vocals enter to infuse some '60s psych-rock harmonies over an evolving assortment of guitars, bass, and keys. The vocal delivery transitions from freak-folk to a tribal chanting of sorts, structurally consistent enough to prepare the listener for each succession of this particular vocal-oriented hook. At the midpoint of "Mugs", the back instrumentation explodes with fury as a series of guitar tremolos increase in audibility over the same charismatically infectious overlapping of different vocals that made the track so striking from the get-go.
Another one of the album's tracks, "Bertie Hey", serves as a good indicator of the album's overall diversity. While it is still heavily apparent that the same band is behind the effort, the differing vocal approach and melodic ideology separates the track significantly from an effort like "Mugs". "Bertie Hey" almost reminds me of Man Man's "Engwish Bwudd" with its pirate-y melodic theme; this is especially true when numerous vocals collide simultaneously in accordance to a heightening pitch around 02:13. This is followed by a messily enjoyable guitar solo, another indication of this group's alarmingly impressive flexibility. "Bertie Hey" concludes just as excellently, with a series of brass accompanying several ardently conveyed phrases like "you think I'm guilty, didn't do it; got a voracious appetite for danger". "Patience" brings us into territory more reminiscent of a group like Sunset Rubdown or Frog Eyes, where vigorously intricate keys lead the way over occasional falsettos and whimpers to establish over five minutes of pure art-rock bliss. When the distortion of the multiply layered guitars subsides after three minutes and a gentle electric guitar arpeggio emerges, it sounds as if it is about to practically evolve into a new song. The original melody swiftly returns though, as this new guitar arpeggio slides seamlessly into the gradual accompaniment. Based on these three songs alone, I personally cannot wait for the release of Jokeland. Though it is likely too early to make such claims, Ball of Flame Shoot Fire has the potential to be one of the most talked-about bands of 2009.
——————————————————————————————
Ball of Flame Shoot Fire – Mugs

[audio:http://mineorecords.com/mp3/bflame-mug.mp3]
——————————————————————————————
Ball of Flame Shoot Fire – Bertie Hey

[audio:http://mineorecords.com/mp3/bflame-ber.mp3]
——————————————————————————————
Ball of Flame Shoot Fire – Patience

[audio:http://mineorecords.com/mp3/bflame-pat.mp3]
——————————————————————————————
Some great live videos of Ball of Flame Shoot Fire