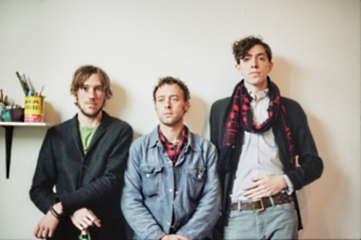 In the life of Luke Temple, artistic transitioning nearly seems like a daily routine by now. In several career choices that are not particularly surprising from a multifarious talent, Temple has made a living out of being both a mural painter and a musician. Between painting murals in the grandiose houses of the New York City elite and singing his oddly infectious tunes in smoky barrooms, one could say that Temple likely has a good perception of what it means to struggle as someone who makes a living out of being an artist. Now, Temple appears to be doing just fine for himself, but his growing recognition did not come without any work at all. As he transitioned between considerably different jobs and states (from Boston to Seattle and California to New York), Temple gathered experience that proved beneficial to his talents as both a painter and musician. Perhaps most importantly of all, he learned what it took to alternate between various lifestyles and locales, all while maintaining a consistent focus on the reason why his renown is growing considerably: his art. While mural paintings supported him well enough, Temple's true calling always seemed to be within the art of music. When he decided to prioritize his music-related pursuits above his respectable work as a mural painter, many wondered whether such a risky move would pay off in the end.
Considering that Temple pursued painting as a student at the School of Boston's Museum of Fine Arts, it may strike many as surprising that he chose to pursue music over something that he was well-studied in. After all, why not just study music in school if it were your most ardent passion? The truth is that few people realize their true focused potential upon entering, and even exiting, college, leading onto lives of regret and contradiction. Well, it usually is not that bad, but Temple is a good example of how initial interests can stimulate a latent talent. There is no doubt that Temple is a talented painter, but it is also a skill that can be rendered unavoidably prevalent in childhood. After all, in grade school, a child drawing a picture is a more common and accessible occurrence than one who transcribes music or writes songs in crayon. This interest, along with an easily identifiable talent, likely led Temple to his choice of a career as a painter. This career choice, like many others though, led to something else that eventually resulted in more appropriate circumstances for a songwriter whose lyrical and melodic prowess transcends many of those who have been set on a musical career since their early childhood.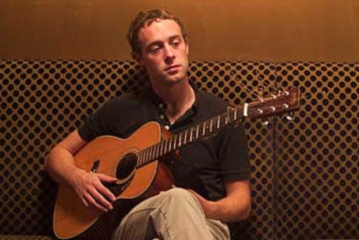 At this current decade's beginning, as Temple was preparing to try out his hand at visual art, he began to develop an interest in music. He had enjoyed listening to music for the majority of his life, but it was not until then that he took a deep interest in songwriting, production, and the inner-workings of the art. An artist his entire life, the transitioning seemed nearly seamless as he released his debut, a four-track EP, in 2004. His full-length debut, Hold a Match for a Gasoline World, followed in 2005 and it was a fantastic display of the Massachusetts native's songwriting ability. One thing that he kept the same was his commitment to striking visuals, an aspect that he accomplished through excellent lyrical imagery. For a former painter, I suppose it was not surprising. What was unexpected was Temple's melodic virtuosity, a feat that was heavily accomplished despite the bare workings of finger-picked acoustics and folky ballads. The songs were not breathtakingly innovative or structurally unpredictable, but they were appealing and accessible enough for Temple's words to flow with an emotional vigor that is essential in quality folk music. He found his first glimpse of mainstream success in 2006 after one of the album's tracks, "Make Right with You", appeared on Grey's Anatomy, setting the stage for the release of his second album, Snowbeast, in 2007.
Snowbeast was a breakthrough for Temple on several levels. In addition to gathering the acclaim of both fans and musicians (Sufjan Stevens, Ben Gibbard) alike, it found Temple expanding upon his previous material without reverting to new styles of play or methods of production. Recorded in his Brooklyn apartment, the use of lo-fi folk was still prominent but the songs themselves benefitted from a more organized flow and a stylistic addition that saw some aspects of electronica being incorporated into Temple's works. The structures were also noticeably more ambitious, with most of the tracks apart from the opening "Saturday People" taking unpredictable twists and turns that often resulted in an ingeniously engineered success. After the release of this, it was clear that Hold a Match for a Gasoline World was setting the stage for Snowbeast in showcasing Temple's wildly impressive growth as a songwriter within only two years. And just like that evolution, Snowbeast has accomplished in preparing listeners for Temple's newest release, a new project altogether that he entitles Here We Go Magic.
What Here We Go Magic's self-titled debut does so well is that it takes the ambitiousness and electro-folk tinges of Snowbeast and combines them with unchartered territory that is not like anything Temple has done before. Half psychedelic-pop and half electro-folk, Here We Go Magic is yet another redeeming example of Temple's growth as a songwriter. While a wide assortment of synthesizers, guitars, bass, percussion, and samples push him out of the lo-fi category, the songs here are more depictive of minimalistic experimentation than the structural ambitiousness found on Snowbeast. In fact, many of the tracks on Here We Go Magic like "I Just Want to See You Underwater" and "Tunnelvision" benefit from a repetitive riff or sample that remains somewhat consistent throughout the song. "Tunnelvision" sports an acoustic progression and a basic 4/4 drum beat that is not altered even once; the beauty of the track instead comes in the effectiveness of the warbling production and Temple's high-pitched voice. The tone is ethereal and calming, a stark contrast from the synthesized arpeggios of "I Just Want to See You Underwater". But this contrast is what makes Here We Go Magic so extraordinary. From the accessibly tropical pop sensibilities of "Fangela" and the use of Afro-pop in "Only Pieces" to the droning ambience of "Ghost List" and "Nat's Alien", this album is full of wonderful surprises. This especially applies to the concluding "Everything's Big", a track unlike anything else on the album with its naturalistic lo-fi sentiments involving acoustic guitars, keys, and a slight touch of strings. When this ends the album with its genuine flair of romance, it is difficult to even envision Temple pursuing a different art form. This is clearly his true calling.
——————————————————————————————
——————————————————————————————
Here We Go Magic – Everything's Big*
[audio:http://mineorecords.com/mp3/hwmag-eve.mp3]
——————————————————————————————
Here We Go Magic – Tunnelvision

[audio:http://mineorecords.com/mp3/hwmag-tun.mp3]
——————————————————————————————
*"Everything's Big" removed at the request of Western Vinyl